11 Things To Look for When Choosing the Best False Eyelashes
Posted by Sara on May 25, 2021
National Lash Day is celebrated by celebrities and beauty experts around the globe, but no one should wait until February 19th of each year to make the most of glamorous eyelashes. Fabulous lashes aren't just for the red carpet or star-studded affair. With the best false eyelashes selection in the industry, Lash Stuff carries everything you need to give your clients dark, full lashes whenever they want. Choosing the best means knowing what to look for, so keep an eye out for these eleven points.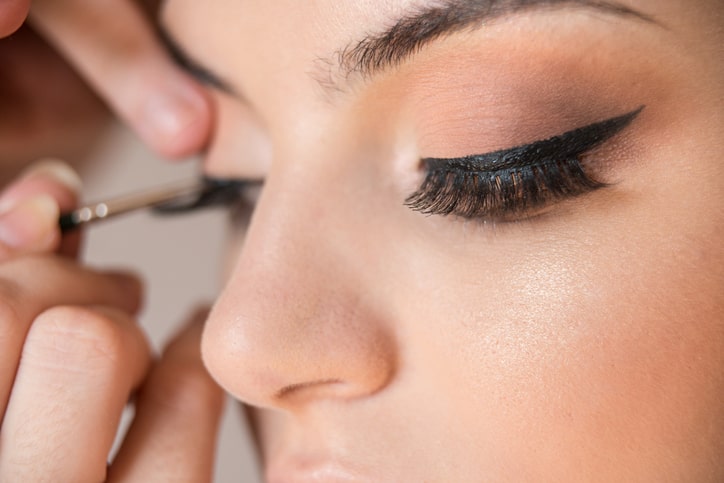 1. The Best False Eyelashes Have Good Color
Thanks to individuality, beauty doesn't have a single interpretation. Though culture and context play a role in how people perceive beauty, individuals have the freedom to pursue whatever appearance they find attractive or inspiring. This extends to the color of their eyelashes. Some people may find their natural lash color a little bland, but false eyelashes can remedy this problem.
False lashes should look real but dark and dramatic. They can be used to create a bold eye for special events or to simply dress up a dull day. Many of the Lash Stuff options for false lashes are premium, professional-grade lashes with color that is visible but natural-looking. However, individuals can also choose from metallic, colored or rainbow styles to personalize their appearance and release their inner glamor. Here are several of the best false eyelashes with excellent color:
Silk Strip Lashes - Set 1001: Gorgeous 100% silk lashes, this pair has a clear band for a natural-looking application. The dark color adds both volume and length to the natural look, and yet they are comfortable and lightweight for all-day use. These lashes can be used more than once, as long as they are handled properly.
Blue False Strip Eyelashes - Set 2006: With a bold hue that is sure to turn heads, this pair is a brilliant color choice when dropping by a party, heading out with the cheer squad or enjoying a night on the town with friends. Made from professional-grade materials and attached by a cotton band, this pair can be comfortably worn and re-worn up to 20 times. Blue is just one of the many color options Lash Stuff carries. Choose from pink, green, red and more.
Red/Black False Strip Eyelashes - Set 2020: For those who are ready to kick the drama up to the next level, a set of dual-colored lashes are just the touch. Dance troops or cheer squads looking to complement their uniforms can use these professional, lightweight lashes to make a vivid splash. Lash Stuff has several other color combinations available.
2. The Best False Eyelashes Have (and Maintain) Good Shape
One common complaint of poor-quality eyelashes is the shape they take after being packaged and after being worn all day. Poorly shaped lashes are noticeably fake, and when droopy, saggy or too heavy, it is an obvious fashion fail. You can help your clients avoid a fashion faux pas by working with professional-grade false lashes.
It isn't just about the shape of the lash, though. The perfect pair needs to follow the natural contour of the eye shape. Lash Stuff has shape options for various eye types, with short or long lash looks in varying thickness and color. The lashes can also be trimmed for a more customized look.
Red Cateye False Strip Eyelashes - Set 2002: An ultra-light pair of lashes, this bold color option has a short lash length that starts at the inner eye and fans out into a longer length toward the corner of the eye. These are applied with a comfortable cotton band and can be reused multiple times.
Black Feather False Strip Eyelashes - Set 3008: Who said great-looking lashes need to be round and natural? Lash Stuff has several patterned options, and this black feather pair creates a stunning, dramatic look. Lash Stuff carefully packages all false lashes to avoid them getting crinkled, bent or damaged. Each pair retains perfect shape for application.
3. The Best False Eyelashes Offer Convenience
When the world and special events await, no one wants to get held up by a tricky application of false eyelashes. Quality lashes are easy to apply and shouldn't cause stress. Some pairs rely on lash glue to secure the strip to the eye, while others use a magnetic connection. Magnetic lashes involve a magnetized eyeliner to hold the strip lash in place. Lash Stuff offers several magnetic strip options made from 100% silk for absolute comfort and style:
Magnetic Silk Strip Lashes - Set M1001: A pair of these natural dark-colored lashes create volume and length with total ease of application. Each set comes with one pair of eyelashes, one 5ml tube of black magnetic eyeliner and one applicator. These lashes can be reused up to 20 times.
Magnetic Silk Strip Lashes - Set M1006: This pair of dark magnetic lashes creates an ultra-dramatic look with alternating lengths of 100% silk lashes. While the pack comes with a 5ml tube of magnetic black eyeliner and one applicator, additional tubes of liner can be purchased from Lash Stuff.
4. The Best False Eyelashes Are Comfortable
Natural eyelashes aren't invisible, but for most, they're practically imperceptible. The light weight of natural eyelashes is hard to replicate unless the highest quality materials are used. False lashes need to be lightweight to avoid sagging and drooping, plus being too heavy can cause discomfort for the wearer. The lashes shouldn't cause itching or peeling, nor should they be a distraction.
Lash Stuff sells several versions of false lashes, many of which are created from 100% silk. Silk lashes not only hold their shape and finish for longer wear but offer lasting comfort.
Silk Strip Lashes - Set 1027: This pair of lashes is dark and thick, perfectly accenting a bold makeup design. In spite of the thick look, the silk material is extremely lightweight, proving a fluffy feel for all-day comfort. In fact, it is easy to forget these lashes aren't natural, given the incredible replication of a natural look.
Treble Clef Paper False Strip Lashes - Set 4008: Though not made from silk, these unique design lashes are still incredibly comfortable for the music-appreciating wearer. With a paper design of premium materials, this bold pattern is lightweight and perfect for dance troops, the budding musical artist or the concert attendee. Given the delicate nature of design, these can be worn up to five times.
5. The Best False Eyelashes Are Easily Removed
With the beauty and comfort of Lash Stuff false eyelashes, it is almost a shame to remove them. However, with so many pairs able to be reused, proper removal is important for getting the most value out of an application. Poor-quality false lashes that are adhered using low-quality glue can pull and break when someone is trying to remove them, but the right materials and a little patience can make for lashes easily preserved for another use. Lash Stuff carries a strip lash glue that is easy to apply, strong enough to hold and also easy to remove.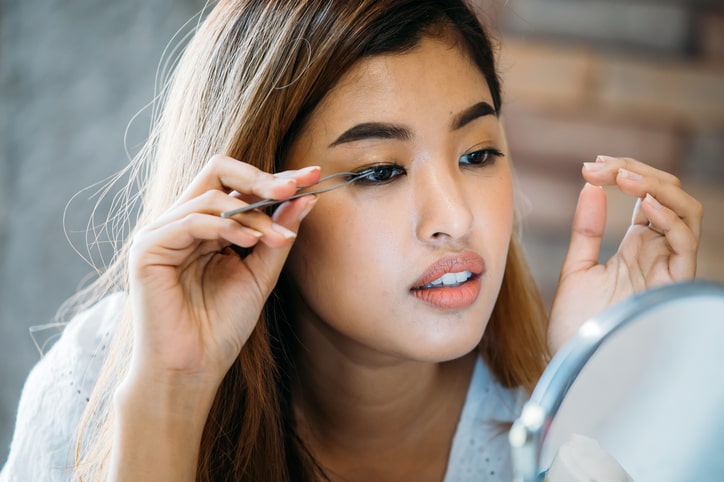 6. The Best False Eyelashes Have Great Curl
Sagging eyelashes are a dead giveaway that something is unnatural about a person's look. A great pair of false eyelashes should have a natural curl that holds its shape through the day and multiple uses. The way the eyelash is held to the eye can address potential sagging, but the overall shape of the curl comes from the quality of the materials used and the packaging each pair is placed in. Lash Stuff individually packs each pair of false eyelashes and carefully ensures that the lashes are fanned and protected during shipping.
Lash Stuff offers a range of curl designs that pair well with the range of shapes and lengths. Premium-grade materials and silk keep a natural-looking curl in place during wear, and if the lashes are removed and stored carefully, there is no concern that the shape won't hold for future applications. For dramatic eye effects, combine color and curl.
7. The Best False Eyelashes Are the Highest Quality
In terms of overall quality, the best pair of false eyelashes should deliver on all accounts. An easy way to separate a poor choice in eyelashes from the best choice in false eyelashes is a comparison on all points of quality. Let's look at what poor quality lashes deliver against what the highest quality lashes from Lash Stuff will deliver.
Poor-quality false lashes are more likely to:
Break, bend and change shape
Cause skin irritation
Slip and fall due to imbalance in weight and design
Fade or become discolored overuse
Appear synthetic rather than natural
Retain bacteria or contaminants
On the other hand, high-quality lashes have many advantages:
Professional-grade materials that include silk
Easy application with a clear band and durable glue
Perfect weight distribution and natural, lightweight feel
Bright, dark or other vibrant color choices that don't fade
Durable to withstand multiple applications
Easy to remove and store
8. The Best False Eyelashes Come With Exceptional Customer Support
As an esthetician, cosmetologist or other beauty industry professional, you have a commitment and expectation of delivering the best services and products to your clients. In order for you to do this, you need to use materials, tools and products that deliver the same commitment to you. Lash Stuff provides more than just the best false eyelashes on the market. As a brand, we also guarantee the best customer experience from product to support.
Lash Stuff has a selection of false eyelashes and eyelash extensions that tops any business in the industry. Even with such a large selection, we make guarantees on the types of products that we always keep in stock. We also make it easy for you to get your product and make every attempt to ship out what you order the same day you place it. We communicate every step of the way with order delivery, and we offer free shipping.
9. The Best False Eyelashes Should Be Adhered By a Professional
As with the visual difference between poor-quality and high-quality false lashes, it is also the case that the more experience one has working with false lashes, the better the results. This is why the best false eyelashes should only be applied by a professional. Though the lashes from Lash Stuff often have more than one application, caution clients against trying to re-adhere the lashes themselves. Not only does the final application look more natural, but a beauty professional is able to shape the lash to match the individual look and shape of the eye. This creates a more natural and yet customized appearance.
10. The Best False Eyelashes Are Easily Cleaned
Poor-quality false eyelashes often make it easier for bacteria and contaminants to build up on them, and careful cleaning isn't always possible without damaging the lashes. With a pair of lashes from Lash Stuff, cleaning is easy and doesn't weaken or degrade the product at all. In fact, cleaning is recommended if the lashes are going to last as long as possible without causing eye irritation from bacteria and debris build-up. With magnetic lashes, it is recommended to use oil-free micellar water applied to a tissue or a Q-tip to wipe the magnetic strip clean.
11. The Best False Eyelashes Should Have Great Customer Reviews
If you are looking for a product that delivers on what it promises, start by reading what real people have said about it. Find out if there are problems with form or color, or check if the lash didn't stand up to a night of partying or a long day at the office. Lash Stuff believes in offering the very best products, putting them through rigorous testing before releasing them. We also have a customer-centric approach to each purchase, keeping our customer service team on standby to make sure all your concerns are quickly addressed.
The Best False Eyelashes Are at Lash Stuff
Are you ready to purchase the best false eyelashes on the market? Browse the extensive selection at Lash Stuff and give your clients a gorgeous new look.
Sources
https://www.usmagazine.com/stylish/pictures/best-fake-lashes-celebrities-love-for-red-carpet-and-beyond-pics/