3 Ways to Grow Your Salon Business On Instagram
Posted by Gina on Mar 31, 2021
Use Instagram To Grow Your Salon Business
Instagram is an amazing tool to assist you in growing your business. It is a complicated tool that I am going to help break down a few important steps you can do to gain more customers. It is a great tool to showcase your work, but it is so much more than that. It is about the content and information that you post. If you are one that simply posts your work, you will most likely get likes and some attention. However, do you want to get followers to pay for your services and book appointments? You may need to do a little more I wanted to get a lash lift and tint done for a vacation. I started to follow various lash artists. I found one that appeared to do such amazing work. I direct messaged them, and they never responded. I was so disappointed. I could not see if she worked in a salon or where specifically she did her appointments.
There was no way to schedule or any contact information. I was so disappointed. It really made me think why she posted on her Instagram. I ended up going elsewhere to get the lift and tint service done. I have also seen an Instagram where they had so many amazing tutorials, however none of them had anything to do with the services they offered. This did not really showcase their work or attract customers for a service. There are three simple things to consider: your content, providing a solution, and create an offer and action.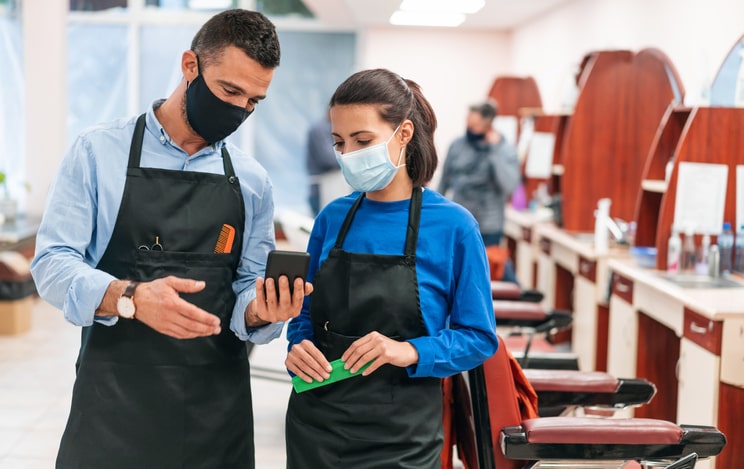 1. Create Salon Content
Content is what you post in your posts, reels, IGTV or stories. It should consist of 80% strategic posts on what your business has to offer. The other 20% is your personal branding. What is personal branding? This could be anything you want to share that allows your customers to see the face of the brand. What do you like to do for fun? What personal things do you love most in your life? This is your personal branding. Look at your page and what do you see? Do you see more personal information such as more posts about getting coffee, your cat or dancing on ticktock? This may not get your message to what you offer. If you offer lash services, then 80% of your posts should be about the services you offer. Make sure it is your best work. Take lots of pictures to make sure you have at least one good one. It is better to post a variety of ways to your Instagram to make sure you show up in various places. This is what helps you get more followers. So, make sure you are using posts, reels, IGTV and stories. Be consistent and strategic when creating posts.
2. Create a Solution
What are the typical problems your customers have? Create a post that solves the problem. As a lash artist, I like to create various posts and what unique customized lash application can do to various eye shapes. This will get potential customers to see that not every eye shape is the same and various lash curls and length should be added for every different customer. It could simply be the time saver that the lash extension saves every morning. How are you leveraging the benefits of what services you offer on Instagram? Are your followers understanding your message? Showcase your work in a way that it solves a problem and promotes the solution. Some ideas may be lashes are a time saver and they look great all the time. A lash lift and tint service make it, so you do not need to curl your lashes to get a beautiful curl. There is not limit to what you can share.
3. Offer and Action
Creating an offer or service and the action is how to schedule. One could have this fabulous content, but the customer does not really know what I offer or how to book. Make it easy for them to see what you do, what you offer and how to book or contact you. It does not mean you have to have your service menu necessarily posted, but are you creating content that displays your visual menu on your Instagram posts. Do you explain on your post what service you did and the outcome? Before and after pictures are great with an amazing description to what services were done and what products you used. You should also add how to book for the service. If you create a solution and you get a potential customers interest and you do not have a clear way for them to book with you, they may go somewhere else.
This is a quite simple way to use Instagram that will not only create followers, but actual paying customers. You want to be consistent with your posts, but quality is more important than quantity. If you are posting just to be consistent, do not post. Staying strategic is more important. If you need to have a day where you do not want to post, then don't. Be on purpose with your Instagram. If your content leads to a solution and an offer with a clear way to book, you will see your business grow.
Lash Stuff offers professional eyelash extension supplies for estheticians and cosmetologists.