5 Ways To Keep Your Hair Looking Healthy
Posted by Misty on Apr 06, 2021
Steps For Healthy Looking Hair
There are many ways to keep your hair looking healthy. I want to touch on the 5 things that I think are the most important. Some things you can do at home, and some you should get done at the salon. Let's be honest though, there are a lot of us that will do things at home (like cut and color our own hair), that we probably shouldn't do. First, I want to focus on the things that we can do ourselves, in the comfort of our homes, on a daily basis.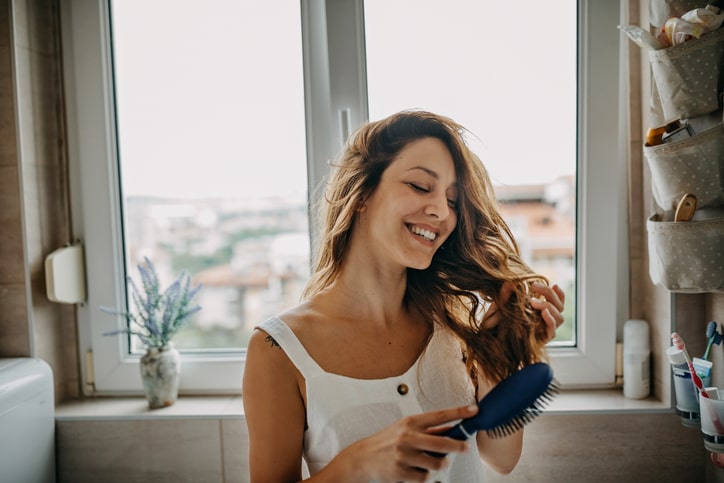 1) Product
Product is so important in your haircare routine. Not just any ole' product either. I'm not going to bash any products here, but you should try to stay clear of drugstore products, especially shampoo.
Although drugstore shampoos do contain high-grade ingredients found in salon products, it's a small amount of them. They typically contain chemicals, which can strip your hair of its natural oils, essentially drying it out. They're also known for diluting their products with fillers, creating a waxy build-up. These tend to make your hair feel super soft but isn't actually hydrating from within. Salon shampoos tend to be on the pricier side because they are highly concentrated with high-grade ingredients consisting of vitamins, oils and minerals that are truly nourishing, meaning you can use less, stretching out how often you have to buy it. These shampoos also include less fillers than their drugstore counterpart, preventing that waxy build-up, hydrating from within, instead, keeping your hair healthy.
As far as styling products go, there are a lot of options and there is going to be something different for every hair type. A leave-in is almost always recommended for just about every hair type, as well as an oil. The type of product that you buy for styling will start to become specific depending on your hair type and how you style it. The product that's really going to help you keep healthy looking hair is a heat protectant (obviously if you are applying heat, whether it's blow drying, flat ironing, or curling). Heat protectants help to give a barrier between your hair cuticle and the hot tool. If you wear your hair naturally curly, curl creams/serums/gels, etc. are what you need. There is a wide variety as well, so it's just about finding what works best for you. Curl products will help minimize frizz, and define your curls, helping your hair look healthy. Another important product that gets looked past is a UV protectant. Some leave-ins will have this added into it, so look to see if yours does, if not, I would look into purchasing one that does, especially in the summer time. Sun damage can come in the forms of discoloration, dry and brittle strands, broken or split ends, thinning and frizziness. No wonder a UV protectant is so important.
2) Low, to no heat
Using minimal to no heat on your hair is going to keep your hair extremely healthy looking. Heat can be so damaging, especially if not using the proper products or styling tools. Even if you have a really good, high-end blow drier or flat iron and you've had it years upon years, it may be time to get a new one. The technology built inside wears out over time and use, which can cause more damage to your hair. When picking a flat iron, my go-to is a ceramic plated one. This is the safest, most gentle option as it heats hair from the inside out using infrared technology. You also want to use low heat. This will defer from thin hair to coarse hair, but you never want to max it out to 450 degrees. Keep the temperature around 325°-375°, if higher temperature is required, be careful to not overheat your hair. As far as blow driers go, you have two main options, ionic and ceramic. Ionic blow driers are going to be more for thick, frizzy hair, as they dry hair using negatively charged ions, breaking down positively charged water molecules quickly cutting your dry time down. Negatively charged ions don't open the cuticle, leaving your hair smooth and sleek. Ceramic hair dryers will be best for fine hair texture. The ceramic coating inside allows for heat to distribute evenly and regulate heat levels to prevent damage by overheating. Air dry or "rough" dry your hair as much as possible to get most of the moisture out of your hair so it isn't sopping wet when you start sectioning your hair to dry it. And of course, use the lowest heat setting you can, and it's always good to finish with a cold blast of air.
3) Treatments
There are so many treatments you can perform on yourself at home and get done at the salon. Hair masks and treatments are not only designed to bring much needed moisture back to dull and dry strands, but they also feed your hair and scalp with much needed nutrients to repair damage, soften strands, boost hair color, and increase shine. At home treatments aren't going to be as intensive as a salon treatment (licensed professionals have things in their arsenal that non-licensed individuals cannot purchase), but it's still a good idea to perform them at home so that you can maintain healthy hair. Ask your stylist what kind of at home treatment they would recommend for your hair type next time you are in the salon.
4) Being consistent with haircuts
Ever wonder why you have regrowth, but your hair doesn't seem to be getting any longer? It's probably because haircuts aren't consistent for you. I bet you usually opt out of having one when you are at the salon. Getting trims often is really important to maintain the health of your hair. I always recommend to my clients that are wanting to grow their hair long, to get a "dusting" every 8-10 weeks. This way your hair continues to grow instead of break off at the ends. If you are looking to just maintain your length, then a haircut every 3 months is just fine as long as you are taking good care of your hair at home.
5) Not over coloring/lightening
Some of us have a tendency to color or bleach our own hair at home. This is not the best idea if you don't know what you are doing, especially putting lightener to your hair. Box dye really isn't the best stuff to use on your hair, either. In order to save money and lower the cost, the manufactures use low quality dyes, chemicals, and additives. They typically contain high amounts of ammonia, PPDs, nitro dyes, metallic salts, and even henna. These are all harsh chemicals that can be extremely damaging to the hair as well as cause reactions to sensitive skin and allergies. Box dyes are also progressive dyes, meaning every time you color your hair, if you color from root to end, the dye will build onto itself, resulting in darker and darker color. You will start to get a reversed ombre look and you'll notice your hair becoming more and more dull and lifeless. No one wants that! Lightening your own hair is even scarier. If you overlap or leave it in your hair too long, you risk melting, yes melting, your hair off! Yikes! No thank you! I know there are times when circumstances make you have to stretch out your salon appointments, and if this is the case, just be honest with your stylist and ask for advice and what to use to maintain the look at home.
Lash Stuff offers the largest selection of eyelash extensions supplies. Get free shipping on every order in the USA.