Best Eyelash Extensions Near Me
Posted by Jess on Dec 10, 2021
Eyelash extensions are well known across the world for being one of the best ways to enhance your appearance. In fact, a set of high-quality extensions could easily help you take your look to the next level. However, not everybody understands how to find the best eyelash extensions for them.

The good news is that the answer is not nearly as complicated as you might believe. Let's dive into what you should keep in mind.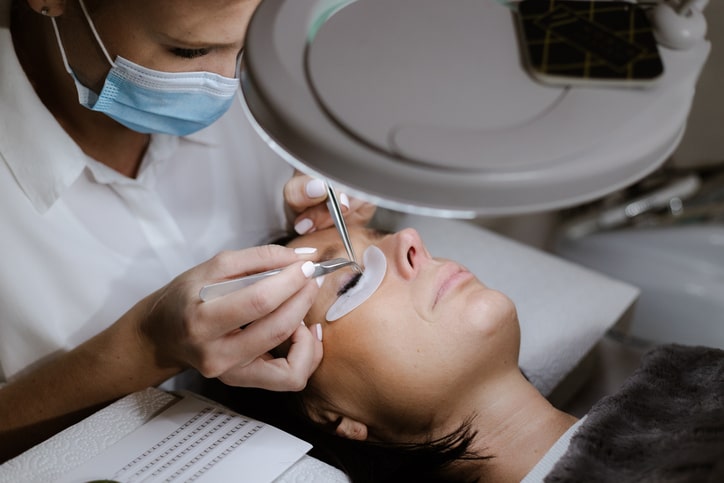 Consider Your Eye Shape
Interestingly, people often overlook the importance of considering the shape of their eyes before purchasing lash extensions. However, it's one of the most significant factors that you need to keep in mind.
To elaborate, people have one of three shapes they should focus on: hooded, almond, or rounded.

In general, you want your eye to look as almond as possible. This means that extensions should be used to help open up hooded eyes and tame rounded eyes. Different types of extensions are best suited for different shapes, and this will help you find the product that is ideal for you.

So, be sure that you keep this in mind when moving forward.
Choose the Best Type of Extensions For Your Needs
As previously mentioned, there are different types of eyelash extensions.

Most people find themselves choosing between three primary ones. These include classic eyelash extensions, volume extensions, and hybrid extensions. Classic extensions aim to enhance the lashes while retaining as natural of a look as possible.

This can be achieved by applying only a single extension to each individual lash. Volume extensions, on the other hand, prioritize length and thickness over maintaining a fully natural look.

While this doesn't always mean that volume extensions look unnatural, people typically aren't concerned with a natural appearance when they choose these. Finally, you also have the opportunity to utilize hybrid extensions. These serve as a middle ground between volume extensions and classic extensions.

So, these are great options for people who wish to achieve a natural look while adding a bit of extra volume. Although choosing the wrong extension type isn't inherently bad, it could prevent you from getting the appearance you want.
Consider the Materials
This is a factor that can't be overlooked.

Many eyelash extensions are made from mink. Unfortunately, this also means that animals are killed in order to produce the materials used in mink eyelash extensions.

Although they have a highly aesthetic appearance, they are not cruelty-free. This has caused them to become a point of contention in recent years.

Fortunately, a great alternative exists in the form of faux mink. These extensions are made from a synthetic material that offers the same texture and appearance as legitimate mink does.

They are also much cheaper than legitimate mink products. Be sure that you only work with providers that offer faux mink instead of natural material.

You also have the opportunity to purchase extensions that are made from silk. However, these should be reserved for very specific occasions.

To elaborate, silk lashes are generally very thick and bold. If this is not the look you are trying to achieve, faux mink is most likely your best option.
Research the Provider
To get the best product, you should prioritize companies that have a strong reputation. This means that they should have an abundance of satisfied customers who are more than willing to recommend them to others.

More often than not, it only takes a simple Google search for you to find a company that is worthwhile. When browsing reviews, be sure to consider the overall number of reviews in addition to their rating.

It wouldn't make sense to assume that a company is great because of their five-star rating if they only have two reviews. You should also consider their customer service.

If they aren't easy to get in touch with, you can't be sure that you will be able to easily contact them if you have an issue after receiving your eyelash extensions supplies.
How Is Their Shipping Speed?
When looking to buy eyelash extension accessories or eyelash extension kits, shipping speed is crucial.

In today's age, most products should be able to arrive at your doorstep in less than a week. More often than not, the overall shipping time will be much shorter than this.

If a company is not able to offer fast shipping, its competitors more than likely will. So, it's in your best interest to browse different businesses to find the one that is right for you.
Are They Affordable?
As you might guess, price is also something that you should take into consideration.

Although it's best to avoid cheap products, this doesn't mean that you should always stretch the upper end of your budget. The ideal products are those that strike a nice balance between price and quality. With enough searching, you should be able to find extensions that are suitable for you without too much difficulty and take your overall look to the next level.
Finding the Best Eyelash Extensions Doesn't Have to Be Difficult
In many cases, you will find that it is much easier than you expected. Once you have the best eyelash extensions for you, you can easily take your appearance to the next level and create a look that is as captivating as possible.
Want to learn more about what we have to offer? Feel free to get in touch with us today and see how we can help.