Best Magnetic Eyelashes To Have at Your Salon
Posted by Jess on Apr 22, 2021
Learn More About How to Choose the Best Magnetic Eyelashes
Focus Keyword: best magnetic eyelashes
Title: Best Magnetic Eyelashes To Have at Your Salon
Lashes are critical to a woman's overall look. They frame the eyes, creating the appearance of an alert, bright gaze. It's no wonder that mascara is a staple in most women's makeup kit. For many, though, searching for the best makeup to enhance their lashes is a grueling process. There are too many brands and too many formulas. Then, especially for those with fine, light lashes, mascara may not feel like enough. Instead, the best magnetic eyelashes or false lashes can be a more dramatic and attractive solution.
Clients want to look their best, and it's your job to help them achieve this. False lashes can help you enhance your client's overall appearance and change how she sees her eyelashes. In the world of falsies, magnetic lashes are becoming increasingly popular.
It's time to find out why offering magnetic lashes can have your clients lining up and coming back for more.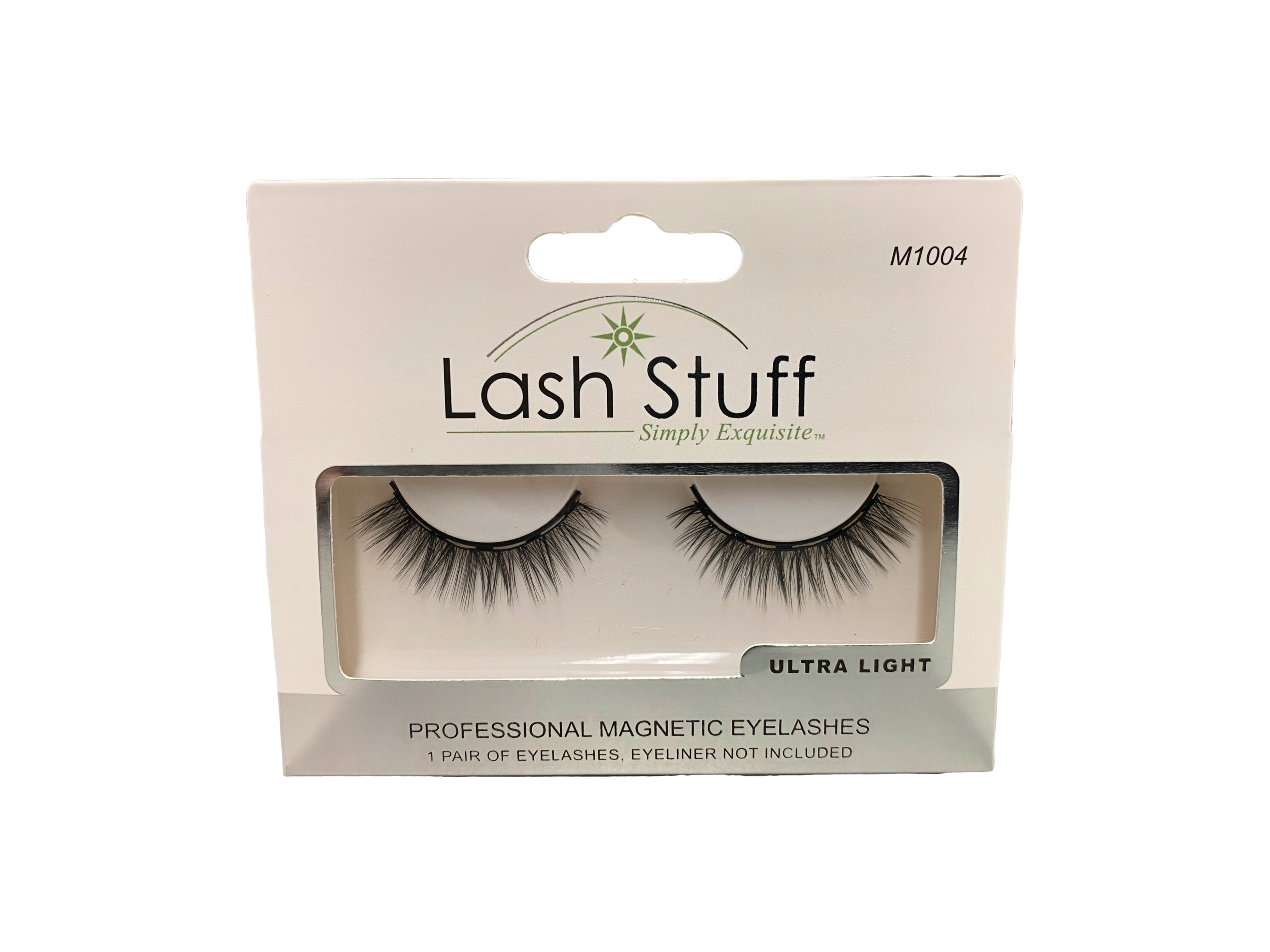 What Are the Best Magnetic Eyelashes?
Magnetic lashes are a type of false lashes. However, unlike traditional falsies you apply with glue, magnetic lashes come with a magnetic liner. You apply this liner to your lash line, then wait for it to dry. Once dry, you trim the lashes and place them.
Magnetic lash kits come with everything that you need for a single application. The kits come with one pair of magnetic strip lashes, one eyeliner and one applicator. Like other false lashes, you can find these lashes in a variety of materials. Mink, silk and synthetic are the three most common lash materials.
Why Are Magnetic Lashes Popular?
Did you know that that people have been trying to increase their lash length since ancient Rome? False lashes as we know them, however, are a more modern invention. In 1915, a New York hairdresser named Karl Nessler sold and marketed false eyelashes to protect women's eyes from electric lighting.
Over the last 100 years, false eyelashes have gone through a variety of changes. As eyelash trends have changed, so have the salon offerings. Mascara can be irritating and for women with fine, short eyelashes, such cosmetics can only do so much. Dramatic makeup may become lackluster because of the lack of lengthy lashes. When you don't prioritize lashes, a look may appear unfinished.
A lot of women are transitioning to false lashes because they are a better alternative to mascara. Mascara can be messy. It weakens eyelashes over time and can irritate the skin. To get rid of the cosmetic, you have to wipe your eyes down to get it off. Not only are you left with a messy black stain across your lids, but it can cause the thin skin to burn. Mascara tends to be more difficult to remove than shadow and liner, and wiping it from your eyes can leave them sensitive, sore or swollen.
Using traditional falsies doesn't always have a lot of benefits over mascara, however. Old-style false lashes can still be messy. You have to trim the eyelashes, apply a thin layer of glue to the lashes and a couple of dots to the lash line for extra security. If you make any mistakes applying the glue, then your lashes could be crooked and you may have to do it all over again. Even a mildly shaky hand can ruin the look of your lashes.
When you have a client sitting in your chair, you want her to be satisfied with the lashes that you provide. If you can apply a set of falsies quickly, efficiently and without error, she'll be a lot happier. Magnetic lashes are perfect for events like weddings, photoshoots and dances. They'll stay on the eyes for about 12 hours at a time. Your clients only need to use oil-free micellar water and a clean q-tip or tissue to clean magnetic lashes.
How To Choose the Best Magnetic Eyelashes
Now that you know you want magnetic lashes in your salon, how do you choose the best possible material? Not all materials are created equal, after all. You usually have a choice between synthetic, mink and silk.
When it comes to affordability, synthetic lashes are the cheapest. However, they also tend to look faker than other options. They can be coarse, stubby and sometimes heavy and more uncomfortable to wear. Synthetic eyelashes tend to be the last choice for estheticians and clients alike.
This narrows down your choice to mink or silk. Mink is a common option, made from the tail fur of Chinese or Siberian mink. While it tends to feel more like human hair, it is a lot more expensive than silk. Silk, on the other hand, is an affordable option that still effectively mimics the look of human lashes.
Gorgeous and Natural
When clients sit in your chair and ask for false eyelashes, they don't want the lashes to look fake. Eyelash extensions should look as natural as possible. Silk lashes are light and wispy. They do not have the glossy, artificial appearance of synthetic falsies. While they do come in various styles, they typically taper at the end and look more natural than other materials.
Dramatic and Stylish
Despite being lightweight, silk is thick and comes in multiple styles. You can choose eyelashes to make your clients look like they walked right off the red carpet or more simple styles for a night out on the town. Thick, full eyelashes are in style, and for women with fine eyelashes, it can be a struggle to fit in with the trends. Magnetic eyelashes are just as trendy and dramatic as any other falsy.
Comfortable and Hypoallergenic
Your clients will barely feel the silk lashes. They are fluffy, comfortable and super light on the eyelids. Forget heavy, scratching synthetic lashes. Besides, most people can use silk lashes without an allergic reaction. People who are allergic to cats, dogs, or other animals may not be able to use mink lashes at all. Silk lashes have low-grade allergens and are best for people with sensitive skin.
Low-Maintenance and Durable
Silk lashes are not nearly as delicate as mink lashes. When you get caught in the rain in mink lashes, they can lose their styling; the curl may fall out. Silk lashes, on the other hand, hold their style, regardless of the weather or how much rain touches them. Silk can withstand a lot of abuse. When your client cleans or removes her lashes, the lashes are less likely to come off the band. They tend to last longer than other materials. Silk lashes rarely need to be curled again or restyled.
When it comes to the best magnetic eyelashes, the ideal material depends on your clients' needs and how much they are willing to spend. When you choose silk, however, most people can have the eyelashes of their dreams.
Why Do Women Need Help With Their False Lashes?
When you hear that magnetic lashes are easy to apply, you may be wondering why clients need the help of a salon. Just because they are easy for an esthetician with eyelash training doesn't mean that they are as simple for the average person to apply. Beginners to false eyelashes may not understand how magnetic lashes work and could potentially waste a lot of money trying to find the right ones or learning how to apply them properly.
You Know Eye Shape
There are so many eyelash styles that it can be overwhelming. Then, once you have a style in mind, you can add mascara or curling to create an even more dramatic look. Much like choosing a hairstyle, the right eyelash style depends on the shape of the face and the eyes' shape. The lashes that you choose can completely alter the shape of a person's eyes. Most women don't fully understand how their eye shape affects the style that they should choose.
Round Eyes
When you can see most of an iris, then that person has round eyes. To complement round eyes, curly lashes can lift and enhance the top lid's curl. Round eyes may look too small or too flat if you use heavy lashes with too much volume.
Almond Eyes
Almond eyes are extremely versatile. Do you know how oval faces can suit almost every hairstyle? The same could be said about almond eyes and different eyelashes. Almond eyes are slightly pointed at the ends and have a wider center where the iris's curve is hidden by the eyelids. To really enhance the almond shape, you can use voluminous lashes.
Hooded Eyes
Those with hooded eyes have a prominent brow bone and a crease that makes the eyelid difficult to see when the eye is open. If you use heavy, voluminous lashes, it can weigh the eyes down and make them look small. To open up the eyes, you should use fluttery lashes with the longer lashes above the pupil.
Mono-Lidded Eyes
Mono-lidded eyes look best with top-heavy styles. If you have mono lids, then your skin covers the upper eyelid and you cannot see the crease. Multi-layered lashes provide volume and enhance the eye.
Deep-Set Eyes
Deep-set eyes are considered elegant. They sit right under the brow bone and create the illusion of large eyes. For women with deep-set eyes, longer lashes that curl away from the eye look the best. Also, curled lashes can avoid mascara marks on the brow bone.
Upturned Eyes
If you have upturned eyes, then your outer corners are pointed higher than your inner corners. Those who have this type of eye often look best in cat-eye makeup. If you want to enhance cat-eye makeup, consider flared half lashes on the lids' outer corner.
Close-Set Eyes
Close-set eyes occur when the distance between your eyes is less than the width of one eye. For women with close-set eyes, it is important to leave the inner corners free so that you can focus on the outer corners. Use lash length to lift the eyes outwards.
Protruding Eyes
Women with protruding eyes tend to look dreamy. Protruding eyes can be made to recede into the face and be enhanced by dramatic styles. Voluminous, feathery and dramatic eyelashes can really complement protruding eyes.
Eyelashes can also affect a woman's face shape. While many women are interested in contouring and highlight, eyelash styles can also help create the same effect. For example, if you use strategic eyelash placement, you can create the illusion of a slimmer, longer and more balanced features. Those who have wider, square faces, for example, can use long eyelashes down the center of the lash line to add vertical lines. This draws a person's eyes up and down, sliming and lengthening the appearance of the face.
You Know the Technique
When someone first picks up a package of false lashes, the instructions can be confusing. When using standard falsies, most women become frustrated by the messy, sticky glue and how easily the lashes may fall off in the middle of an event. As a professional, you know how to properly apply eyelashes and understand the care necessary for them to last as long as possible.
You provide your client with an invaluable experience. Not only is she able to relax in the chair, but she'll leave your salon with more knowledge on how to use magnetic eyelashes. Clients want convenience and expertise; this is why they go to the salon in the first place.
Time To Learn a New Technique
While false lashes have been around for a long time, magnetic eyelashes are relatively new. The learning curve is simple. If you know how to apply standard false lashes, magnetic lashes will feel like a dream. If your clients want noninvasive, temporary lash extensions, you should have magnetic eyelashes on offer.
At Lash Stuff, our goal is to help cosmetologists and estheticians achieve their beauty training and service goals. While magnetic lashes might be the latest trend, they are also here to stay. When you invest in the best magnetic eyelashes, you are investing in the satisfaction of your clients. Check out our variety of magnetic lash styles for glamorous and stylish looks.