Everything You Need To Know About a Professional Lash Lift Kit
Posted by Sara on Mar 11, 2021
Professional Lash Lift Kit
As a professional stylist or aesthetician, your clients trust you to know and use the best products for every service you offer. When it comes to lash services, access to quality tools and inventory is a must. When your clients are looking for a little extra oomph and curl to their lashes, having an organized kit with everything you need can save you valuable time. Why should you have a lash kit, and what should it include? We dive into the details of building your professional lash lift kit with Lash Stuff.
How Does a Lash Lift Compare to Eyelash Extensions?
If you have already completed your training, you can probably explain the difference between lash extensions and a lash lift with ease. If you are just starting out on your professional lash stylist career path, the answer may be less obvious.
While eyelash extensions make lashes look fuller and longer, a lash lift focuses more on the shape and curl of the lashes. A lash lift can be done in conjunction with a lash extension or by itself to natural lashes. In addition to adjusting the curl, some clients may wish to tint their lashes, which can provide a look similar to mascara but without the actual makeup. Similar to extensions, a lash lift can last through the eyelash's natural growth cycle, which is usually six to eight weeks.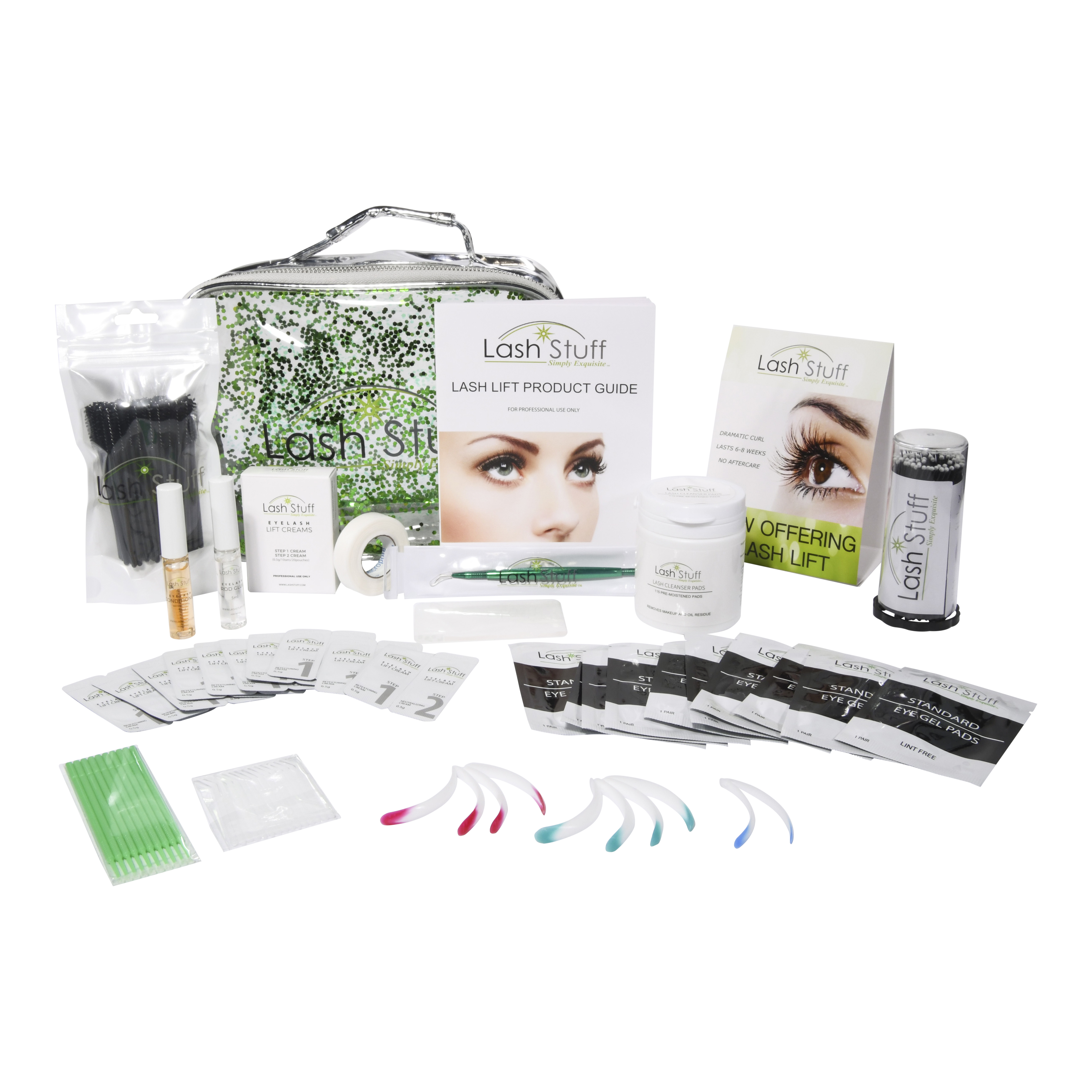 Why Should You Have a Lash Lift Kit?
Creating your very own lash lift kit just makes sense if you plan on offering this service regularly. Oftentimes when you go through training, the company includes a training kit for you to use. You can find such kits with Lash Stuff, along with our training options. There are myriad convenient benefits to maintaining a kit customized to your needs:
Keep Everything in One Place: Put all of your tools, products and pamphlets in a storage box or other container so that everything is already together. There is no need to track down everything you need around the salon because you can have it organized and ready to go at a moment's notice.
Easily See When It Is Time To Restock: If you keep your kit together and organized, it will be easier for you to tell when you are running low on cream, conditioner, mini sticks, rods, rod glue and other necessities.
Carry With You for On-Site Services: If you plan to offer your services outside of a single salon location, having a carry-out kit can be a game-changer. Take everything you need for a luxurious lash lift to perform at a client's house or at your own home.
What Does a Professional Lash Lift Kit Need?
Your training will help you identify what items your kit requires. However, you may want to make sure you at least have the following readily available:
Eyelash Rods: The rods are a key component in providing the desired lift to the lashes. Lash Stuff offers J-curl and C-curl rods for a natural lift or more dramatic lift, respectively.
Lift Rod Glue: The glue or adhesive is what holds the lashes in place on the rod in preparation for the perming cream and aids them in taking shape. The glue should be applied in small sections, and the lashes can be secured to the rod using a lash lift stick.
Creams: There are two main types of creams used in a lash lift: perming and neutralizing. The perming cream is typically applied first with the lashes secured to the rod, and then covered to set for about five minutes. Then the neutralizing cream is applied and covered to fully set the curl.
Conditioner Solutions: A conditioner is usually applied after the neutralizing cream. Lash Stuff features a conditioner with keratin that promotes the growth of healthier eyelashes and extends the results of the lift procedure.
Eye Pads: Eye pads are important for protecting the delicate skin and the lashes along the lower eye line. Cleanser pads aid in prepping the lashes and skin. Silicon or gel pads are available to cover the lower lashes and skin just below the eye.
Eyelash Isolator: This useful tool will help you fix any wayward lashes while you work.
Micro Tape: Tape can be used to help secure eye pads in place.
Brushes: Swabs and brushes make great gifts at the end of a lash lift session and can be useful when cleaning or styling the lashes during treatment.
What Should You Consider When Choosing a Professional Lash Lift Kit?
Your Training: You must be professionally trained to offer lash lift services. Incorrect application can damage a client's lashes and even lead to breakage. Proper training will also prepare you for the tools and products you will need to use.
Quantity of the Kit Products: Lash Stuff offers great lash lift kits that have everything you need. Quality kits should include enough branded products for you to perform several lash lifts. It is a good idea to compare the number of products you get for the price to make sure you are getting a good deal.
Quality of the Products and Tools: A cheap price does not necessarily mean a better buy. You also want to make sure the products and tools included in your kit are high-quality and will help you do the job as flawlessly as possible. If you are unfamiliar with the products, consider training with them.
Availability of Individual Products: Whichever company you purchase a kit from, make sure you are able to replenish your products easily from the same company.
Build Your Kit Today
Now is a great time to start building your own professional lash lift kit to have at your disposal. A professional kit should be able to hold and organize all of your products and tools. Wherever you buy it from, you should also be able to replenish your consumable or disposable components with ease. Lash Stuff has all of the products you require to perform beautiful lash lifts for your clients. Shop our extensive inventory today or text us at 1-385-393-1616 with your questions.