Learn the Basics of What Eyelash Extensions
Posted by Sara on May 26, 2017
WHAT ARE EYELASH EXTENSIONS?
An eyelash extension is a single strand, semipermanent false eyelash that is individually attached, one eyelash extension at a time, to each natural eyelash. Eyelash extensions enhance the appearance of the eyelash line and enrich both eyelash length and thickness. No matter what your clients' natural lashes look like, you can always enhance what they naturally have.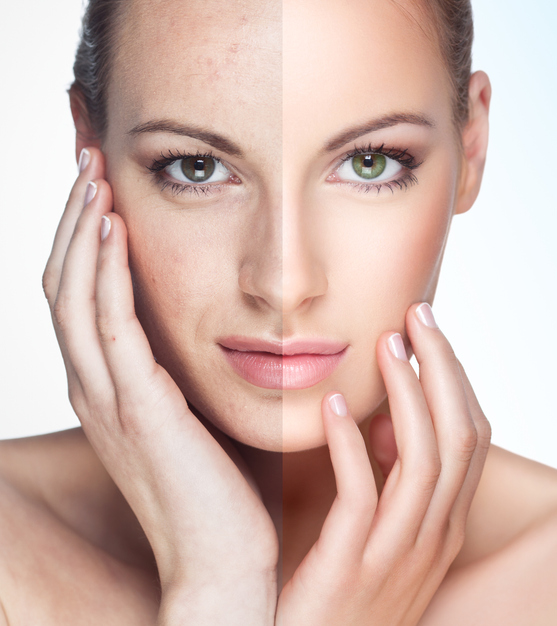 Eyelash extensions are made of synthetic material, real silk fibers, or real mink fur. The synthetic material, polybutylene terephthalate (PBT), is a thermoplastic engineering polymer that is mechanically strong and heat resistant up to 302 degrees Fahrenheit. Synthetic eyelash extensions come in two types: faux mink or synthetic silk.
Lash Stuff carries only synthetic lashes—synthetic silk and faux mink—that are made of PBT.
Polybutylene terephthalate (PBT) is a thermoplastic engineering polymer that is mechanically strong, and heat-resistant up to 302 degrees Fahrenheit.
FAUX MINK EYELASH EXTENSIONS
Faux means "imitation." Faux mink eyelash extensions are more rigid in shape and slightly thicker throughout the eyelash. These extensions have a slight sheen and are slightly glossy for a more dramatic look. They have more bling. Younger clients often choose faux mink eyelash extensions because they are more noticeable. Faux mink eyelash extensions are the most popular type of eyelash extension.
SYNTHETIC SILK EYELASH EXTENSIONS
Synthetic silk eyelash extensions have a more flexible curl, giving the lash a softer feel and more natural look for the client. They have a flat or matte black color, making them appear more natural. These extensions are good for clients who want fuller eyelashes but do not want others to know they have eyelash extensions.
EYELASH EXTENSION SIZES
Lash Stuff eyelash extensions come in many different curl types, widths, and lengths to help replicate a client's natural eyelashes and offer a unique, healthy look for each of your clients.
Lash Stuff Curl Types (from straightest to curliest)

oJ Curl (Least popular curl type)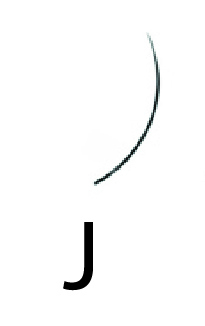 ▪Most natural-looking curl
▪Emulates the curl of an average natural eyelash
▪Starts straight and has a slight lift on the tip of the extension
▪Best for clients who want to add volume and length
▪Not recommended for clients whose natural eyelashes are straight and pointed down, as it can give the appearance of heavy-looking eyes
▪Meant to add length, not curl (Example: J curl in a 12mm length lash will appear longer than the same length lash in another curl type.)
oB Curl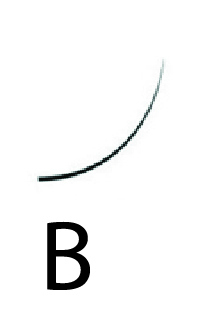 ▪Starts straight but has more curl on the tip compared to the J curl
▪Gives the impression that an eyelash curler was used on the natural eyelashes
▪For clients who want to add volume and length
▪Not recommended for clients with straight and/or downward-pointed lashes
oC Curl (Most popular curl)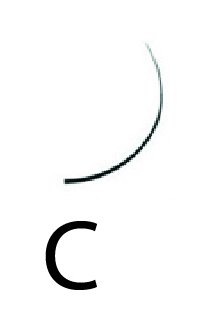 ▪Visually lifts the client's eyes and gives them an "open" look without looking heavy or too dramatic
▪Can be used for both natural and dramatic looks
▪Suitable for every eye shape
oCC Curl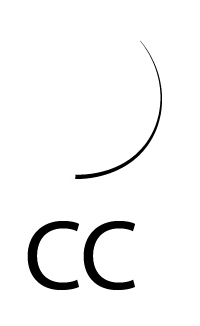 ▪Lifts the lash line and opens the eye
▪Popular curl type for an added dramatic effect
▪A little more dramatic look than the C curl but not as dramatic as the D curl
▪May not stay as long when applied to straight lashes, as the surface area between the natural lash and the extension is reduced
▪Could possibly cause discomfort for clients who have deep-set eyes or hooded eyes due to the extension touching the client's eyelids
▪Note: Analyze the natural eyelashes of your clients before offering this curl type.
oD Curl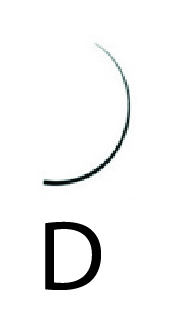 ▪Half-circle shape and the curliest type of eyelash extensions for the bravest divas
▪Dramatically opens the eyes
▪Possibly has a reduced retention for straight and downward-pointing natural eyelashes due to an extremely short bonding area
▪Shorter length of D curl recommended for mature eyes, with heavy lids, to avoid picking up the upper lid skin
▪"Doll Look" or "Doll Eye"
▪Perfect for clients with naturally curly lashes
▪Not suitable for clients with deep-set eyes or hooded eyes
oL Curl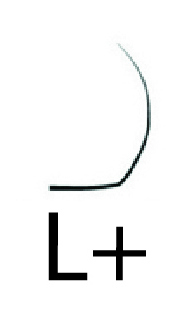 ▪Achieve maximum lift
▪Sometimes called the "Barbie" curl
▪Suitable for clients with straight or downward-pointing lashes
▪Suitable for a single eyelid or deep-set, hooded eyes
oL+ Curl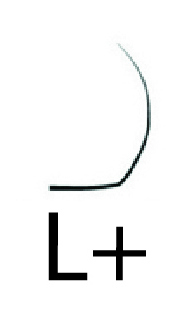 Not all lash curl types and widths are made for every client. This is why there are so many lash selections to choose from. When choosing lashes for your clients, always keep in mind that the longer the length and the wider the width of the eyelash extension, the more stress you are putting on the natural eyelashes. Choosing the wrong width and length can damage your client's natural eyelashes. It is not recommended to go more than 2 mm longer than the natural eyelash length. Applying eyelash extensions that are longer than that will reduce eyelash extension retention.
LASH STUFF EYELASH EXTENSION WIDTHS AND LENGTHS
Eyelash extension widths are measured in fractions of a millimeter. Volume widths are used to create a "fan" by hand. Volume lashing requires additional training to learn the techniques necessary to create and apply fans properly without damaging the natural eyelashes.
Classic Eyelash Extensions
Classic widths are used for applying one extension to each healthy, natural eyelash. The Lash Stuff basic eyelash extension course teaches classic eyelash extension application.
●Available Widths
oVolume
▪.05, .07, .10, and .12
oClassic
▪.15, .18, .20, and .25
●Available Lengths
oVolume Widths
▪6 mm - 15 mm
oClassic Widths
▪7 mm - 16 mm
Each client's natural eyelash strength should be inspected to determine the appropriate eyelash extension length and width to be used. Applying eyelash extensions that are too long or wide for a client's natural eyelashes could damage the natural eyelashes over time.