Leave Threading and Tweezing Behind: How To Choose the Best Eyebrow Wax Kit
Posted by Sara on Apr 28, 2021
As an esthetician, your job is to enhance your client's appearance. When a client stands from your chair, she should feel like she's at her very best. Looking in the mirror should be followed by a surge of confidence. Cleaning up her eyebrows could help her feel this way.
When it comes to eyebrow waxing, women have a variety of preferences. Some women enjoy dramatic, arched eyebrows, while other women may want a more natural, clean look. If you equip your salon with a high-quality eyebrow wax kit, then you are more likely to please your clients. When you provide eyebrow waxing, clients may return to see you once every four weeks for a touch-up. The following guide can help you choose an eyebrow wax kit.
How Does an Eyebrow Wax Kit Work?
Did you know hair removal dates back to the days of ancient Egyptians? Women used to remove their body hair using tweezers, beeswax, sugar-based wax and pumice stones. Waxing is a safe and effective way to remove body hair. Modern eyebrow shaping began in the 1950s with tweezers, but wax strips were invented as early as the 1960s.
Nowadays, eyebrow waxing is an exact science. Salons can perform eyebrow waxing quickly, efficiently and almost painlessly.
At the beginning of the client's consultation, you should discuss how she wants her eyebrows shaped. Would she like a high arch or a cleaned-up look? If necessary, you may need to trim your client's eyebrows with scissors to ensure the hair remains in place. Once trimmed, clean the eyebrow area and apply a pre-wax lotion.
Then, warm the wax and apply it with a wooden applicator to the hair. Allow the wax to harden and then rip the strip off quickly. Next, clean the area with an anti-bacterial cleanser and apply lotion to soothe the skin. You can use a tweezer after the procedure to fine-tune the brows.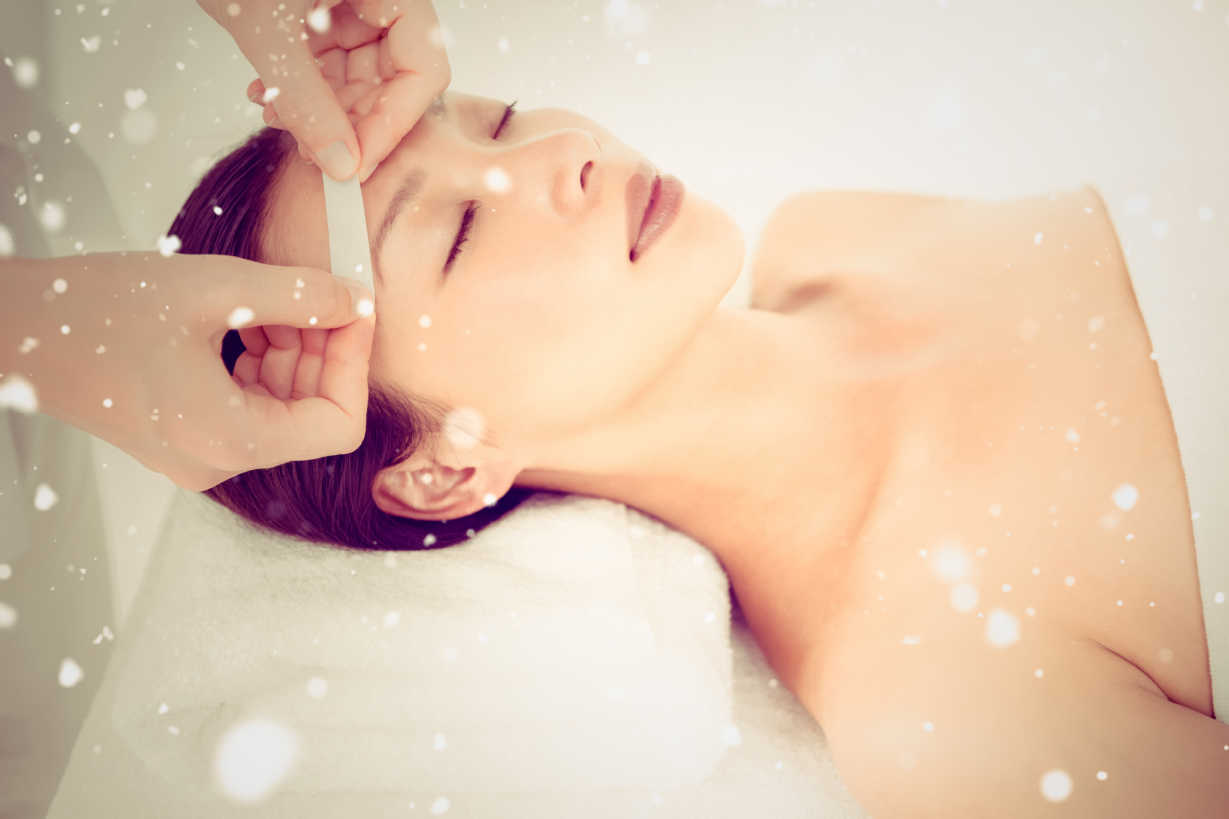 Why Do Women Prefer Eyebrow Wax?
A woman's eyebrows shape her face. While eyebrow shape may seem subtle, it can make a big difference in how others perceive a person. Eyebrows can enhance and bring out a person's natural beauty.
Most women prefer waxing their eyebrows for multiple reasons. The first is that it is less painful than threading and tweezing. When performed by a professional, the hairs are removed quickly and with minimal discomfort. When you tweeze, you remove individual hairs over a longer period.
Also, waxing can positively impact the brow's new growth. While eyebrows are never identical, waxing can help the eyebrow hairs to begin growing in the same or correct direction. Not only will the brow line become more natural, but your eyebrows may grow back softer and finer. When you shave body hair, you only remove a portion of the hair and so the hair appears to be thicker, darker and harder when regrown.
Waxing removes the hair at the root. When you trim or shave your eyebrows, you only lose part of the hair. This means when you wax hair, the hair will not grow back nearly as quickly. The brows will keep their shape for a long time following the wax treatment.
How Can You Choose an Eyebrow Wax Kit?
Choosing an eyebrow wax kit might be difficult if you're new to the business. Even seasoned estheticians may be unsure about which kit is best for their salon. If you are like most cosmetologists, you want to provide a top-notch experience to your clients. The type of kit you choose directly affects your reputation, so follow these three tips on wax kit choice.
Think About Clientele
Choosing to offer a waxing system is for the benefit of your clients. Before choosing an eyebrow wax kit, consider the type of clients you draw in or the type you would like to attract to your salon. If you are a full-service salon that provides different types of body waxing, you may require a wax system kit to cover all of your client's needs.
No one wants to salon hop for the best waxing experience. If you offer products of high quality, most interested clients will be willing to try your system. In addition to a full wax kit, consider skin sensitivities. While most people do not have a serious reaction to eyebrow wax, some do have allergies or sensitivities. Wax kits should include lotion to soothe the area following a wax.
Consider Wax Options
In the world of eyebrow waxing, there are several types of wax options. The top options include:
Honey wax
Cream wax
Hard wax
Honey and cream waxes are most commonly used to remove eyebrow hair, whereas hard waxes are best for the bikini line. The wax you choose should be a high-quality wax and should be gentle and safe enough to work on most people's skin. Safe waxes are best for beginners to apply to clients. There is less room for error when dealing with gentle wax methods.
Don't Leave Anything Out
If you did not offer eyebrow waxing prior, you may not have enough supplies in your salon to offer it to several clients. Make sure you have all you need. For eyebrow waxing, you may want to include:
Many salons choose to invest in entire eyebrow wax kits because these supply all of the different tools and materials you need.
Request a Lash Stuff Eyebrow Wax Kit
If your salon offers brow waxing, you are more likely to have clients who request you to give them shapely, beautiful eyebrows. You can offer eyebrow waxing with just about any other service. Waxing allows women to enjoy their shaped eyebrows for a longer period than other removal methods.
Lash Stuff provides a variety of products to cosmetologists and estheticians. Learn more about brow, body and facial waxing for your salon by checking us out today. A high-quality eyebrow wax kit may be the perfect addition to your spa or salon.
You can also shop eyelash extensions at Lash Stuff.
Sources:
https://www.elle.com/beauty/makeup-skin-care/tips/...
https://www.vogue.in/content/how-to-choose-from-th...
https://www.hindustantimes.com/health-and-fitness/...
https://bellamag.co/facial-harmony-the-importance-...