The Benefits of Jelly Face Mask Facials
Posted by Jess on May 17, 2022
How can you infuse your skin with deep hydration while revisiting your favorite childhood pastimes? By using a peel off mask made of jelly!
Jelly face mask facials are all the rage right now for their playful jello-like texture, but do they actually work? The answer is yes. Jelly face masks have a variety of benefits that leave your skin looking and feeling amazing.
If you're not yet offering jelly masks at your salon, now is the time. Keep reading to learn what jelly masks are and who they might be perfect for.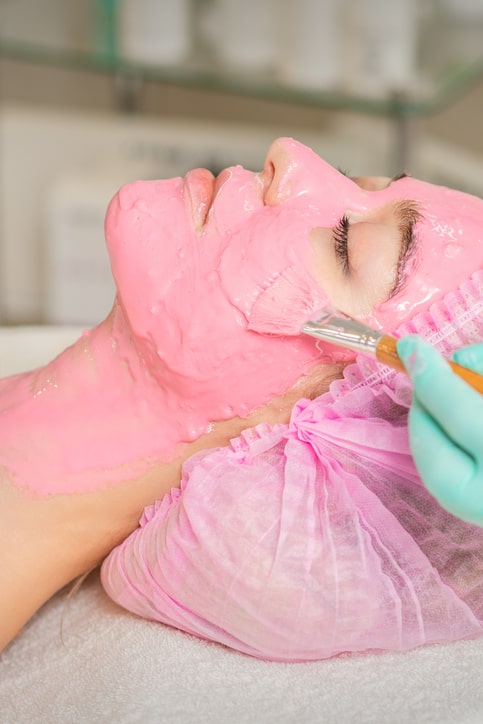 What are Jelly Masks Made Of?
Jelly masks are made with a variety of skin-loving ingredients, but the star of the show is usually agar agar. Agar agar is derived from red algae and has been used in Asia for centuries as a beauty treatment.
It's no wonder this ingredient is so popular in skincare products, as it's known to be very hydrating. It can also help to soothe irritated skin and reduce inflammation.
Other popular ingredients found in jelly masks include:
Hyaluronic acid: A powerful moisture-binding ingredient that can help to hydrate and plump the skin
Vitamin C: An antioxidant that can brighten the complexion and protect the skin from free radical damage
Glycerin: A humectant that helps to draw moisture into the skin
Fruit extracts: For a boost of vitamins, minerals, and antioxidants, many jelly masks will include ingredients like watermelon and papaya
How to Use a Jelly Peel Off Mask
Jelly masks are applied just like any other face mask. Start by cleansing the skin, then apply the mask evenly over the entire face.
Leave the mask on for 15-20 minutes, or until it's completely dry. Once it's dry, gently peel off the mask starting at the edges.
Jelly masks have the benefit of being mess-free. They don't even need rinsing, simply follow up with your favorite moisturizer.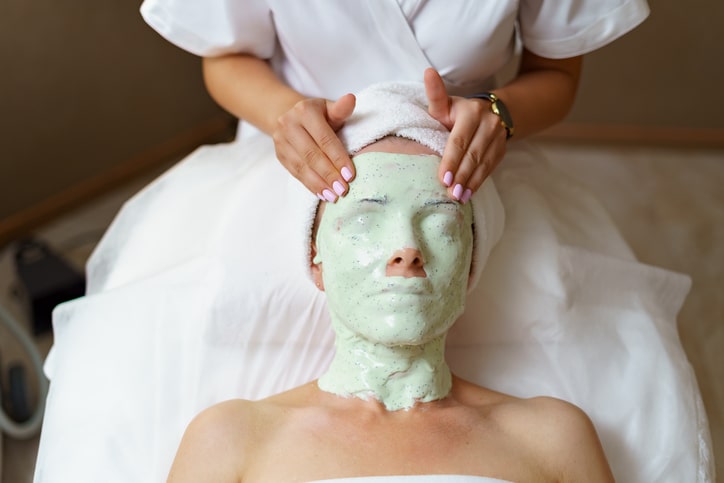 Benefits of Jelly Face Masks
Jelly face mask facials aren't just fun to apply, they help the skin in a number of ways. They are known to:
Hydrate Dry Skin.
This is thanks to the combination of hyaluronic acid and glycerin in jelly masks, which work together to keep the skin moisturized. Glycerin is a powerful humectant that draws moisture from the air into your skin, leaving it looking dewy and soft.
Soothe Irritated Skin
The cooling, calming effect of a jelly mask can help to soothe irritated or inflamed skin. The aloe vera and botanicals that are to be found in jelly masks provide a number of benefits to reduce inflammation and stress. It's best to carry a wide variety of jelly masks in your salon for different skin issues.
Choose your jelly masks based on the issues your client is experiencing. For instance, rose, chamomile and cucumber will all help to soothe inflamed skin. Masks with charcoal help to clear out bacteria that may be inflaming pores.
Reduce the Appearance of Pores
A jelly face mask can help to temporarily tighten pores and give the skin a smooth, matte finish. Ingredients like ginger and peppermint will tighten and refresh pores for a more youthful appearance.
Brighten the Complexion
Vitamin C is a powerful antioxidant that can help to brighten the skin and even out the complexion. Look for jelly masks with citrus extracts and green tea to boost the antioxidant powers of your face mask facial.
Protect Against Free Radical Damage
Antioxidants like vitamin C aren't only for brightening the face, they also scavenge free radicals, helping to protect the skin from damage. This is especially helpful for those who are out in the sun a lot or are exposed to environmental toxins within their home or work environment.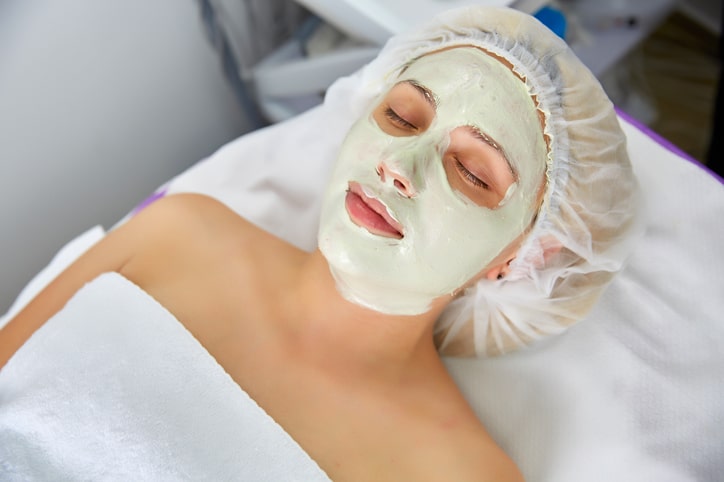 Improve Skin Elasticity
Jelly masks can help to improve skin elasticity and give the skin a firmer, more youthful appearance. Many of these masks are infused with collagen-boosting ingredients which help to increase cellular production and plump and tone the skin.
Even Out Skin Tone
By brightening the complexion and reducing inflammation, jelly masks can help to even out the skin tone over time. Honey, aloe vera gel, tea tree oil, and hemp seed oil can all fight the bacteria that cause acne. They won't dry you out or clog pores while they are doing so.
Who Are Jelly Masks For?
Jelly masks are a great hydrating treatment for dry winter skin. You can also suggest it to clients who want to try something new and fun. Jelly face mask facials are suitable for all skin types, but those with dry or sensitive skin may find them particularly beneficial.
If your client has oily or acne-prone skin, opt for a jelly mask that contains ingredients like tea tree oil or witch hazel, which can help to control excess oil and keep breakouts at bay.
When Should You Use a Jelly Mask?
Jelly masks can be applied as often as once or twice a week. If the client's skin is on the dry side, suggest that they use them more frequently.
For sensitive skin, start by applying a jelly mask once a week and increase the frequency as tolerated.
Tips to Increase Jelly Mask Benefits
To get the most out of your jelly mask application, follow these tips:
Gently cleanse your client's face before using the mask to remove any dirt, oil or makeup. Apply the mask to dry skin and leave it on for the recommended time. Peel the mask off slowly and gently.
Moisturize the skin after using the jelly mask to lock in hydration. Make sure to apply SPF for sun protection as part of your facial.
Choose a jelly mask based on the specific skin concerns observed. Look for ingredients that will help to address particular issues, such as hyaluronic acid for dry skin or tea tree oil for oily or acne-prone skin.
For an extra cooling and calming effect, store your jelly mask in the fridge before use.
Order Your Peel Off Mask Today
Lash Stuff offers four types of jelly peel off mask facials that are perfect for use in your salon. Jump on this fun new trend and try one of our no-mess, easy-to-apply options today.