The Essentials of an Eyebrow and Eyelash Tint Kit
Posted by Sara on Jan 31, 2022
What if you could take your salon to the next level with a single purchase?
In these tough economic times, it's all about finding ways to set your business apart from the competition. And one of the best ways to do so is to offer the best eyebrow and eyelash tinting in the area.
Even if you're already the best in the area, there is room for improvement. You can do so by getting the best eyebrow and eyelash tint kit in the industry. Unfortunately, many beauticians don't know enough about these kits to figure out if they are getting their money's worth or simply getting ripped off.
Ready to make sure you're getting the best kit for your buck and offering your own clients the very best? Keep reading to discover everything you need to know!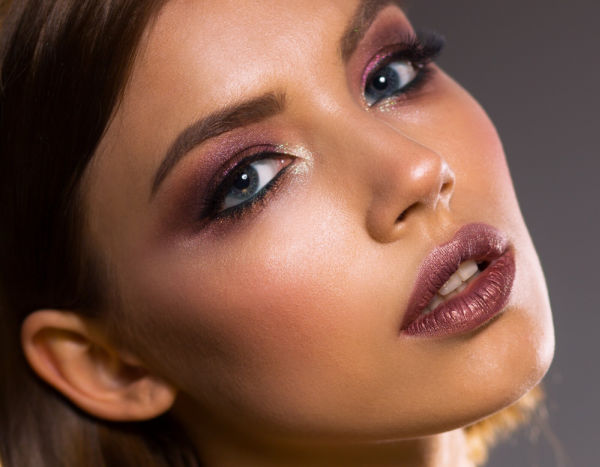 What Is An Eyelash Tint?
Before we can explore what you need from a good eyebrow and eyelash tint kit, we need to explore a bit more about these processes. And that brings us to the first big question: what, exactly is an eyelash tint?
Simply put, this is a process in which you darken a client's eyelashes and add extra dimension to them. And this process is very similar to other services you may offer.
For example, some compare a good eyelash tint to touching up the roots of your hair. Others point out that darkening eyelashes isn't very different from darkening the hair on our heads, though it's important to note that what you use on your client's eyelashes has been chemically formulated to be much safer around their eyes.
The procedure is relatively swift: because it takes about 40 minutes (at max) for the tint to take effect, you can usually complete the procedure for a client in less than an hour. And once those clients see how you made their eyelashes look thicker and fuller, they won't hesitate to come back for additional services.
How Long Do Eyelash Tints Last?
Satisfied clients may come back for any number of services, but they are most likely to come back for another eyelash tinting session. That brings us to the next big question: how long does the average eyelash tint actually last?
For the most part, an average tint lasts for about a month. Clients will likely come back when they notice their lashes returning to their previous lighter shade.
When this happens, your clients may think it is because the dye is wearing off. You may wish to tell them this is not the case. Instead, the old lashes naturally drop out and the new lashes simply need a new dye treatment.
Who Benefits From An Eyelash Tint?
Plenty of clients may request an eyelash tint, but chances are that you will need to sell some clients on getting this procedure. And in order to really market your service, it's important to know who benefits most from the process.
For the most part, this process works best for those who naturally have lighter lashes. If someone has darker lashes instead, consider recommending a lash lift for them instead. And pretty much anyone who wants their lashes to look amazing without using a ton of mascara will greatly benefit from a tint.
And just because someone has lighter lashes, they may not automatically be a good fit. Your clients should definitely do a patch test at least 48 hours before attempting to get a tiny. This will reveal whether or not they are allergic to any of the chemicals involved in the process.
What To Avoid After Getting An Eyelash Tint
As you know, aftercare is always important after a beauty procedure such as an eyelash tint. And the last thing you want your clients to do is to make a mistake and undo all of the hard work you just completed.
Fortunately, clients don't really need to perform much maintenance after an eyelash tint kit. The only thing they really need to avoid doing is putting on any mascara in the first 48 hours after the tint is completed.
After that, it should be safe for clients to put mascara on. However, after they see how awesome they look once the procedure is over, your clients will more than likely just put the mascara down!
What Is An Eyebrow Tint?
That's everything you need to know about the eyelash tint. But a good kit gives you everything you need to perform eyebrow tints as well. What, then, are eyebrow tints?
Eyebrow tinting does exactly what it sounds like. This procedure involves darkening brow hairs in a semi-permanent way. Additionally, it stains a client's skin in such a way that thinner areas of the brow look that much fuller.
The end result is that the client's eyebrows look better than ever before. And your clients will likely enjoy the fact that this simply enhances natural brow color, as opposed to more invasive procedures such as microblading.
How Long Do Eyebrow Tints Last?
Previously, we discussed how an average eyelash tint lasts about a month. Sadly, an eyebrow tinting procedure doesn't last nearly that long.
The initial stain usually only lasts about a week. After that, the hair strand's original color will begin to grow out. It may take about four weeks or as little as two weeks, but pretty soon, clients' eyebrows will look like they did when they first walked through your doors.
However, clients can get the most out of their eyebrow tinting by following some of the aftercare tips below. If clients follow all of those steps and their hair cooperates, they may be able to stretch things out as long as eight weeks. But average clients who want to keep the tinted look are going to need to come in at least once a month.
Who Benefits From An Eyebrow Tint?
An eyebrow tint can be very effective for the right people. But as with an eyelash tint, it's important to know exactly who you should market this service to.
Unlike eyelash tinting, there is no magical "right" audience for the eyebrow tinting procedure. Instead, this is a process that can benefit anyone who wants to have a fuller and more luxurious-looking brow. With that being said, the final results are going to be more dramatic for those who have fewer hairs and very little brow definition.
Your clients should also know that, as with the eyelash tint, the benefits of eyebrow tinting are temporary. It can make a client's arches look better than ever, but the effect won't last unless they keep it maintained. On the bright side, that may mean a lot of repeat business for any of your clients that fall in love with their new look.
What To Do After Getting An Eyebrow Tint
Previously, we noted that clients will enjoy a longer eyebrow tinting period if they follow certain steps after the procedure. But what are the things that clients need to do (or not do) as part of their post-tinting aftercare?
First, it's important that they wash their faces and take a shower soon after tinting. This sometimes surprises clients who are worried about disrupting their new look.
Second, if clients really want that tint to last, they need to avoid using oil-based products on their eyebrows after the tint. Similarly, they need to avoid any face washes that will lighten the tint after you have applied it.
Finally, all the usual recommendations regarding hair dye still apply here. That means that clients should avoid trips to the beach because they are likely to be exposed to sunlight and saltwater that might affect the tint. Clients need to also avoid hopping into a swimming pool or washing their faces directly.
Why Getting A Good Eyelash Tint Kit Is So Important
Now you know more about what both the eyelash tint and eyebrow tint are. And that brings us to another major question: what makes a good eyelash tint kit so important?
The short answer is that a good eyelash and eyebrow kit can save you quite a bit of time. Otherwise, it will be up to you to select and separately purchase a variety of different tints.
Additionally, you want to make sure that you buy only the safest products for your client. When you buy tints from less reputable retailers, then you could easily end up with dangerous ingredients that end up hurting and damaging your clients' skin. But getting your supplies from a reputable retailer helps you protect both your clients and your reputation.
And if you're new to eyelash and eyebrow tinting, then you need a kit that comes with additional instructions on how to get started. This can save you quite a bit of time and help you start offering tinting and making a bigger profit almost right away.
What Comes In the Last Stuff Eyebrow and Eyelash Tint Kit?
Here at Lash Stuff, we are proud to offer an eyebrow and eyelash tint kit that provides everything you need to know to get started. But what do you actually get with this particular kit?
First, you get a good selection of tints. The kit comes with three 15ml tints: a blue black tint, a true black tint, and a natural brown tint. This lets you experiment with different shades and helps you serve clients with different kinds of skin tones.
The kit also comes with a bottle of 3% no run developer cream. This cream does a perfect job of activating the tints before you apply them and ensuring that the final product looks nothing short of amazing, with perfect consistency and texture.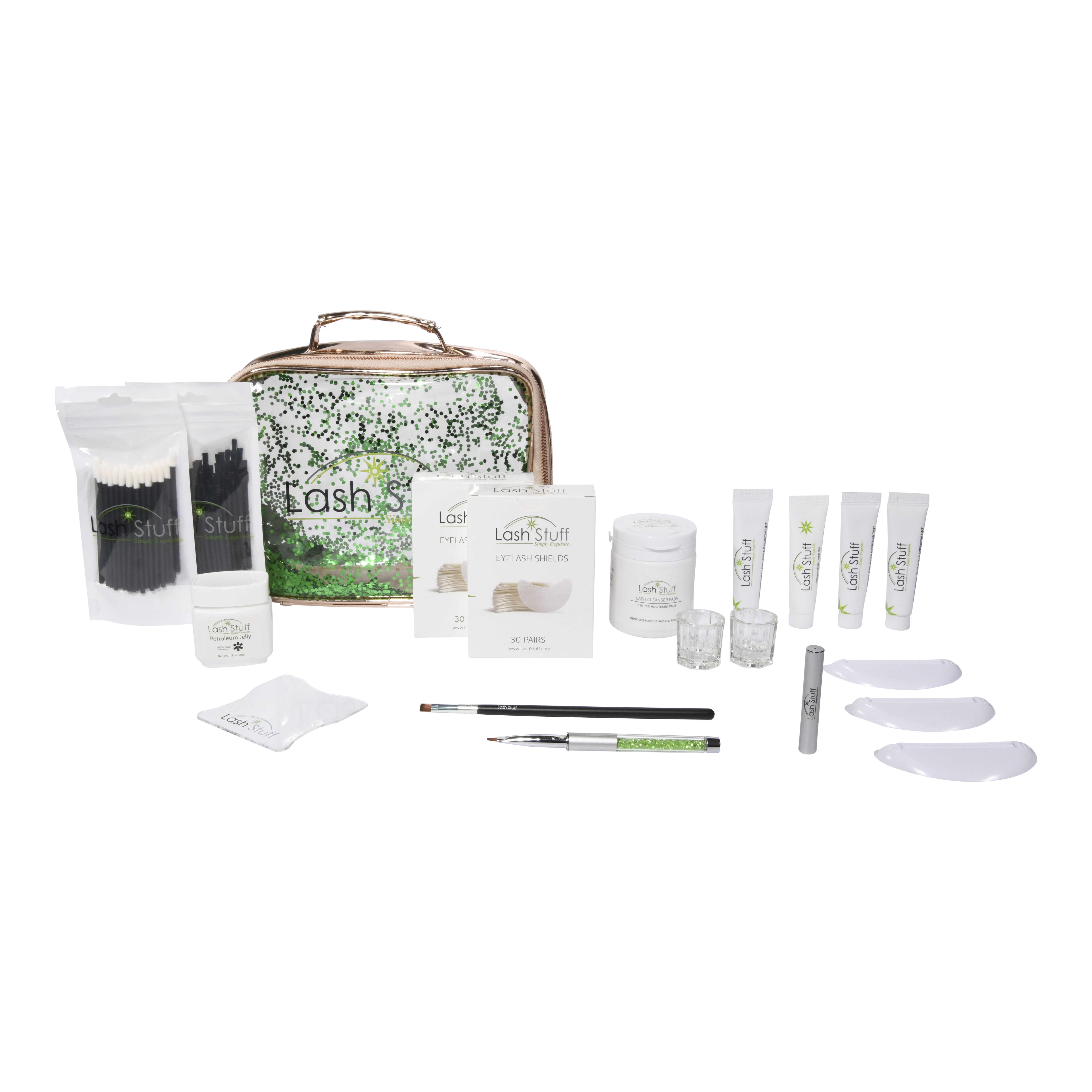 To help you serve many clients before you need to make another purchase, this kit comes with 60 eyelash shields and 50 disposable tint brushes. You also get two eyelash and eyebrow tint brushes, allowing you to dedicate each one to a different task.
You also get some important basics, including a tint dish and a 50g container of petroleum. Finally, you get 50 flocked applicators, lash cleansing pads, and a stylish Last Stuff which is perfect for organizing your kit in your salon or even taking it on the road.
Basically, this kit is a "one-stop-shop" to help you hit the ground running with eyelash and eyebrow tinting. And once you run through your current supplies, the kits are affordable enough that you can order another one whenever you want!
Free Online Training
At this point, you might be a bit skeptical about buying an eyebrow and eyelash tint kit. After all, there is a big difference between having the supplies that you need and knowing what to do with them.
Fortunately, this is where Lash Stuff really outshines the competition. We offer a free online training and certification course you can take before or after you order your kit.
In addition to teaching you how to perform eyelash and eyebrow tints on your clients, this free online course helps you get a certification (provided that you already have a current cosmetology or esthetician license).
Think of this free course as the ultimate added value for your kit. With a single purchase, you can learn everything you need to know about these procedures and have enough supplies to get started immediately.
Get Started Today
Now you know what comes in the best eyebrow and eyelash tint kit. But do you know where you can order the best possible kit with the click of a button?
Here at Lash Stuff, we specialize in helping you offer the best in quality and service to your clients. If you're ready to start offering these popular new services in your local area, all you have to do is order a kit today!