Top Things to Know Before Becoming a Makeup Artist
Posted by Omolola A. on May 12, 2022
Are you considering becoming a makeup artist? Maybe you've been doing quite a job before your dressing mirror, and your dream is to go pro with it. We must admit that this is a noble ambition that we would like you to achieve because makeup artists are heroes. Makeup artists prove to the world each day that everyone can be attractive.
But as with every profession worthy of consideration, knowing what the job entails is crucial. Also, it is expedient to be conversant with the steps to take to become a professional makeup artist. We know what this dream means to you, so here is how we help you get a step closer to fulfilling it.
This article details the different types of makeup artists and the general procedures for becoming a professional makeup artist. Also, you deserve to know the benefits you will derive from this profession and some challenges to anticipate. All you need to do is to read the post to the end.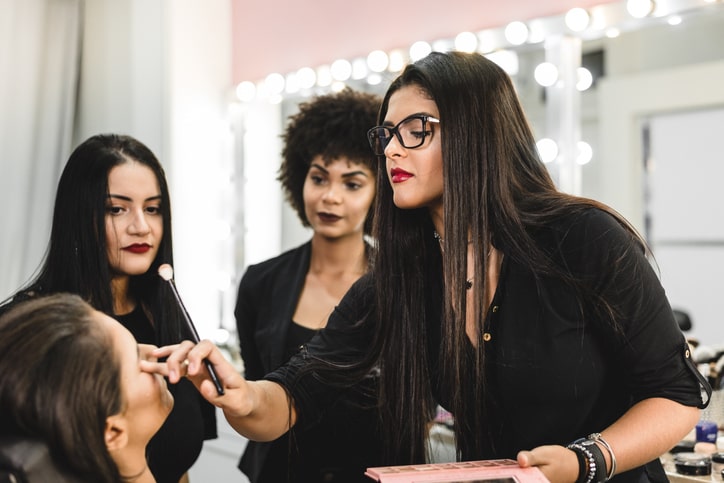 Who is a Makeup Artist?
A makeup artist is a professional artist skilled at using cosmetic products and other accessories to enhance or alter a person's physical appearance. Most times, these beauty experts focus on the facial areas of clients. Some may deal with other parts of the body, especially when the goal is to transform the bodily appearance of the client.
Types of Makeup Artists
Makeup artists vary in their functions or specialty. The categorization depends on where they work, and each possesses a unique skill set. Some categories of makeup artists include the following:
Cinematic Makeup Artist
These work in television stations and are also part of a movie production crew. Their work ranges from making the on-air presenters and anchors appear as required for the screen.
Meanwhile, those working in the movie industry enhance or alter the appearance of casts. Part of their distinctive skillset is the ability to create special effects, such as you see in horror movies and sci-fi movie characters.
Fashion Makeup Artist
Their work entails making fashion models ready for their photoshoots. They work together with other professionals in the fashion industry, such as photographers and designers.
Wedding Makeup Artist
These are one of the most marketable makeup artists in the industry. Their clients are brides, grooms, and their trains. Tying the nuptial cord is no mere ceremony. Therefore, a wedding makeup artist makes the "centers of attraction" appear gorgeous before their well-wishers and cameras.
Beauty Brand Makeup Artist
These are artists working with beauty brands to promote specific products. They must maintain an awareness of the latest trends in the beauty niche and help the company stay updated.
Face and Body Painting Makeup Artist
From clown-like appearances to outright horror looks, these makeup artists specialize in making part and whole body transformations using their brushes and paints. Their goal is to create special effects on the client. No doubt, imagination and artistic talent are requirements for this métier.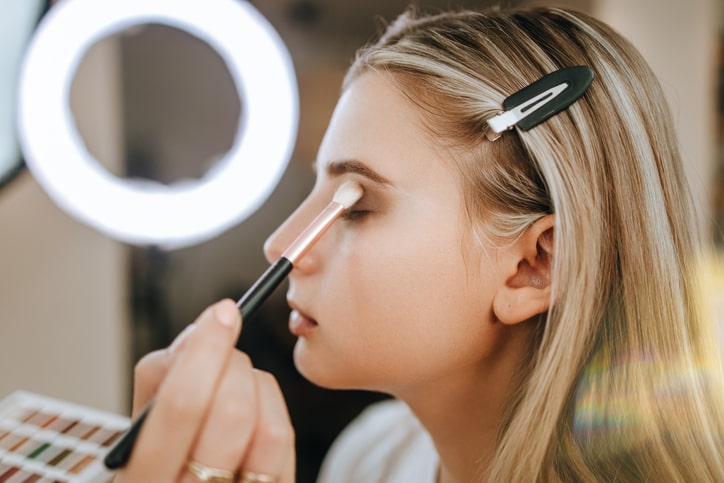 Is it Hard to Become a Makeup Artist?
Whether it is hard or easy to become a makeup artist depends on the individuals looking to make it a career. If you mean hardness in terms of a rigorous process, then you could be right. Nevertheless, there is no denying that you could find it easier if you have some artistic tendencies. And people without any previous inclinations for aesthetics haven't been awful in the profession either.
However, like other professions, becoming a makeup artist requires dedication and resolve. In most states, you cannot become a makeup artist unless you have completed a course in a recognized beauty school. After your certification, you still have to register with the regulating body in your state to get a license to practice.
How Long Does it Take to Become a Makeup Artist?
The duration of becoming a makeup artist depends on three major factors. First is the number of hours the institution you attend for your training requires that you fulfill. That could be anything between 650 hours to 1600 hours.
Also, if you enroll in a part-time program, it can take up to 2 years or more before you become a makeup artist. So, it is better to register for the full-time program. You can spend as few as six months in a full-time program.
Beyond the beauty school, you need some time to learn part of the trade by experience. Some of the best beauticians would tell you that they know as much as they do because they learned from several botched jobs.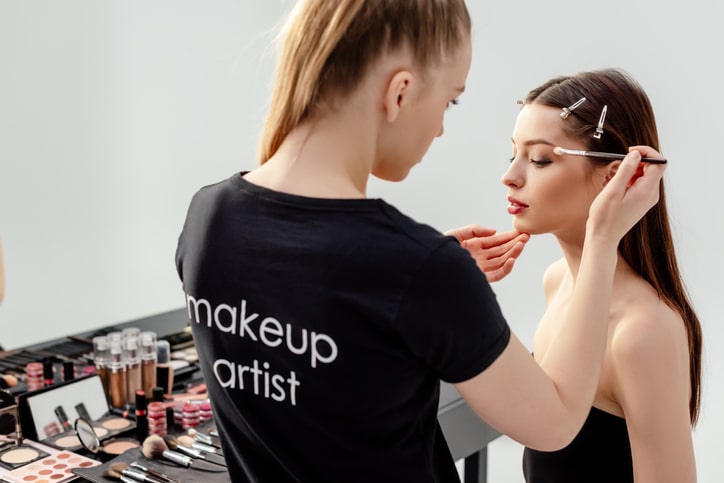 How to Become a Makeup Artist
If you wish to become a makeup artist, you should first check out your state's prerequisites. Every state has its demands for people desiring to be makeup specialists. However, regardless of where you are from or wish to practice, the general process of becoming a makeup artist is highlighted below.
Enlist in a Registered Cosmetic School
There is fundamental knowledge every makeup artist should have about the human body and how they affect makeup. For example, you need to know about different facial shapes and characteristics. You also need to understand the various forms of eyebrows and lips. Cosmetic schools will teach you this.
You will learn about different hues and shades, color theories, and implications. Aside from that, you will also learn different brushing techniques, makeup application, how to mix cosmetics to achieve a result, and many more in the cosmetic school.
Complete the Program
The school program would involve regular classes where you learn about several principles and techniques of beautifying others. There would also be practical classes where students model for each other while others practice. Again, every accredited beauty school has a fixed number of hours you must fulfill during training. While it varies from school to school, the national average for aesthetic training is 650 hours.
Embark on Apprenticeship
There would be time to put what you've learned to the test in real life. However, this will be under the supervision of a professional makeup artist. Usually, your school will attach you with one of their affiliates for the apprenticeship. You can also apply independently with a beauty expert.
An apprenticeship period gives you the privilege of learning on the job. The period also allows you to learn more about the niche of makeup you wish to specialize in.
Sit for your Examinations
As applicable to any institution, you would have to prove yourself with an examination. The examinations would often involve both written and practical forms. Success in this examination marks the end of the formal training.
Apply for License to Practice
After applying for your license, you may need to sit for an examination before being certified. However, the examination depends on your state. After meeting your state's requirements and paying the statutory fees, you will receive the approval to practice. Only then can you call yourself a qualified makeup artist.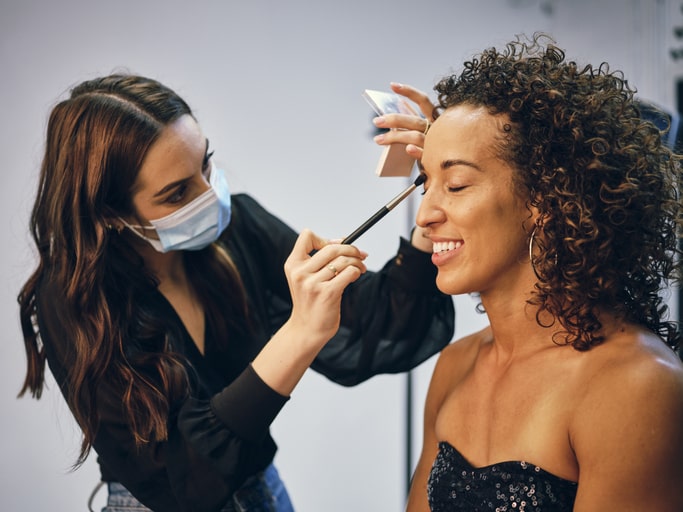 How to Grow as a Makeup Artist
When you become a makeup artist, you should know that doesn't mean you already know everything about the profession. The need for growth as a makeup artist is ever so important. Here are ways in which you could succeed as a makeup artist.
Try to Satisfy your Clients Always
The best advertisement for any profession is a delighted client. Ensure you deliver nothing but your best with every job. Doing so would open doors for more customers through referrals. Although gaining clients by referral may be slow, it is the cheapest and most effective means of advertisement.
Also, be friendly and equally professional with your clients to court a relationship and increase the chance of coming back. Every face you work on is practically your canvas to show people what you can do.
Do some Free Jobs for Family and Friends
Regular customers wouldn't care if you are just starting your makeup career. They want value for their money and not excuses. One poor job could affect your morale and the willingness of the client to patronize you again.
But to get better at the job, you need to work more often. Offer to do some makeup jobs for your family and friends at little or no cost. They would be your best platform for practicing and improving your skills. Your loved ones can correct you and suggest things you can do for a better outcome. With time, you would gain enough confidence, which would be evident when you encounter real clients.
Relate with Other Makeup Artists and Platforms
There should be no loner in any business. You would benefit from identifying other makeup artists in your specialty and connecting with them. While the temptation to see them as rivals would rise, you must discard it. Find people already making waves in the business and connect with them. You could find some inspiration in their works.
Also, workshops and seminars are not only avenues for learning new things but the perfect environment to meet potential clients and colleagues that can be helpful to you. Never pass on such opportunities as they present themselves occasionally.
Learn to Market your Skills
While it is excellent to keep honing your makeup skills, it would be better if you also showcase them. There are different social media platforms where you can show the world how good you are. And come to think of it, everyone is on social media these days! Begin by setting up a page where you upload some of your jobs. You can do this in videos or pictures.
In addition, ensure that the commentary option is available. Take some time daily to attend to people's remarks where necessary. There will be critiques, but it is a good sign people are paying attention to your posts.
Let everyone know that you are available. Who knows, someone in your area may come checking soon.
Find a Mentor
The most successful makeup artists did not attain such heights overnight. Many started from humbler positions than you are right now. Find someone whose works appeal to you. Eat the humble pie and request their mentorship. Experience, as many say, is the best teacher, and it is not for sale. With the right attitude, your mentor will be willing to show you the ropes of the business, which can get you flying.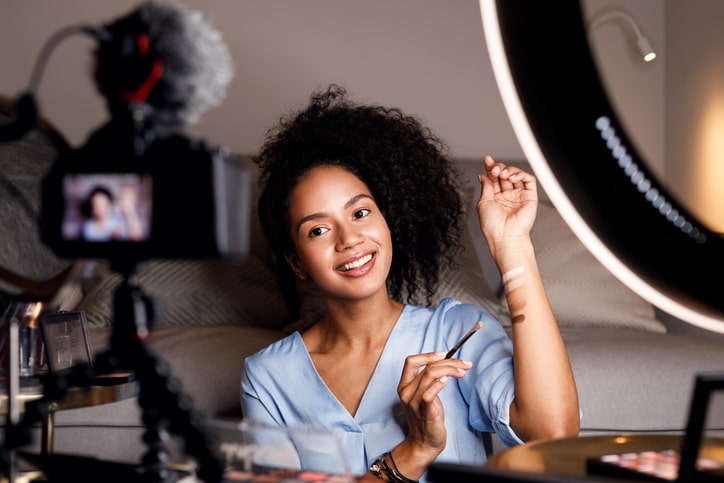 Is Being a Makeup Artist Stressful?
The work of a makeup artist can be stressful and, at the same time, easy. The determining factor for this is the situation of your workplace. Makeup artists assigned to celebrities would describe their experience as anything but easy. The same goes for those working with the movie production crew.
Another determinant of how leisurely the profession can be is the number of clients an artist gets daily. While some have to attend to only a few people daily, others with more prominence have a hailstorm of customers.
When the heat of the work turns up, you must manage the stress so that it doesn't affect your performance. A makeup artist must always be in the right state of mind to notice those little details on the client's face. Where possible, ask for help from a freelance colleague that is less busy if you can't reschedule your client.
What are the Pros and Cons of Becoming a Makeup Artist?
Being a makeup artist can be very rewarding and the same time, challenging. As a heads-up to you, let's examine some of the pros and cons of the profession.
Pros
Whether you choose to become a makeup artist and work full-time or as the occasion presents itself, some advantages come with the business. These include:
Opportunities are boundless
Makeup artists can work in diverse industries. Examples include the motion picture and video industries, television networks, event planning and centers, and beauty industries, to mention a few. Makeup jobs are not scarce if you have the skillset to match. You can even run your beauty studio if you wish to "be your own boss."There is also the opportunity to freelance your skill.
There is a ready Market
According to statistics available in the open domain, the cosmetic market is worth $$80.73 billion, and makeup takes 16% of it. You would agree that that is a healthy representation. Consider the number of social events taking place around you every day. You can safely conclude that a makeup artist can never run out of clients.
The Pay could be good
Most makeup artists' paychecks are pretty encouraging. The annual income of a makeup artist varies between $20,000 and $160,000. What determines your earnings in this profession includes your level of training, experience, area of specialization, and job location. Also, beauticians working as freelancers may charge as much as $95 per hour. That's pretty impressive, we must say.
There is scarcely any boredom
Different clients mean different challenges making boredom resulting from routine not likely. Again, the work naturally involves moving from one place to another. Imagine working with a movie production crew. You would probably tour half of the world by the end of the year.
Moreover, the job allows you to meet with influential personalities and build a strong network of acquaintances.
You have control of your time
Makeup artists can work as freelancers and work indoors. They do not necessarily need a classical office. As long as they have a standard makeup kit, attending to customers anywhere, including their homes, is possible. You can choose to decline an invite to have some personal time or schedule appointments with clients if that works for them.
The job doesn't require much education
Asides from the professional training, makeup artists, do not require a degree or high educational qualification. A diploma is just fine. In reality, they do not even need formal education, except for the added advantage it brings. That enables people to start their careers from a young age. Little wonder about half the population of makeup artists in the US falls within the 20-30 years of age.
Cons
Being a makeup artist comes with its fair share of challenges, as all jobs do. Here are some challenges you should expect while working.
Clients can be demanding
The job requires you to meet lots of people and to be frank, not every one of them will be nice. Some customers can be difficult and impossible to please. Bear in mind that the work of a makeup artist can get very personal with some clients. You need to prepare your mind to meet such people during your career. Imbibing the virtue of patience, listening, and cheerfulness would be helpful in such a scenario.
It isn't easy to get a break
Many makeup artists continue to hope for the big break in their career, and it doesn't come as quickly as they suppose. Making a good brand name and customer base takes time. As a result, many do not make profits as expected, making it difficult to afford some luxury. So, while it is true that some among them earn six figures annually, that represents only less than 10% of their population.
Work can get hectic
Depending on where you work, a makeup artist may have to work many hours in a day. Some successful ones can't even get a weekend off work due to the tight schedule. Picture those working on movie sets and how much cosmetic work they must do for every scene? Stress is one component a makeup artist would have to deal with throughout their career.
The profession creates anxiety
Being successful in the business requires some level of talent and luck. That puts many under tension to get better. While this may sound good and motivating, the pressure it creates in the professional community is anything but funny. As a result, many fret and keep second-guessing themselves, especially when there is a low turnout of clients.
Random work hours
Except for those working a full-time job in a firm with defined work hours, freelance makeup artists cannot decide when they would have free time. Unless they pass on some opportunity to make money, there may be a need to work at any time of the day. The job involves you working with someone else's appointment and not yours. Nothing could nail this more than the words of a celebrity who said, "I don't have a makeup kit; I only have a makeup artist."
Poor job security
Picture this. One week you are so busy that you are trying to catch your breath, and the next, you are twitching your fingers, waiting for someone to call you. Such is the life of a makeup artist. The majority work on short-term contracts. Hence, many makeup artists are constantly anxious about getting their next job after the current contract runs out.
Final Thoughts
Many people dream of being an expert makeup artist, some work towards achieving it, and a few make it to the pinnacle of this career. Becoming a makeup artist is hard work, but there is nothing you cannot do if you set your heart to it. The early stages of this business can be discouraging due to low patronage and the struggle to find your specialty.
But these challenges are peculiar to all professions and not the makeup niche alone. Patience and determination will be your greatest ally to see you through this phase.
Your level of exposure can also be a limiting factor to your progress. Make it a duty to interact with professionals within your specialty and stay current with trends. Equally important is to work on your interpersonal skills to help you stand out from the wannabes.
Overall, you can take comfort knowing that the best makeup artists in the world did not get there in a sudden leap. You can attain such heights and even beyond. The key is a continuous effort towards improvement and an unquenchable thirst for excellence with each work.
Lash Stuff offers free Lash Lift, Brow Lamination, and Lash and Brow Tint Classes. Learn more here.