12 Things To Consider When Signing Up for Eyelash Extension Classes
Posted by Sara on Apr 30, 2021
If you look up eyelash extension classes near me, hundreds of options may appear. It's important to make the right choice the first time around to make the best use of your time and money. The courses you choose can dictate the opportunities you have in the years ahead.
Learning about eyelash extension techniques can introduce you to new business opportunities and allow you to specialize in a skill not yet offered in your community. Some people have also made lifelong friends with which they share a passion in the classroom. So, what exactly should you keep in mind when signing up for eyelash extension classes?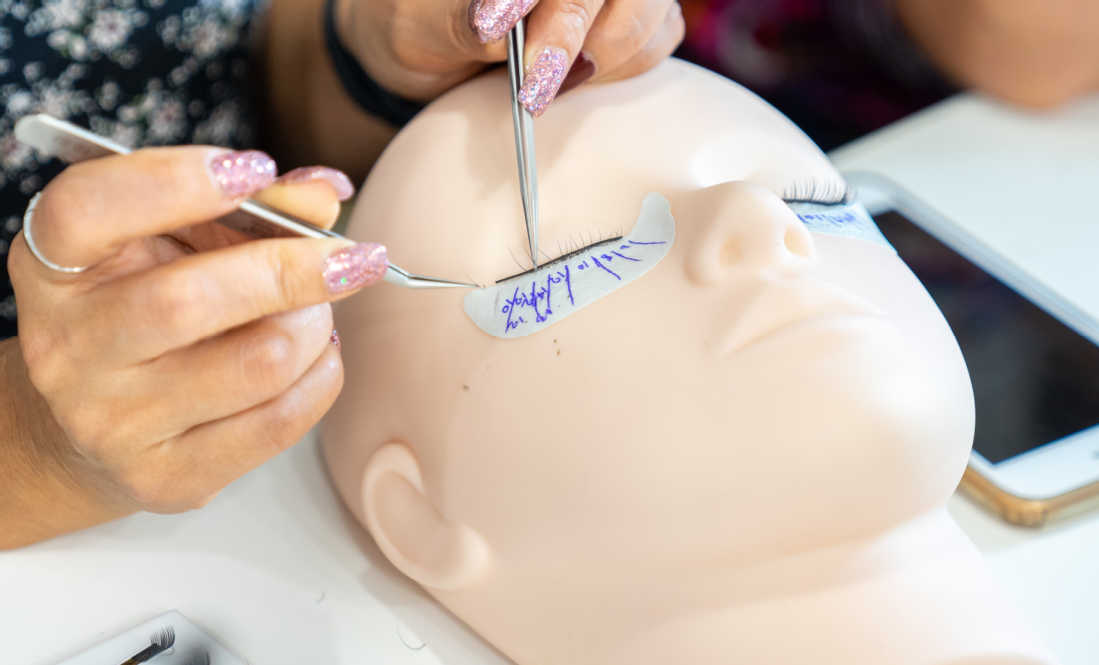 1. Goals
When you commit to taking a class in anything, you should have an idea of what you want to get out of it. Whether you have recently completed a degree, diploma or certification program or haven't had formal training in a while, having a clear goal helps you commit. The more committed you are to learning, the easier it is to stay focused during classes.
When it comes to mastering eyelash techniques, it's not about getting a grade but about what you can do for your clients. Passion and dedication to the art of making people beautiful are what matters most. The key ingredients for your success with this or any course are commitment and self-discipline.
2. Timing of Eyelash Extension Classes Near Me
Timing is everything when it comes to learning a new skill, especially when you already have other courses or a career underway. Make sure you have the time to learn about lash extensions. When classes are in person or live, it's also important to check how they can fit in your schedule.
Another important consideration is how long it takes to complete the course. Your reasons for choosing the course could make this crucial. For example, if you are planning to add eyelash extensions to your services, make sure you will have completed the coursework before the first dates you are booking clients for.
3. Skill Level
Courses in any field tend to address different skill levels. These can reflect educational qualifications or professional experience. Here are the three categories you are most likely to encounter:
Basic or beginner
Intermediate
Experienced
When researching a course, you should look for more details on who it is meant to serve. You should also consider what professional experience the classifications speak to. For example, is it beginner levels in lash extensions or in general esthetician work? When deciding where you fit, take an honest look at your current skill sets and what you would like to learn.
4. Cost
When you look up eyelash extension classes near me, it may take a bit of digging to figure out how much each course costs. Generally speaking, costs range from free to several thousand dollars, with the average falling around $200. So, is it worth paying higher prices for other courses?
Companies can invest heavily in marketing to convince you to spend thousands, but do your research to avoid overpaying. If you have never taken an eyelash extension class before, consider looking for a free one and trying that first. You can then follow up with paid coursework to further advance your skills, if needed.
5. Financing
Sometimes you may need assistance to cover the cost of classes. You might be apprenticing or just want to focus on building your portfolio for now. Whatever the reason, some companies offer financing options to pay for courses. This can be an attractive option, but complete a thorough review of the terms.
It may be worth it to take on more debt, especially when you get a new certification in the process. However, doing your due diligence ensures you won't get trapped in unfavorable terms. While we cannot offer financial advice, here are some tips to help with your review process:
Identify and review all the terms of a loan before signing up.
Consider improving your credit history before applying for credit so you get better rates.
Research the financial institution and see what people have to say about its loan process.
Look into financing options outside of the ones listed on a course website.
Research how people progress in their careers after completing the course to see if it's likely to give you a true return on investment.
Consider free courses, so you can avoid paying altogether.
6. Certification
After completing a course, you should have an easy way to convince another person that you did. Make sure to get written proof that you can present to an employer or hang up at your station for clients to see. The type of certification can also make a difference. Some are more respected than others, so do your research and choose wisely.
A company that cares about your professional growth can provide a PDF copy or other form of written certification for you to use. If you receive an electronic copy, these are easy to print, laminate and frame.
7. Affiliations
Courses do not occur in isolation. No matter who teaches, sponsors or hosts the course, it has some affiliation with at least one other brand. If you have never heard of the brand before — and even if you have — do some research. Several beauty brands have faced backlash for lack of inclusiveness or even blatant racism or homophobia on the part of their founding members.
The last thing you want is to become affiliated with a brand that can damage your own. These are some affiliations and what to expect from each:
Colleges: Sometimes reputable universities host one-off classes in the beauty industry. This can boost your credibility. They rarely include or focus on lash extensions, so you may have to do some serious digging to find one.
Beauty Salons: When salons want to attract new talent, they sometimes provide free training for aspiring workers. They then choose the most promising professionals. Because employment is the final goal, you might not receive a certificate.
Celebrities: Sometimes A-listers create products and services that are accompanied by lash extension courses. Aligning your professional brand with these celebrities could have a strong positive impact on your business.
Influencers: These micro-celebrities often have an even stronger impact, but you need to complete more thorough due diligence. Influencer brands are not usually professionally managed, so there is a higher likelihood of being tied to questionable statements.
Suppliers: Companies that sell or manufacture lash products often provide courses on how to use their products. This is an excellent option for developing a strong relationship with a supplier for your business.
8. Model Usage
Courses that require a model should let you know ahead of time. Note that public health guidelines may cause this requirement to go through frequent changes. So, always check to see what the most updated information is. It is also up to you to determine whether your state requires a license and how to acquire one ahead of time if needed.
The easiest model to work with is someone you live with, as you would have fewer complications when coordinating schedules. As well, should public health guidelines restrict multi-household gatherings, a housemate can still be used. While you may assume you need to find an adult woman, you might find a willing test subject in a young child or a man. Keep an open mind, and your instructor should too.
9. Licensing
Before you start looking up eyelash extension classes near me, find out whether you need to be a licensed esthetician. Most states require beauticians to begin or complete formal education in the field before securing a license. Others only require an apprenticeship. If you are currently apprenticing, you may not yet be eligible for a license or a course that requires one.
More often than not, courses require licensing if they have practical components. In other words, licensing is generally required if you need a model. If you do not meet licensing requirements, ask if you can use a mannequin during practical sessions instead. These are usually inexpensive to source online.
10. Class Location
These classes could take place anywhere in the world. This is a great opportunity, but it's important to look up restrictions. Believe it or not, even online teachers can specify geographic locations for students. The good news is that this is rare in cosmetology. If you are allowed to sign up across national lines, just ensure you speak the language and understand the accent.
A more important consideration is whether the methods and equipment used are legal in your jurisdiction. For example, some products used overseas are either not approved by the U.S. Food and Drug Administration or are outright banned. Yet, accidentally sourcing a banned product can be as easy as placing an innocent online order. Consequently, it's important to do your due diligence.
11. Teaching Method
Sometimes eyelash extension classes near me searches turn up in-person classes. Increasingly, these are being replaced by online classes. Consider your learning style carefully before choosing one that works for you. Note that some classes combine several methods:
Observation: Whether you attend classes virtually or in person, you may spend time watching how the professionals complete each task. This is best for people who learn by watching and who cannot yet acquire licenses.
Reading: Sometimes, training courses provide written notes that you can later rely on. In other cases, these may take the form of audio notes. Cosmetology is a very practical field, so this kind of study usually only plays a supplementary role in the learning process.
Practical Classes: Some instructors require you to put what you learn to work. This could happen during the training session or afterward. In some cases, you may be asked to record a video of the process or send a photo of the final product.
Pre-Recorded Classes: Sometimes, you can find online classes where all the coursework is premade and waiting. This allows you to learn at your own pace with no pressure from your peers. You can also usually revisit these classes after several years. Some companies provide lifetime access and free refresher courses.
Apprenticeship: One of the best ways to learn is an apprenticeship under a licensed esthetician. However, these can be hard to find and can be the most expensive. While you might not have to pay fees, you also may not receive payment for any work you do, and the hours are typically longer and ongoing.
12. Follow-Up
No matter what your learning style is, being able to ask questions and receive detailed answers can transform the learning process. Asking questions plays a crucial role in critical thinking. If you attend a class in person or sign up for live classes, asking questions may be much easier. However, even static or pre-recorded classes can facilitate follow-ups via emails.
If you're not sure what the follow-up process is, ask before signing up. You should also check reviews of the class to find out whether instructors respond to queries and the eagerness with which they do so. Try to find courses with attentive instructors who are committed to ensuring you understand the material and can safely apply what you learned.
Sign Up for the Best Eyelash Extension Classes Near Me
When pursuing your dreams as an esthetician, it's important to remember that there is more to success than natural talent and creativity. In fact, there isn't a single profession where people cannot benefit from additional training as newer and more efficient ways of completing tasks are developed. This is especially true in the beauty and fashion industry where things change rapidly.
At Lash Stuff, we provide free training so estheticians can learn how to complete lash lifts and eyelash tinting. You can complete these training sessions in the comfort of your home and at your own pace. We also carry just about every tool you could possibly need to expand your lash business. Before googling eyelash extension classes near me, check out our courses, risk-free.
Get professional lash extension supplies at Lash Stuff.