8 Things To Know About Eyelash Extensions
Posted by Sara on Mar 04, 2021
Eyelash extensions are one of the hottest spa services of the new decade. According to Vogue Business, nearly 900,000 people search for lash extensions on Google every month. This surge in popularity comes from the no-fuss beauty routine offered by eyelash extensions, which appeals to anyone who wants to wake up in the morning with perfectly glossy, full, flirty lashes.
If you're thinking about bringing this service to your clients as an esthetician or spa owner, these are the eight most important things to know about eyelash extensions before you get started.
1. The Application Process
While traditional false eyelashes come in a single strip, the eyelash extension process involves adding a single false lash to each of the client's natural lashes. Extensions can create thicker, longer and more voluminous lashes that look and feel just like the real thing. While the appointment takes about two hours, lash extension fans say it's a relaxing and completely painless experience. Have clients bring headphones and their favorite podcast or playlist, since they'll have to keep their eyes closed the whole time.
2. A Semi-Permanent Solution
Eyelash extensions last until the client's natural lashes grow back. Depending on the person, the extensions can last for about six to eight weeks. However, clients must return to the spa for maintenance to keep extensions looking their best, typically every two to three weeks. Avoiding oil-based products and water can help lash extensions last longer.
3. Required Prep
Instruct clients to shower and wash hair before their appointment. They cannot expose the lashes to water for a full 24 hours after application. If the glue gets wet, the lashes won't dry as expected.
Clients should arrive for lash extension application without makeup. They should avoid curling their natural lashes, which can make the application more difficult.
Let clients know that waterproof mascara is a no-no for at least seven days prior to lash application. The formula leaves a residue that can keep extensions from sticking to natural lashes.
We recommend dressing for a lash extension appointment in soft, comfortable clothes. After all, clients will be lying down with their eyes closed for quite a while; you might also recommend that they skip coffee or energy drinks before lash application.
4. Complete Customization
Salons can offer a range of lash styles so clients can create their perfect look. Generally, extensions range from 9 to 16 mm long and come in a variety of widths. A C-curl extension provides a soft, natural appearance, while J-curls offer dramatic glam. The technician can even mix and match different types of lashes for a custom effect that flatters. Some clients might opt for a half set instead of a full set of lashes for a natural appearance they can wear to the office.
Start each appointment with a thorough consultation so the client can choose the lash look that best fits the occasion. Encourage them to bring photos of their desired lash style or have a selection of sample images to help guide their choices. You can also make recommendations based on the person's bone structure, face shape and preferred aesthetic.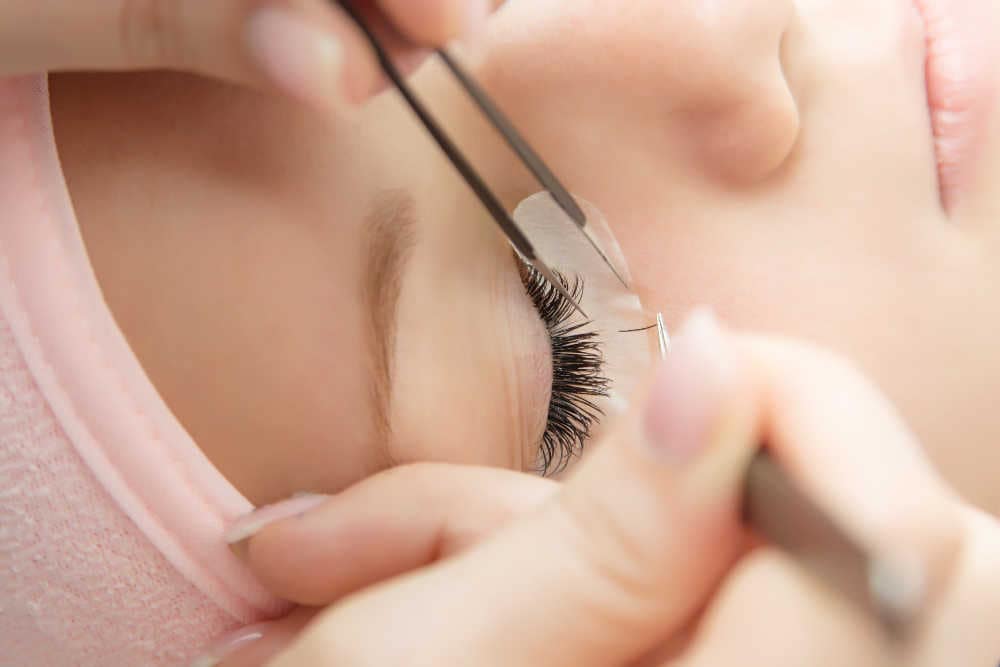 5. Luxe, Lightweight Materials
Lash extensions are designed to be lightweight with a soft, silky feel. Some brands use real silk or even mink, but most rely on synthetic fibers designed to mimic the appearance and texture of actual fur.
6. Safe Application
Research indicates that wearing eyelash extensions does not affect the health of clients' natural lashes. In rare cases, traction alopecia may develop if a client uses lash extensions constantly for several years. Eyelash glues that contain formaldehyde can also cause irritation, itching and redness for some people. Application by a professional lash technician at a reputable salon dramatically reduces the risk of these complications.
We recommend having first-time clients do a patch test to ensure they aren't sensitive to ingredients in the eyelash glue you use. You should also be aware of signs that a client has a bad skin reaction, which may include rash, pain, itching, bloodshot eyes, swelling, stinging or burning.
You should not offer lash extensions to clients who have a latex allergy, trichotillomania, alopecia areata, blepharitis, or dermatitis that affects the eyelid. Be sure to ask these questions about medical history during the initial consultation appointment. Some states require a license for technicians offering lash extensions, so research the requirements in your salon location before advertising.
7. Wear and Care
Educate your clients about how to care for their lash extensions. They should brush out the lashes each day gently using a clean spoolie brush. They should also avoid rubbing their eyes, remove makeup gently with a cotton wipe, and discontinue the use of oil-based cleansers and makeup removers.
Clients should never try to remove lash extensions without returning to the salon. After extensions grow out, daily application of coconut or castor oil can help replenish and nourish the natural eyelashes.
Let lash extension clients know that stomach sleeping can cause lashes to loosen, necessitating a maintenance appointment. Side sleeping is best for true extension enthusiasts. Mechanical eyelash curlers can also cause the quick demise of lash extensions, though heated lash curlers are OK for most styles.
8. The Cost of Extensions
The price of extensions varies based on geographic location. According to Cosmopolitan, spas in New York City charge between $100 and $400 for the original set of lash extensions and $50 to $175 for maintenance appointments in between full sets. At maintenance appointments, the technician adds new extensions to replace those that grow out and fall off. If a client decides to have lashes removed, technicians usually charge around $20.
Lash Stuff is your affordable source for high-quality eyelash extensions, with free shipping all over the United States. If you're ready to begin offering this service to your loyal clients, you can attend our free training courses and seminars to get up to speed. Our free VIP program offers benefits like cash back on purchases, free gifts and same-day shipping. Browse our full selection of lash extension supplies and get started today!