Brow Lamination Aftercare: The Complete Guide to Caring for Your Laminated Eyebrows
Posted by Sara on Aug 04, 2021
Treating yourself to a brow lamination treatment can transform your look and enhance your natural beauty. The eyebrow enhancement trend is booming right now.
Women everywhere are realizing the beauty benefits of eyebrow enhancement. These procedures involve a chemical process, so it's important to take good care of your hairs following the procedure.
You want to do everything you can to keep your brows healthy and looking their best. Good brow lamination aftercare prevents your brows from becoming dry, brittle, or damaged.
If you're considering brow lamination, here are some tips for caring for your brows and preserving the life of lamination treatment.
What Is Eyebrow Lamination
Your eyebrows frame your face, and you want them to look their best. If you find yourself constantly trying to fill in or enhance the look of your brows, eyebrow lamination may be the perfect solution for you.
Brow lamination is a noninvasive, semipermanent brow procedure that alters the direction of your eyebrows. The goal is to adjust the natural brow pattern and achieve fuller, fluffier brows.
The procedure is pain-free and takes approximately 30-45 minutes to complete. You walk out after your procedure with fuller, healthier-looking brows.
How Does Brow Lamination Work
Using a variety of serums, a brow stylist lifts the brows from the roots. The procedure involves several steps, including styling the brow hairs in the desired direction, laminating the hairs with a gentle solution, and treating the brows with a hydrating serum.
Will Lamination Affect the Color of My Brows
The lamination process itself does not affect the color of your natural brows. If you want to darken your brow color, your stylist can add a tint to enhance the look of your brows and create a darker appearance.
The Importance of Brow Lamination Aftercare
Brow lamination is a chemical process. The formulas stylists use to perform the procedure are safe for your brows. But you have to do your part to keep your brows healthy and hydrated after the treatment.
Without aftercare, your brows could become brittle or dry. Just like the hair on your head, your brows need moisture and conditioning to keep them looking their best.
You want your eyebrow lamination treatment to last as long as possible. Following the aftercare recommendations is essential for beautiful, healthy brows.
Eyebrow Care for the First 24/48 Hours
You will notice a change in the way your eyebrows look and feel immediately following your eyebrow lamination procedure. This is when your aftercare process begins.
To keep your brows looking great from the start, it's crucial to:
Keep the eyebrow area dry for 24 hours
Avoid the sun, tanning beds, saunas, steam rooms, or swimming pools for 48 hours post-procedure
Avoid touching or rubbing your brow area for 24 hours
Use a lash conditioner your stylist recommends
Avoid wearing contact lenses until the day after treatment
Following the guidelines for aftercare will help you extend the life of the procedure and keep your brows healthy and looking their best in the days to come.
Tips for the Days Following Treatment
It's important to continue to care for your laminated brows in the days following treatment. Good aftercare is the key to long-lasting results and healthy, feathery brows.
Avoid using exfoliant products for several days following brow lamination
Avoid using anti-aging products on the face for three days before and after the treatment
Avoid using tanning products of any kind around the eye area for three days post-treatment. The chemicals in self-tanners can discolor the tint of the hairs, resulting in khaki-colored brows
Avoid applying foundation, eyeshadow, mascara, or other makeup products on or around the eyes for a few days or at least 24 hours after the procedure
Keep the brow area clean and free from makeup or other beauty products for a few days. This will help your lamination set and ensure you get the best results possible following your brow lamination procedure.
How Do I Care for My Brows
Brow lamination isn't permanent. It temporarily sets your brow hairs in a brushed-up position. Lamination breaks down the bonds of the hair making it easier to manipulate to the desired effect.
The first 24 hours following treatment are the most important for aftercare. You should avoid getting your brows wet. And you want to sleep face up for several nights to avoid flattening your brows.
After the procedure, your brows are in a fixed position. Lying on them for an extended period can bend the hairs and ruin the desired effect.
For best results, leave your brows alone for the first 24 hours. After that, you simply need to brush them up to maintain their fluffy finish. After 48 hours, use an oil your stylist recommends to keep your brows hydrated.
Being gentle with your brows in the days following lamination is crucial. With careful aftercare, your brows should look amazing for 6-8 weeks after the lamination procedure.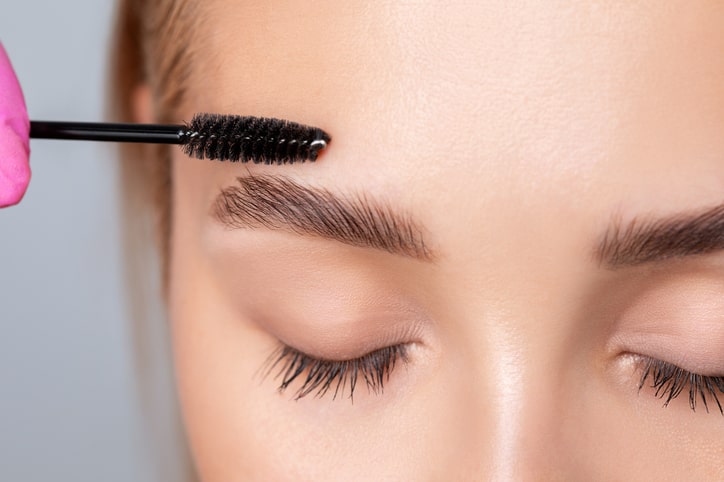 Keeping Your Brows Dry
Water is the enemy of your brows for the first 24 hours after lamination treatment. Water can interfere with the setting process and reduce the longevity of your brow procedure.
For a few days after lamination, consider bathing rather than showering. This reduces the chance of getting your brows wet and ruining your new look.
Avoid excessive exercise, sweating, swimming, and saunas for a few days after treatment.
Applying Makeup After Brow Lamination
After your lamination procedure, your stylist will apply some makeup around your brow area. For best results, you shouldn't apply any additional makeup around the eye area for 24 hours.
Your hair follicles remain open for a while after lamination. Makeup products can clog pores and lead to breakouts or infection following treatment.
For best results, avoid using foundations, concealers, eyeshadow, or any other makeup products around the eyes for a day or two.
Tanning After Brow Lamination
Brow lamination uses chemicals that can make the skin around your brows tender for a few days. For this reason, you should try to avoid being in the sun or using tanning beds for a few days after your procedure.
Removing Brow Lamination
Eyebrow lamination is a chemical process. It's similar to a hair perm or a lash lift. Although it's not permanent, it's not something you can remove right away.
However, if you don't like the brushed-up look of your brows, you can brush them down on your own. They will still maintain a full effect and look great after treatment.
The results of brow lamination fade after 6-8 weeks. As the treatment fades, your brows will resume their natural look and growth pattern until you repeat the procedure.
Conditioning Your Eyebrows
For best results, you should condition your eyebrows twice a day after brow lamination. This keeps your eyebrow hairs soft, hydrated, and healthy.
Just like a chemical treatment to your hair, you need to condition and care for your brows after brow lamination. Consult your brow stylist for the best conditioning serum for your brows.
A quality serum will strengthen and soften your brows. It will protect the eyebrow tint and extend the longevity of your brow lamination treatment.
Brow Hygiene Matters
Don't be afraid to gently cleanse and condition your brows in the days to weeks following treatment. Regular care will not hurt your brows. It will enhance the look of your brows and keep them clean and healthy-looking.
The build of oils or dirt can lead to inflammation or infection. It's important to keep your eyelashes and brows clean and nourished.
Although you want to avoid getting your brows wet for the first 24 hours after treatment, you can clean and moisturize them after that.
Be sure to comb your brows in the desired direction each time you wash your face. Because brow lamination is a chemical process, your brows should stay in place and look great all day.
The Importance of Brow Lamination Aftercare
If you're looking into the latest eyebrow trends, you may be interested in eyebrow lamination. Women are loving the look of their brows following this treatment.
It's a semi-permanent, safe procedure that gives your brows a brushed-up, feathery appearance. It lifts the hair from the roots which allows you to manipulate your brows into position.
Since your stylist uses a chemical process to achieve your desired look, brow lamination aftercare is important. Following these guidelines can help you achieve beautiful brows for weeks to come.
For more information about the latest eyebrow trends, visit our website and take a look at our quality lash and brow products.