Supplies That Are Needed to Apply Eyelash Extensions in 2022
Posted by Sara on Dec 13, 2021
Did you know that, according to Common Thread Collective, the beauty industry had a worldwide value of $511 billion in 2021, up from a worldwide value of $483 billion in 2020? Additionally, this value is expected to be greater than $716 billion by 2025.
Considering these statistics, it's an exciting time to be working in the beauty industry. And as a professional working in this industry, you need to be aware of the biggest trends and know how to serve your clients best.
This is why it's important to have the supplies you need for applying eyelash extensions. If you don't know what these are, you might be feeling stressed or overwhelmed by all the options out there.
Fortunately, in this article, we'll review all the supplies you need for this process. Finally, you can serve your clients with the best supplies and grow your business. Read on to learn more.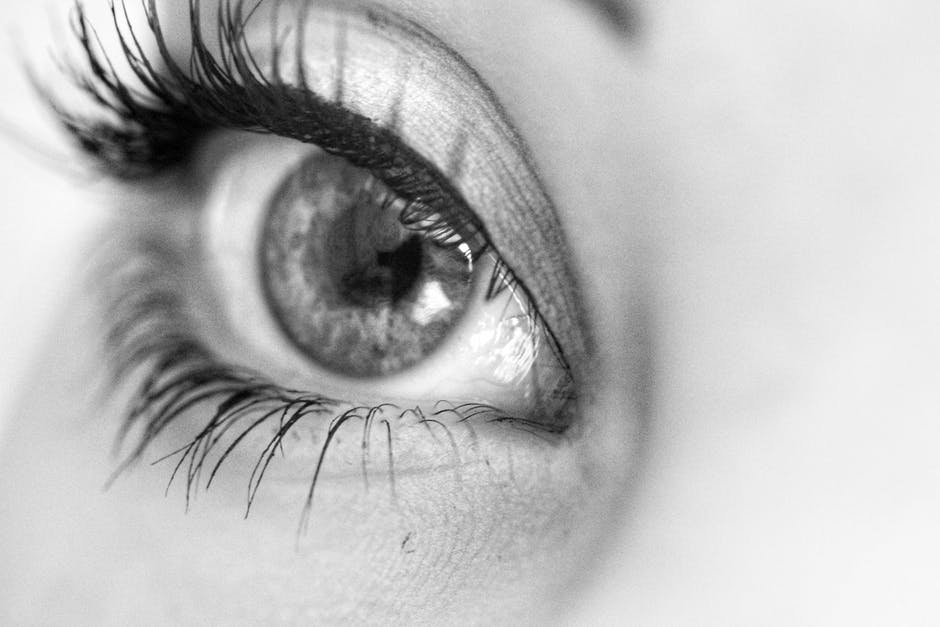 Eyelash Extensions Supplies
Eyelash extensions supplies include eyelash extensions, lash extension glue, tweezers, disposable eyelash applicators and brushes, a glass lash tile, an air blower, and cream adhesive remover. We'll review each of these in detail now.
Eyelash Extensions
When you're buying eyelash extension supplies, the most important is the eyelash extensions themselves. To ensure that your clients are happy, it's smart to offer a variety of options, such as synthetic silk and faux mink extensions in varying lengths and curls.
For example, there are the more classic eyelash extensions Faux Mink Single Lenth Eyelash Extensions.
What makes these extensions unique is that's they're of professional quality, so instead of having a slight blue hue that cheaper ones have, they actually look black. Additionally, they're made of poly-fiber material, not actual mink fur.
They also keep their curl for as long as they last, which will make your clients happy.
This is a good example of what you should look for if you want to have more traditional eyelash extensions.
However, if you're looking for eyelash extensions that are more playful, consider getting ones that are a fun color or have an ombre effect.
Lash Extension Glue
Whether you're working with natural eyelash extensions or another type, you need last extension glue. The best type of lash extension glue is low in terms of fumes and is latex-free as well as free of formaldehyde. It's also best that it has a lightweight, thin consistency.
In terms of variety, some glues will dry in one second, while others will dry in two or three seconds.
There are also glue types made for volume eyelash extensions, while others are made for more classic eyelash extensions.
One great option is the LEX Volume Eyelash Extension Adhesive. This adhesive, designed for expert use, is long-lasting, has low fumes, and is instant cling. It dries in one second, which is why it's only for experts.
It holds lashes for five to six weeks and is easy to apply.
Tweezers
To apply hybrid eyelash extensions or any other type of eyelash extensions, you need tweezers. Because semi-permanent eyelash extensions are so small, you need a tool that offers the maximum amount of control. When choosing tweezers, make sure they fit in your hand comfortably.
At Lash Stuff, you'll find the largest eyelash extension tweezer selection available anywhere.
These tweezers are made of stainless steel that's premium and that makes it possible for you to place the eyelash extensions with precision and exactness.
They offer tweezers that are for the application of volume eyelash extensions, classic eyelash extensions, and 5D, 4D, 3D, and 2D eyelash extensions.
Additionally, Lash Stuff offers the Pink Titanium Eyelash Extension Tweezers, which are new and hand-made.
They have a lesser amount of tension, which means that they make it easier for the person applying the eyelash extensions to apply volume eyelash extensions.
Disposable Eyelash Applicators and Brushes
By using disposal eyelash brushes, you can ensure that when you apply the eyelash extensions that they'll be separated and won't end up having an appearance that's clumpy. Because these are disposable, many are available in sets.
Brushes
For example, there are the Black/ Teal Mascara Brushes. These only cost $3.99, have a cute teal color that your clients will enjoy (or that you can use to match your own branding), and you get 50 per package. If you want a more glamorous option, check out the Black/Gold Mascara Brush.
This also comes with 50 per package. Whatever type of brush you buy, remember to give it to your client at the end of the eyelash extension applying session.
This can help them with the care of the eyelash extensions and will also remind them that you're the one who applied their eyelash extensions.
So the next time they're looking for a place to get eyelash extensions applied, instead of doing a Google search for "eyelash extensions near me," they'll go straight to your salon.
Applicators
In addition to keeping eyelash extensions neat with brushes, applicators can make the application of all types of products necessary for the application of eyelash extensions much faster and more effortless.
You should look for applicators that are disposable and sterile so that they're safe for use, after which you can toss them out to ensure that you aren't sharing from client to client.
You can use them to prime, cleanse, and remove lash extensions, doing all of this effectively and without wasting products, spilling, and dripping.
Glass Lash Tile
When you're doing all the work of applying eyelash extensions to clients, you need to make sure that you have a place to put the eyelash extensions while getting your work done. This is when a glass lash tile comes in handy.
This way, you can keep the lashes tidy both after and before appointments.
Air Blower
Another important supply that you should use when doing eyelash extension application is an air blower. This speeds up how quickly the adhesive works, reduces the fumes that are around your clients' eyes. You should use it when you change the glue drop you're using or every 15 minutes.
Cream Adhesive Remover
If you have to remove your client's eyelash extensions before applying new ones, this product is a must. It will make it easy for you to remove the eyelash extensions, as it will break apart the adhesive without doing any damage to the eye or areas around it.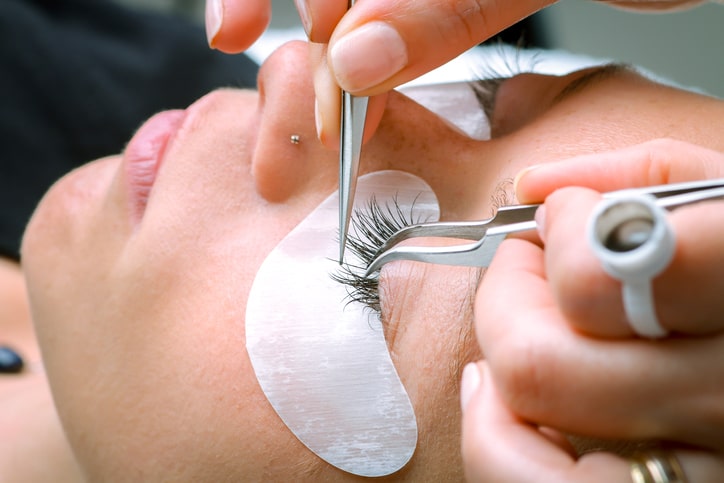 The Best Solution: The Eyelash Extension Kit
If you want all the supplies you need for applying eyelash extensions, the best solution is to purchase the Eyelash Extension Kit. This has many of the supplies professionals need, including eyelash extensions, a glass lash tile, micropore tape, and more.
Eyelash Extensions
With this kit, you get four cases of eyelash extensions that are mixed. You can choose from either Faux Mink x 2 C.18, CC.18 or Synthetic Silk x 2 C.18, CC.18, so you can make sure you have the right type your clients want.
A Glass Lash Tile
With the glass lash tile, you can ensure that you can hold the lashes in place before applying them. This will keep your workstation clean and organized, which will both make your job easier and make you appear professional to clients.
Three Micropore Tapes
You can make applying eyelash extensions easier by having access to three micropore tapes. With this surgical tape, you can tape your clients' eyelids when you're applying their eyelash extensions or cover their lower lashes.
This tape will make it much easier for you to handle the more delicate aspects of applying eyelash extensions.
Cream Adhesive Remover
As someone who applies eyelash extensions, part of your job also involves removing eyelash extensions—whether a client wants them removed completely or replaced with ones that are new or give them a new look.
With cream adhesive remover, you'll be able to easily remove the adhesive, after which you can remove the eyelash extensions.
Pre-Treatment
To make the eyelash extension process as easy and professional as possible, it's important to use eyelash pre-treatment. With this pre-treatment, you can moisturize, prepare, and cleanse your clients' natural lashes.
This will remove makeup and natural oils so that the surface is ideal for bonding the eyelash extensions to the natural lashes.
Black Jasper Adhesive 5 ML
This kit also comes with Black Jasper Adhesive 5 ML. This is a long-lasting and super strong adhesive that is perfect for the intermediate to expert level. It dries quickly, which means you can easily move on to the next lash while you apply.
It lasts between five and six weeks, and the consistency is flexible and thin, which makes it easy for you to apply.
The dry time is two seconds, and there are around 170 drops in the bottle.
LS-1107 and LS-1108 Tweezers
This kit comes not with just one, but with two tweezers. This means that you'll be able to use the one that's easiest for the job, depending on the size of your hand and the volume of the eyelash extensions you're applying.
Air Blower
The Eyelash Extension Kit wouldn't be complete without an air blower. This will help you speed up the process of applying eyelash extensions, and it will also make the experience more pleasant for your clients, as there won't be as many fumes for as long near their eyes.
50 Mascara Brushes
You'll also get a total of 50 mascara brushes with the Eyelash Extension Kit. This means you'll have, right at your fingertips, a tool you can use to brush your clients' eyelash extensions and to give to them so they can continue to care for the extensions once you've applied them.
50 Flocked Applicators
With a flocked applicator, you can easily apply the eyelash extension remover, primer, cleaner, and other types of products to the eye in a way that's easy. These are just the right size so that you can use them quickly and then throw them away.
10 Standard Eyepads
With eyepads, you can tape down the lashes on the lower eyelid before you apply eyelash extensions, making the process easier. Additionally, these tighten and moisturize the skin, making the eyelash extensions application more pleasant for your clients.
30 Plastic Stickers That Are Adhesive
The 30 plastic stickers that are adhesive that come with this kit make it much easier, and less messy, for you to put down the drops of adhesive you're going to use. In addition to making the application process easier, this makes clean-up take up less time and keeps your area neat and professional.
USB Nano Mister
This kit also comes with a USB nano mister. With it, you can keep your clients' lashes a bit moist after, during, and before the application of eyelash extensions. This makes it easier for the adhesive to cure and for the natural lashes to absorb the glue in a way that's more effective.
Cosmetic Case
Finally, the Eyelash Extension Kit comes with a fold-out cosmetic case that makes it easy to keep all of these items organized. It's a stylish case, silver and green, that will also look cute to your clients when they come in for their eyelash extensions applications.
Need More Information?
Now that you've learned about the supplies that are needed to apply eyelash extensions in 2022, you might need more information. Maybe you want to learn what the most trending eyelash extensions are or you're looking to buy eyelash extensions supplies.
Whatever information you need, we can help. At Lash Stuff, we're experts when it comes to eyelash extensions and eyelash extensions accessories.
We sell all of the products reviewed in this article, as well as the Eyelash Extension Kit. To learn more about our products, get more information now.