How Long Does Eyelash Extension Training Take?
Posted by Jess on Aug 16, 2021
There's no doubt that dramatic eyelashes are a beauty asset. Long, full lashes are universally envied, but if you don't have them naturally, they can be bought. Eyelash extension is nothing less than an art — it requires skill, precision, and aesthetic insight — and when done right, the results are stunning.
Of course, in order to achieve this, a technician must be professionally trained and certified to apply extensions. There are countless different training programs and certification options, so you might be wondering…how long does eyelash extension training take? When you opt for Lash Stuff's free lash extension training, you can be done in as little as two days.
Focus on reputation rather than duration as you shop for a lash extension training program. Longer programs aren't necessarily better, and you can become an expert with an accelerated training like the one outlined here.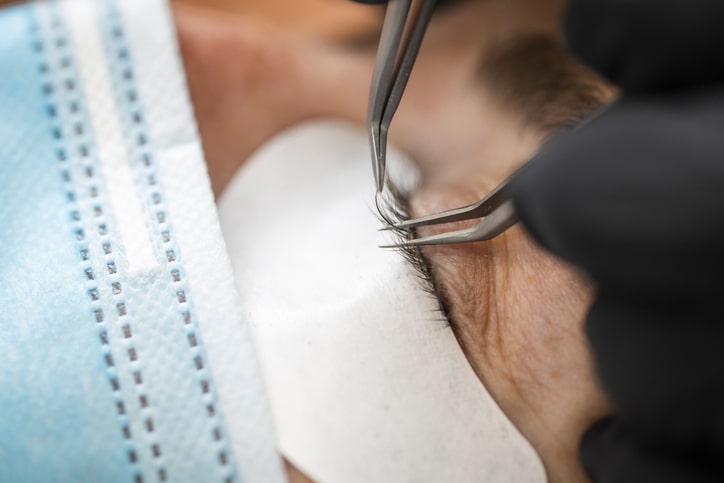 Day One Part I: Six Hours of Eyelash Extension Training Classroom Instruction
The foundation of learning is understanding. Before you are able to try hands-on training, you need to understand the principles of how eyelash extensions work — the technique, the process, and the science are all integral concepts to building expertise and confidence in aspiring lash technicians. You have to walk before you can run, and six hours of classroom instruction is where you get started on the journey.
These six hours are spent studying the basic principles of lash extension, including natural lash structure, adhesive formulations, application techniques, and more. Over the course of these six hours, you will take notes, be quizzed on your knowledge, and develop a thorough understanding of how lash extension works. Training is tailored to already-licensed estheticians and cosmetologists, but it is designed to be simple and straightforward so that professionals of all skill levels can understand and apply the concepts of lash extension.
Learn From the Experts
If you're investing six hours of your time in a learning experience, you want to be sure you're in the hands of a qualified teacher. Eyelash extension training is led by experts who have extensive experience in the field and have completed additional training to become instructors. In order to lead training, instructors must be certified and professionally licensed, and they must possess the following characteristics, too:
Genuine passion for beauty and lash extension
100+ hours of actual lash extension experience
Ability to teach beginners the basics of the trade
Enthusiasm for learning and skill development
Training is a partnership between each student and his or her instructor, and you can be sure you're partnered with the best when you train with our teachers. Each instructor at our state-of-the-art training center is dedicated to helping you become an accomplished and confident lash extension artist. We have all of the tools and resources you need to dive into the world of lash extension with the guidance of expert instructors.
Get Easy-To-Understand Training
A good instructor is important to a successful learning experience, but it's not the only part. An effective training program will also include a foundational text that's accessible to students. The Lash Stuff training manual is designed and written specifically for novice lash technicians to teach the basics, illustrate important concepts, and impart the confidence you need to succeed.
As you progress through the first six hours of your training, your teacher will guide you through the contents of the manual and explain its steps and information. The manual is a companion to your classroom experience so that you can easily follow along with your instructor and ensure that you are on the same page — literally.
The manual is also ideal because it empowers learners of all kinds to get the most out of eyelash extension training. Visual learners can benefit from illustrations provided by the instructor, and textual learners can focus on the manual for the written form of what is being taught. The result is easy-to-understand training that is effective and accessible for everybody.
Day One Part II: Two Hours of Practice Eyelash Extension Application Instruction
Once you've completed the first part of your extension training — the classroom instruction — you are ready to move on and begin practicing your newfound skills. This two-hour session closes out day one of your training and lets you get your feet wet before you start practicing on real models!
As you practice, you'll apply the concepts you learned during classroom instruction by working on mannequins and applying extensions. You'll get one-on-one guidance from your instructor to ensure you're developing your skills and using the right techniques. You have two whole hours to practice and make sure you're ready for the real thing!This is also an important time for you to begin developing your own preferences and application style. Though application techniques are specific, each lash technician has his or her own way of doing things. During your practice phase, you can start to nail down what feels most natural to you as you start applying extensions. Developing a system and rhythm to your work is one of the most important parts of becoming a successful lash extension technician.
Hone Skills Before Applying Actual Extensions
As you focus on honing your skills with hands-on practice, you're prepping for the next big thing: applying extensions to a real model. If the thought makes you nervous, don't worry — you'll use the last part of day one to focus exclusively on practice. During this time, you'll start applying the techniques you learned about in classroom instruction. You'll do all of this with the continued guidance of your expert instructor. As you start practicing, some of the skills you'll hone include:
Choosing the right style of extensions for each client
Applying tape to eyelid in order to secure the lash line
Varying extension lengths to achieve a natural look
Picking up lashes properly so they are not damaged
Dipping extensions into adhesive properly
Isolating natural lashes for effective and long-lasting application
Setting placement of extensions properly on natural lash
You will practice all of these steps and more before you begin work on a live model so that you are competent, confident, and prepared to give your clients the best lashes of their lives. Each practice session includes one-on-one instruction and guidance, so you have help every step of the way as you develop your new skills. Your practice session is one of the most valuable parts of training, and it gives you the chance to make mistakes in a judgment-free zone so that you can learn, grow, and improve.
Get Guided Practice in a Simulated Salon Setting
Our training center is the perfect balance between a hands-on learning environment and a simulated salon setting. Students can transition seamlessly from classroom instruction to application practice and enjoy the versatility of our facility. As you move toward practice and real model application, you'll also begin developing skill sets that complement lash extension application — people skills, salon etiquette, and hospitality.
Honing your lash expertise isn't just about technique and style. It's also about learning how to treat clientele in a salon setting, welcome them in, and provide a full service experience. These skills are important to develop even for licensed estheticians and cosmetologists. When you practice in a simulated salon setting, you can hone your technical skills as well as your people skills, giving your mannequin guests the extension experience they seek while building the skills that make repeat customers.
Day Two: Eight Hours of Practical Eyelash Extension Application on Live Models
Once you have completed day one, you are ready for the real thing — applying lash extensions to model clients. Day two will be spent entirely dedicated to this task so that you can maximize your learning, gain valuable experience, and walk into the world of lash extensions with confidence. You have eight hours to spend working with real clients to accomplish this goal.
Just like the rest of your training, though, you will not be without guidance. Your trainer will continue offering personalized assistance so that you can properly execute the techniques you've been learning and developing. As you work with your model, you'll receive support and reinforcement to ensure that you are comfortable and competent.
You will also have the opportunity to work with not one but two models during your hands-on extension session. You will be able to use the extension techniques you've learned and apply two full sets to two different models. This allows you to learn from mistakes, strengthen your skills, and complete training with more confidence. Each model will also give you the opportunity to try a different style of extensions so that you broaden the range of your abilities as you learn the trade.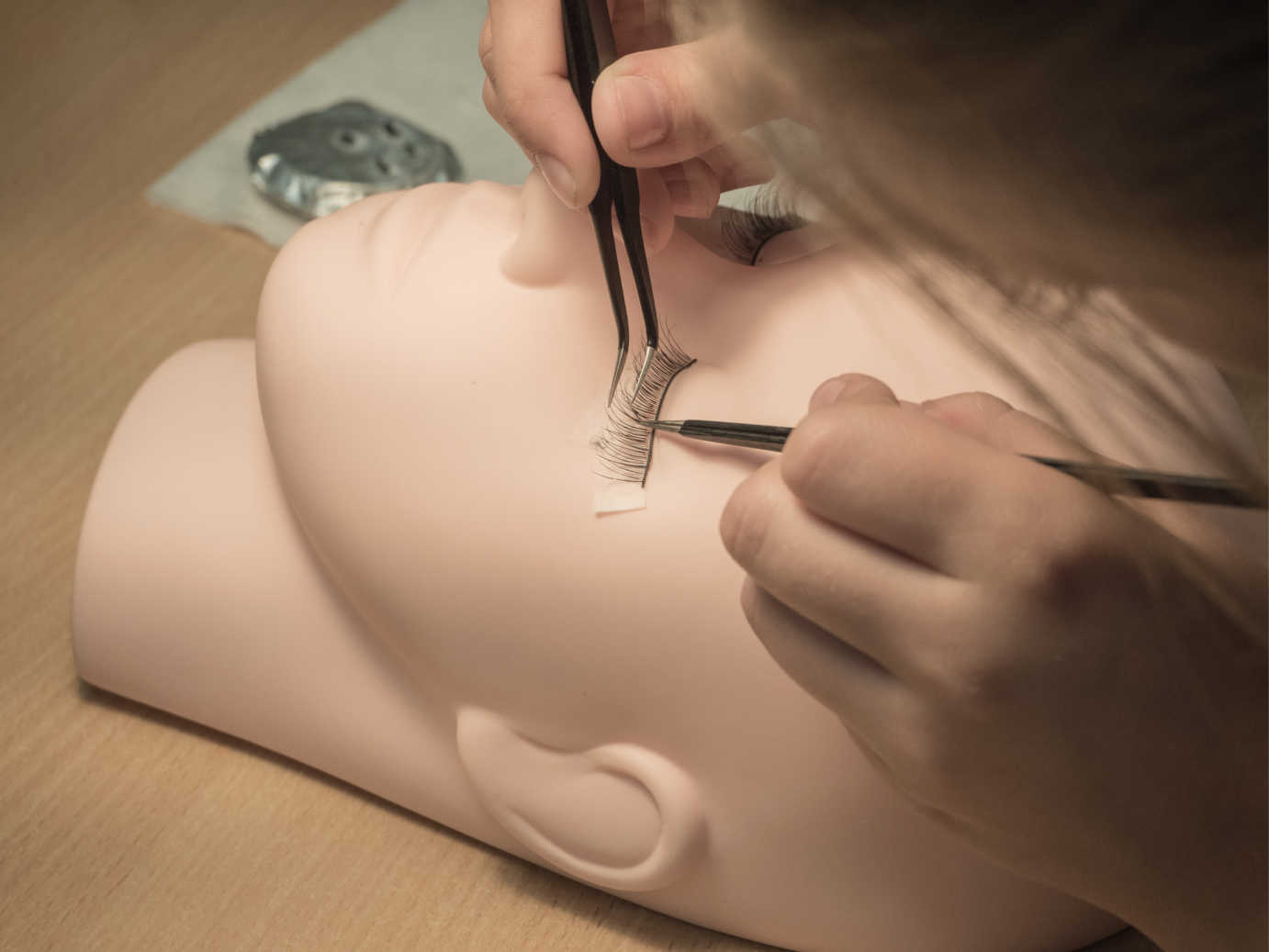 Put Your Skills To Use With Real People
This is the moment you've been waiting for — you finally get to practice on a live model and apply real lash extensions. What's the benefit of working with a real model instead of a mannequin, though? Couldn't you just continue practicing on a mannequin instead of jumping right into real application? There are a few benefits that live models bring to the table.
Working with a live model gives you a sense of confidence that a mannequin can't. We want you to exit your training with all of the skills and knowledge you need to apply lash extensions, but if you've never actually done it on a real person before, you're likely to be nervous when it comes time to serve your first client. Working with a live model minimizes that nervousness by letting you practice on a live person.
Working with a model also allows you to practice your interpersonal skills. You might be the best lash extension artist in your area, but if you are unable to make clients feel at ease and motivate them to book return appointments, your success will be very limited. You need to focus on building relationships while you build lashes.
Develop Interpersonal Skills While Applying Extensions
During this phase of your training, you'll work with two individual models to apply their extensions. When you graduate from mannequins and work with real models, the stakes are obviously higher, but you also have the chance to simulate what it will really be like to apply lash extensions in a professional salon. In such a setting, people skills are almost as important as technical skills, so this is the time to practice interpersonal communication while honing the art of lash extension. Some of the elements that you can practice include:
Greeting clients hospitably so they feel at ease
Asking questions to understand their preferences
Communicating your expertise and professionalism
Giving clients the chance to offer you feedback
Making small talk throughout duration of procedure
Naturally inviting clients back for a return visit
Following up with clients to ensure they are satisfied
Each of these is an important part of communication in the context of a salon. Being great at lash extensions isn't enough — you also need to be able to put your clients at ease, make them enjoy the procedure, and motivate them to come back for repeat visits. All of this relies on your people skills, so rather than focusing exclusively on extension application, use this portion of your training to develop your communication style with clients.
Eyelash Extension Training in Two Days
You can become a fully certified lash extension technician in two days. These two days will open up a world of opportunity as you expand your skill set, learn new concepts, and find ways to attract new clientele. Lash Stuff is devoted to helping aspiring lash artists develop their abilities and build their confidence, and our eyelash extension training focuses on these elements equally. Licensed estheticians and cosmetologists are invited to complete our free course and discover the art of lash extension for themselves.
You can reach out online, learn more about us, or call or text us at (385) 393-1616. We are ready to help you take your career to the next level and become a professional lash extension artist in two days.
Sources:
https://www.lashstuff.com/free-eyelash-extension-training-courses/
https://www.wikihow.com/Become-an-Eyelash-Technician#:~:text=Complete%20an%20eyelash%20technician%20training%20program.&text=Available%20both%20in%20person%20or,can%20keep%20for%20after%20training.
https://www.thecut.com/2018/04/the-psychology-behind-why-we-like-long-dark-eyelashes.html
https://www.lavishlashes.com/become-a-lash-extensions-trainer/