How to Get Certified in Lash Lift: An In-Depth Guide
Posted by Sara on Feb 07, 2022
Are you a cosmetologist thinking about expanding your services? Have you considered becoming certified in lash lift treatments?
If so, you're making a smart decision. Lash lifts perfect the positioning of your lashes, making them look neater and more natural.
Lash lifts are becoming more popular than mascara. Yes, you heard right! Ladies are tossing their crusty mascaras in the trash and opting to maximize their natural lashes' potential.
You may be thinking the lash lift trend has to weaken eventually, right?
Wrong. According to recent reports, the lash industry is projected to reach $1.5 billion in the next five years.
With an industry on the rise, it seems now is the best time to become certified in lash lift and reap the rewarding benefits. Take the leap. You won't regret it!
Read this comprehensive guide to find out how you can become certified in lash lift and take the next steps to a lucrative and rewarding career.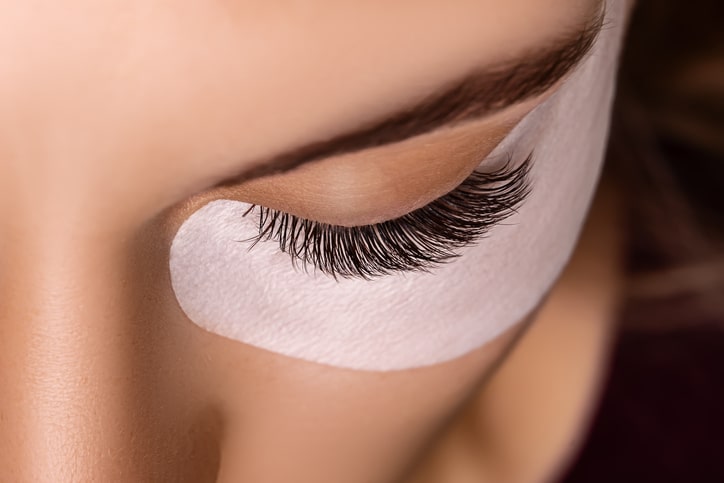 What Is a Lash Lift?
No matter how much mascara you layer on, sometimes your lashes just don't have enough oompf. Welcome: the lash lift.
The best way to think of a lash lift is like a perm. But for your eyelashes. A lash lift can change the shape and color of your natural lashes.
It is a relatively simple process that lifts and curls the lashes long-term. For those looking for a hassle-free beauty routine, a lash lift is an ideal treatment.
Are Lash Lifts Worth It?
A lash lift is a way to make you feel and look naturally prettier. After the quick and painless treatment, your eyes will look instantly brighter and youthful. It's like applying mascara that never wears off.
For many, this makes a lash lift worth it. And for a lash technician, this is music to their ears.
What Is a Lash Technician?
Simply put, a lash technician is a beauty specialist with industry-specific training in lash lift treatments.
Lash technicians are often referred to as lash artists, lash techs, eyelash professionals, eyelash extension specialists, and the list goes on.
As a lash technician, you need to have patience, a keen vision, and steady hands. And don't forget, a good deal of training.
Lash technicians work in a variety of settings, including a spa, salon, boutique, or even at home. The latter is perfect for lash techs looking at improving their home/life balance.
Benefits of Becoming a Lash Technician
There are many benefits of becoming a lash technician, including:
Flexible schedules
Ability to work in a variety of different settings
Career satisfaction
A relaxed atmosphere
Job security
Career growth opportunities
A steady income
Amazing clientele list (that can grow as much as you want it to grow)
Considered an expert in your field
Becoming a lash tech is great for those who love helping people to feel confident and beautiful. Unfortunately, many women are prone to negative thinking about their physical attractiveness. A lash tech can help overcome their clientele's self-esteem issues.
Can Estheticians Do Lash Lifts?
While you may think all estheticians can perform lash lift treatments, it can vary from state to state. In some states, only licensed cosmetologists can perform this treatment.
In California, however, a recently implemented rule allows licensed estheticians to perform tinting, lifting, and lamination services for the lashes and brows.
So, if you're wondering whether you can perform a lash lift, check your state's requirement rules and laws.
Always keep an eye out for new legislation published. Rules are always changing and lifting, so it's important to keep in the loop.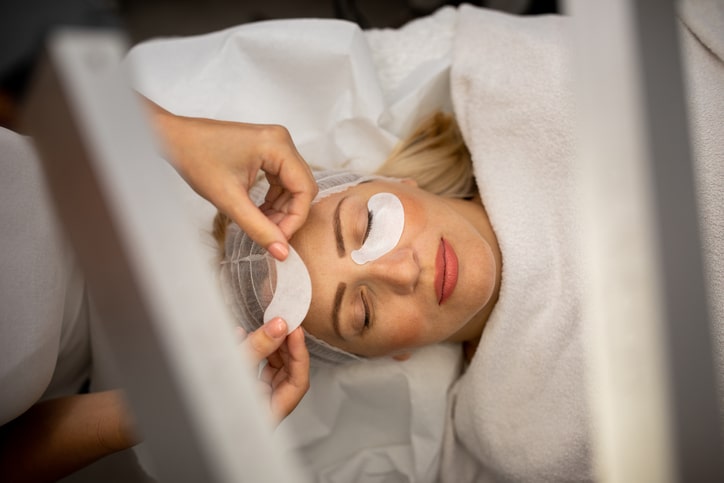 How Do You Become a Licensed Lash Lift Technician?
Generally speaking, there are two paths when it comes to becoming a licensed lash lift technician. Some people choose to pursue a cosmetology license, while others decide to become licensed estheticians.
Either way, you will typically need to pursue further study to become a licensed lash tech.
Becoming a Cosmetologist
To become a licensed cosmetologist, you will need to be at least 16 years of age and have a high school diploma or a GED. Then, you can enroll in a state-licensed cosmetology school. After that, you will need to:
Complete your courses
Complete training hours
Pass your state licensing exam
Pay a license fee
Once you have passed your licensing exam, you are ready to enter the cosmetology industry.
Becoming an Esthetician
The same goes for estheticians. To become a licensed esthetician, you will need to be at least 16 years of age and have a high school diploma or a GED. Then, you can enroll in a state-licensed esthetician school.
After that, you will need to:
Complete your courses
Complete training hours
Pass your state licensing exam
Pay a license fee
Once you have passed your licensing exam, you are ready to become a fully-fledged esthetician.
What Are the Benefits of a Lash Lift Certification?
Training allows lash techs to perform lash lifting treatments safely. Of course, there are several other benefits for beauty professionals, too. Training perks include:
Choosing convenient learning options
Support from experienced lash lift professionals
Free training with the purchase of a lash lift kit
Optional lash tint training add on
Comprehensive lash lift training
Career growth
Build your client list
Create beautiful lashes your clients will love
Getting your lash lift certification sets you apart from cosmetologists and estheticians who aren't. It allows you the ability to alter the shape and color of your client's eyelashes.
Online learning also offers you training at your convenience. Attending in-person courses with a busy schedule is an almost impossible task. With online learning, you can learn whenever and wherever you want.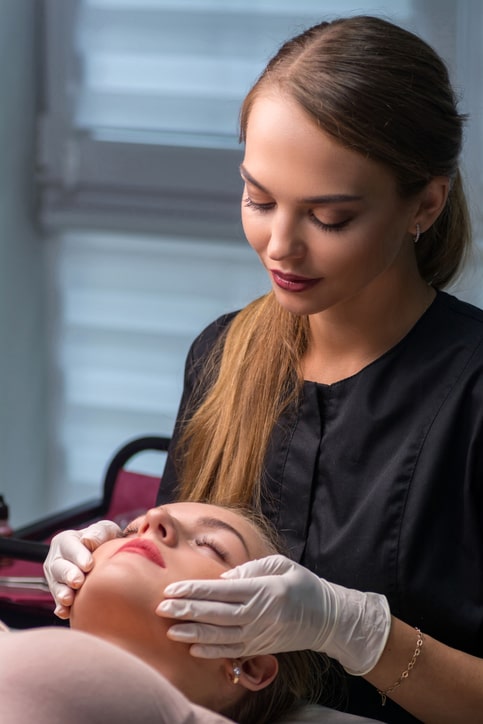 How to Choose the Right Lash Lift Training
There are a few factors to consider when choosing a quality lash lift course. As you do your research, consider the following questions:
Do they explain all of the products that you are using?
Do they include examples of quality lash lifts?
Do they also offer lash tinting?
Do they teach you how to troubleshoot problems?
Is the training company reputable?
It's important to do your research when choosing the right lash lift training. Look for past reviews, ask questions, and keep within your budget.
Better yet, choose a free training course!
How Much Does It Cost to Get a Lash Certification?
Lash lift certification classes range in price from $300 to $2,000. The cost of your training will vary widely, as you can see.
Keep in mind some programs may carry the added value of including training materials such as lash kits with application tools – all of which you can keep once you've graduated.
Lash Stuff offers free lash lift training for licensed professionals. With the purchase of a Lash Stuff lash kit, Lash Stuff provides free lash lift and eyebrow tint training.
Why do we do this?
At Lash Stuff, we want professionals to have the best experience possible and be successful. If a lash stylist is successful then Lash Stuff is successful.
It's all about the Lash Love up in here!
What Is Included in a Lash Lift Certification Training Course?
Training is offered in many different ways. For example, Lash Stuff offers online courses. Such courses are ideal because of their flexibility and attention to detail.
Here are some topics that you can expect to learn in the Lash Stuff lash lift certification training course:
Lash lift theory
Trainer demonstration
Student application of practical skills on two live models
Option add on lash tint training
Product education
Step-by-step application instruction
Education on how eyelashes grow
During your training, you will learn the skills and knowledge you need to perform with the Lash Stuff Lash Lift Kit.
What Is in a Lash Lift Kit?
With the purchase of one lash lift kit, Lash Stuff offers you free lash lift training.
The Lash Stuff lash lift kit contains all the creams, tools, and applicators that are needed to perform a lash lift. It is everything you need in one kit! Now with keratin!
Included in the lash lift kit:
20 x step 1 perming creams
20 x step 2 neutralizing creams
1 x step 3 conditioning solution (contains keratin)
1 x eyelash rod glue
1 x silicon pad
10 eyelash rods (5 pairs)
50 mini sticks
80 lash cleanser pads (moist)
110 micro swabs
20 pairs of eye gel pads
1 eyelash isolator tool
1 roll of micro tape
50 mascara brushes
1 product guide booklet
1 lash lift table tent (advertising material)
The Lash Stuff kit also contains innovative eyelash lift rods that can create two different types of curls.
The eyelash rods contain:
2 (small) blue rods
4 (medium) red rods
4 (large) green rods
The Lash Stuff lash lift training will demonstrate how to apply both types of curls.
With more lash lift products than any other kits on the market, you're guaranteed to offer a lash lift service that will wow your clients.
Okay, you've got your kit and now it's time to start your lash lift training!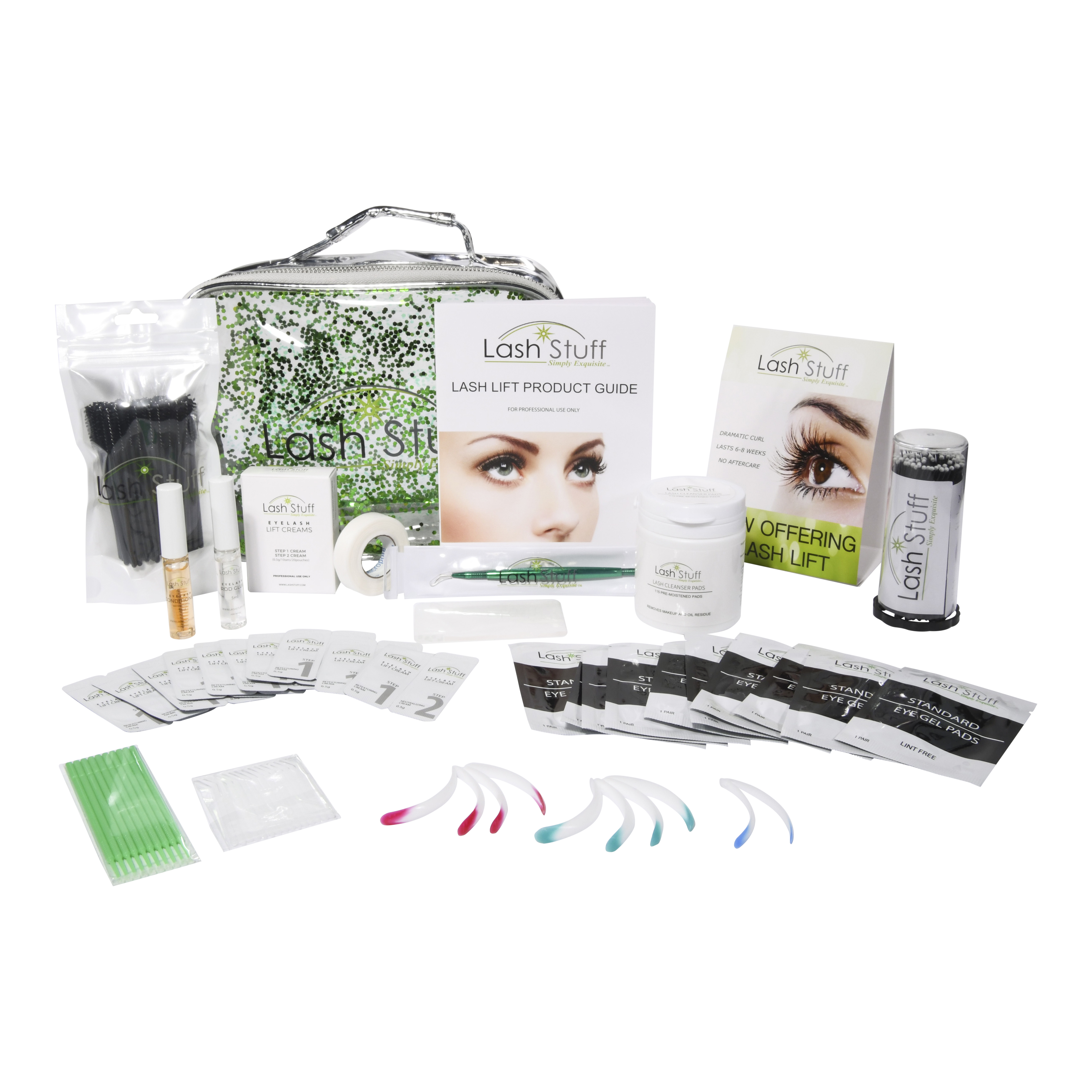 SHOP LASH LIFT KITS HEREIs It Hard to Learn How to Do Lash Lift Treatments?
Becoming a lash lift technician can be a rewarding career. If you have patience, are eager to learn, and have a passion for the beauty industry, then learning how to do lash lift treatments shouldn't be difficult.
It does, however, take many hours of practice to become a lash lift expert. Our Lash Stuff free training courses are designed to teach you how to master the lash lift technique.
Attend a lash lift class with a professional instructor who will apply a lash lift to a real model as you watch. Then, apply what you've learned to two live models and share photos of your work.
As with every new skill, practice makes perfect. If you don't succeed the first time, try, try again. Before you know it, you will have enough confidence to do lash lift treatments in your sleep!
Okay, maybe not in your sleep...
What's the Potential Income for a Certified Lash Technician?
As with most careers, the pay can vary. A certified lash technician can expect to earn an average of between $14 to $25 per hour.
Before you panic, keep in mind a lash tech is rarely paid by the hour. If you work for a lash studio or salon, you can expect to see a commission of around 25% to 45%.
It also depends on how much experience you have and whether you have a steady clientele.
If you have your own lash studio space and a steady clientele, you might be able to bump up your service prices. Keep in mind, you'll also have to consider the costs associated with rent, taxes, and inventory.
But don't let this information deter you. Becoming a certified lash technician is a rewarding career. Work hard, build your clientele and reap the benefits.
Tops Tips for Becoming a Lash Lift Pro
A lash tech career is built on reputation. To become the kind of lash tech you've always dreamed of, here are a few helpful tips to apply to your career.
Do Your Research
Even before you consider becoming a licensed lash technician, you need to make sure you understand the requirements where you live. If your state requires you to get a cosmetologist license, it would be wise to do so.
To receive a Lash Stuff certification, you must have an esthetician or cosmetology license. If your state does not require a license you may purchase a lash lift kit and watch the training. Unfortunately, though, you will not receive a certificate.
Consider Where You Want to Work
One of the biggest benefits of working as a lash technician is its flexibility. Lash techs can work almost anywhere. Okay, maybe not everywhere.
Lash techs can choose to work in:
Salons
Spas
Lash boutiques
Depending on your state's regulations, you may be able to work from the comfort of your own home. What's better than a short commute? No commute.
Some people prefer working amongst other beauticians, while others prefer a spa atmosphere. Whatever you choose, know your choice isn't set in stone.
Some lash techs choose to first get some experience in a salon environment, before setting up their at-home salon. This is the perfect way to build your clientele and your reputation before running your own business.
Get Serious About Education
Like any career field, you first need to learn your trade before you perform it. If you were an average student during school, there's no reason you can't be a great student now.
Unlike school, however, you're not forced to study subjects you don't enjoy. If you're passionate about pursuing a career in the eyelash industry, learning should be an enjoyable experience.
Many studies report the mind-body benefits of learning a new skill. Don't forget how learning can advance your career and diversify your career opportunities.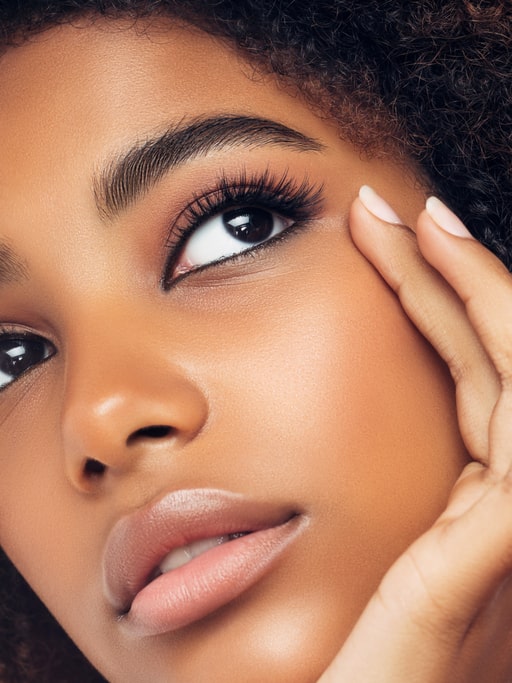 Reach Out to Experts Near You
Don't be afraid to start making connections. Even if you haven't completed your lash lift course, it doesn't hurt to reach out to some lash professionals in your area. Most are more than happy to answer any questions you might have.
Developing professional connections is invaluable. Not only will it help you get started, but you may even form lifelong friends.
Know Your Products
Throughout your lash lift certification, you'll learn the tricks of the trade. You'll also want to learn about the products. This is especially important if you decide to start your own business.
If your course provides product education, great! If not, you will have you do your research.
Lash Stuff lash lift certification training includes information on Lash Stuff products and how to properly use them. When you know more about the products, you can confidently explain them to your clients.
Versatility Is Key
Lash lifts are popular, but they aren't the be-all and end-all. Don't be afraid to branch out. Explore other services such as brow tinting and eyelash extensions, too.
Lash Stuff also offers eyebrow tint training. Become certified in both. Increasing your services will increase your client list.
It's a win-win!
Keep your options open. Don't shut the door on future studying opportunities. Remember, knowledge is power!
Start Your Marketing Campaign Early
After completing the required training, you should start marketing yourself. Here are a few marketing ideas to get more clients:
Create a client referral program
Build partnerships
Consider a direct mailing campaign
Promote your hygienic practices
Offer product samples
Create a social media account
Social media allows for easy and effective brand building. Social media helps grow your brand awareness, increases your traffic, and allows you to partner up with influencers.
How Do I Set Up My Own Business?
Are you set to make your lash tech journey a reality? Before you start, here are some helpful tips you should know before starting a successful lash lift business.
Research the market and demographics
Name, define and register your brand
Purchase insurance
Check out your competitors
Decide between a home-based salon or renting out a space
Create a services list with competitive prices
Sell an experience
Create an official email account
Get a professional website
Open a bank account/PayPal account in your brand name
Find a good booking system
Purchase good quality inventory
As always, check with your local licensing regulator for details on how to legally provide lash lift services.
Your startup costs will vary depending on whether you're setting up at home, renting a chair in an existing salon, or starting your lash salon. If you decide to open your studio, you will need the capital for rent deposits and ongoing monthly costs.
As for supplies and equipment, you'll need:
A comfortable lash lift bed or reclining chair
A good-quality ring light
An ergonomic rolling chair
A lash cart
Multiple shelves and storage options
Lash lift supplies
Decor
Lastly, you will need to determine how much you'll charge for your services. Prices often depend on your location. For example, larger cities will charge a premium compared to rural operators.
When calculating your pricing structure, consider what your competitors charge. If you're confident in your abilities, you may choose to charge more. Keep in mind, you must stay competitive to ensure your clients return.
On the other hand, you shouldn't drop your prices too low. If you do, you might not be able to pay your monthly expenses.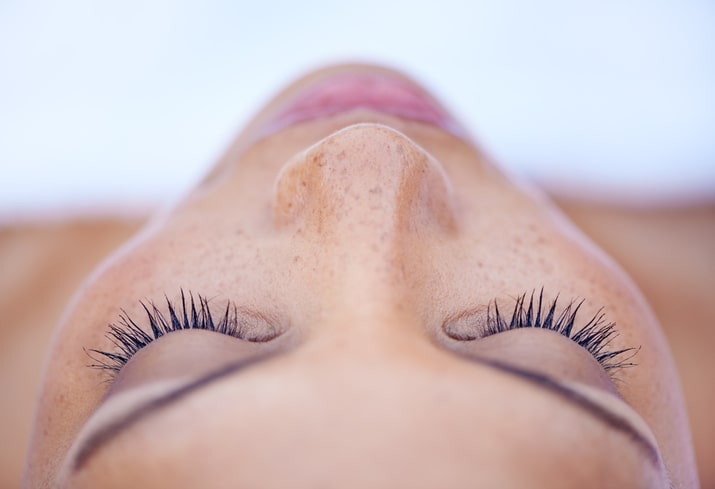 Final Tips and Tricks
Last but not least, here are some final tips and tricks to help you stay on top of your new and exciting career.
Ensure you have enough lash lift supplies on hand
Give yourself breaks, working 24/7 is unhealthy
Invest in a quality online booking system
Try and stay on top of marketing and social media
Most of all, love what you do! Not everyone has the skills or talent to become a lash lift technician. As Confucious once said, "choose a job you love and you'll never have to work a day in your life."
Get Certified in Lash Lift Today
Becoming a lash technician can be a lucrative and rewarding career. Expand your repertoire and make more money doing so.
Do you want to satisfy your clients and bring in more clientele?
If a career as a lash technician is calling your name, it's time to become certified in lash lift today!
Lash Stuff offers free, yes, that's right, free lash lift training for licensed professionals. Get certified in lash lift by professional trainers with years of experience. Get certified in as little as 3 days.
Every student who completes our Lash Stuff lash lift training gets a printed signed certificate. This shows that you are certified by Lash Stuff to use the lash stuff lash lift kit.
Our online training allows you to learn from the comfort of your home any time of the day or night. We include information on how eyelashes grow, our products, and lash lift theory. Apply what you've learned to two live models and share photos of your work.
And, of course, ask as many questions as you want! The more, the better!
Click here to order a lash lift kit and we'll send you an email with instructions to watch the training.
Why wait? Start your online lash lift training journey today!