How To Provide the Best Eyelash Extensions for Your Customers
Posted by Sara on Jun 25, 2021
As a cosmetologist or esthetician, your job is to enhance your client's beauty. Despite how the market is flooded with new cosmetics to enhance a woman's lashes, these options aren't always suitable for every person. Many women want to cut time from their makeup routine. Once you have undergone training to apply the best eyelash extensions in your city, it's time to think about how you can provide the best experience possible to your client.
Throughout history, thick, full eyelashes have been a sign of natural beauty. Nowadays, eyelash extensions provide you the opportunity to offer glamorous Hollywood looks or subtle, natural-looking thick lashes to your clients. Our guide can help you fill your shop with satisfied clients.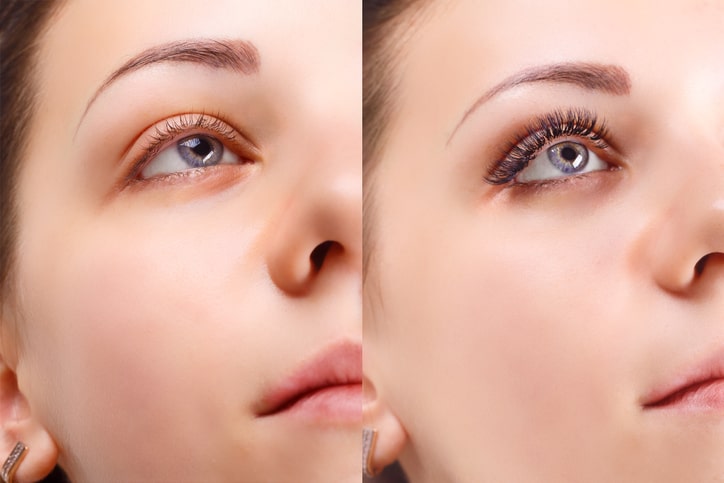 What Eyelash Extension Products To Offer Clients
When you offer lash extension services to your clients, you should have eyelash extension kits that suit your clientele. Your kit should include high-quality glue, lashes and supplies to apply the eyelashes. Always discuss your customer's options in advance. Make suggestions based on your client's eyes, current lashes and any sensitivities.
The best eyelash extensions to offer come in various materials, but the two most common are silk and faux mink.
Silk Eyelashes
Silk eyelashes tend to be thicker and firm to the touch. They have a shorter taper than is typical for other lash materials. For clients who want thick, glamorous eyelashes, silk may be the best option. Silk lashes also come in a variety of finishes, such as high gloss. Some clients do not have lashes that can handle heavy lashes, however.
Be careful to explain any limitations or reservations that you may have with your client. If you apply a heavy option and your client's lashes fall out or become weighed down, she may blame you for it. Explain the risks ahead of time if you do not think silk lashes are appropriate.
Faux Mink Eyelashes
Lashes using mink fur are among the most common lash types, though nowadays faux mink is becoming more common. With faux mink, you do not have to worry about your product being derived from an animal. Likewise, because it is a synthetic material, you have more options for the size and thickness of the lashes. Faux mink eyelashes are thinner than silk and so you can use them in volume sets where the client may need lighter extensions.
Why the Best Eyelash Extensions Are Critical to the Client Experience
Lash extension is a relatively safe and painless procedure. Unfortunately, horror stories about the process do exist. Eye infections, allergies and other irritations can turn someone off of eyelash extensions entirely. You need to do your best to ensure that no client experiences discomfort or, worse, an allergic reaction. The best procedure and most high-quality products should always put your customer's eye health first.
Not only are the products you choose critical to the client experience, but so is your behavior. If you are warm, welcoming and attentive to your clients' questions and needs, then they are more likely to have a positive experience in your salon. You should always offer suggestions to your customers, but be polite if they refuse or have second thoughts.
Treat your clients' time as valuable, but do not rush the procedure. Be upfront about how long the procedure may take and remind them that you need to take your time to give them the best extension experience and lasting lashes. Try to build a relationship with your clients. When you get to know your customers, they are more likely to return to your salon.
With eyelash extensions, you want people to return for touch-ups every few weeks. If your customers feel like they can talk to you about their beauty needs and how they feel about their look, they are more likely to come back to you when they need a touch-up or a different service.
Which Tips Provide the Best Eyelash Extension Experience to Your Clients
As an esthetician or cosmetologist, your goal is to help people feel more beautiful when they leave your chair. You certainly do not want them to have a miserable experience. If you want to provide the best eyelash extensions to your clients, then you have to pay attention to your application method, your ability to answer their questions and the aftercare tips you can provide.
The more information that you have and the more careful you are when applying the lashes, the more likely your clients are to return to you. Clients want to know that you have their best interest in mind. If you can keep a customer relaxed and if she leaves your salon loving her new look, then you may have a return client.
Application Methods To Perform the Best Eyelash Extensions
Most eyelash extensions can take up to two hours to apply. Each lash extension is applied to the base of the natural eyelash and so you need to clear enough time in your schedule. Before the process, perform an allergy test. Use high-quality glue to reduce the risk of an allergic reaction or irritation. Apply the glue to a patch of skin to check for any irritation.
During the process, if your client shows any sign of discomfort or experiences burning or itching, then you need to stop the procedure immediately. Use gel pads to hold down the client's lower lashes. When applying lashes, follow the natural curve of your customer's eyelid to ensure that the eyelashes look as natural as possible.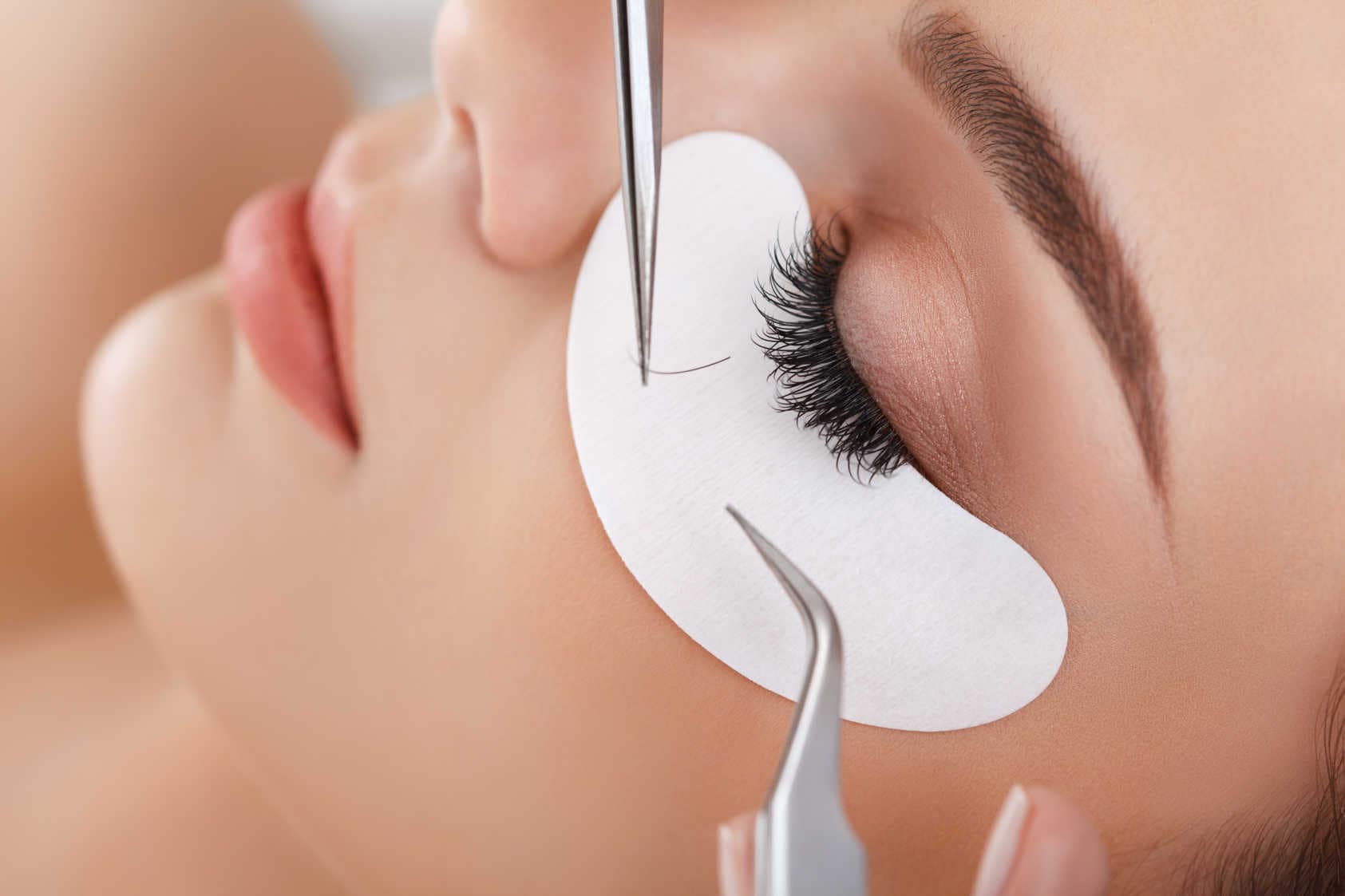 Questions To Answer About Eyelash Extensions
When your client arrives at your salon or even before the appointment, she may have researched the procedure and have many questions about it. Your job is to answer these questions and address any concerns to help her feel more at ease in your chair. You can wait for her to ask specific questions or try to get ahead of them. If you have information readily available, she may be more impressed that you care about her concerns about the procedure.
Are the Tools Sterilized?
A lot of extension horror stories come from clients who received procedures from untrained or unqualified professionals. They may have had improper hygiene or application methods. Explain to your client how you sterilize your tools. She may be interested in knowing your handwashing technique, your sanitization methods and which disposable tools you use.
What Are Common Lash Extensions?
First-time clients may be more curious about the type of eyelash extensions available. Explain the differences between silk, mink and synthetic lashes. They also have the choice between different sizes. Size selection should depend on the woman's natural eyelashes and her goals.
Will Glue Get in Their Eyes?
A lot of clients worry about glue in their eyes. If you have a new client, you might discover that this is one of their biggest fears about the procedure. Try to reassure all of your clients ahead of time that you are a professional with adequate training. Their eyes should remain closed for the entire procedure.
Will Eyelash Extensions Fall Out?
Explain to your clients that each lash extension attaches to a single eyelash. Every person's eyelashes have a natural growth cycle. Since natural eyelashes fall out, they can expect their eyelash extensions to fall out with the lash. Advise your clients to return every three to four weeks for a touch-up.
Can They Swim or Shower Following an Appointment?
Your clients will most likely ask you what they can do as soon as they leave your salon. Explain to them that they should not swim or take a shower for the first 12 to 24 hours. Immediately following the appointment, the adhesive is sensitive to moisture. Water exposure can weaken the adhesive and their lashes may fall off.
Will Extensions Harm Their Natural Lashes?
One of the most widely spread myths about lash extensions is that they can harm a person's natural lashes. Do not be surprised if this is one of your client's first questions. Explain that with the proper application, there should be no harm to the natural lashes. Some women tend to pick at their eyelashes, so remind them that it can cause damage to both their extensions and their natural lashes if they pick or rub at their lashes often.
Can They Wear Mascara?
One of the reasons women choose to have eyelash extensions is to create a fuller look without using makeup. However, some women still want to apply mascara regularly. Inform your clients that while they can apply a little mascara to the tips, they should be careful because mascara can clump on the extensions. All mascara should be water-based and easy to remove.
What Happens if They Cry?
First, your clients should never cry during their appointment. The best eyelash extensions are painless and should not cause any discomfort. In fact, many women find the procedure to be a relaxing salon experience. If a client's eyes water for any reason, it could be a sign of an allergic reaction or discomfort. Tell clients if they feel any discomfort, they should speak up as quickly as possible. They may require a different glue. After the appointment, if they cry for any reason, it should not bother their lashes.
Care Tips To Give Your Clients
Before your clients leave your salon, provide them with a care guide for their lashes. This is especially important for first-time clients who may not have cared for extensions in the past. Providing your loyal clients with aftercare tips can also be helpful. You may find that women who have had their lashes done multiple times still may not know all of the tips and tricks of healthy, long-lasting extensions.
Handle Lashes Gently
Explain to your clients the risk of rubbing their eyes too often. They should avoid picking and pulling as much as possible. Instruct them to brush their lashes daily and with care. Some clients may forget that the extensions are applied atop their real lashes, so remind them to treat their lashes with the utmost care. They should never use any mechanical or heated curlers. Waterproof mascara and long-lasting makeup can also harm the lashes.
Pat Lashes Dry Regularly
Explain to your clients that keeping their eyelashes dry after a shower or swimming session is also important. They should use a lint-free or paper towel to pat their lashes dry. Along with drying, applying oil afterward can help the lashes remain nicer for longer. They can use their fingers to apply baby oil to the eyelashes.
Clean Lashes Every Day
The best eyelash extensions require the best possible care. Your clients need instructions on how to clean their lashes. Depending on the solution, they may not be able to use their regular facial cleansers on eyelash extensions. Explain that they should use an oil-free cleanser or lash wash with special formulations to clean extensions.
Sleep Carefully the First Night
A lot of people sleep on their sides or their stomachs. Since the glue may take time to fully dry, your clients could end up with kinks in their lashes if they sleep on their side right after the procedure. Advise your customers to sleep on their back for the first night or two. After that, they should be able to resume their normal position.
Trust Lash Stuff To Provide Your Eyelash Extension Kits
Not only do we offer high-quality eyelash extension kits to reduce the risk of eye infection and allergic reactions in your clients, but we also provide extensive training. If you want to build your skillset and create a safe, comfortable environment for clients who want to improve their lash game, then our training and eyelash kits may be perfect for you.
By using the best lashes, materials and tools, you are more likely to gain a positive reputation among clients. Word of mouth can increase your business quickly if you have customers who can vouch that you deliver the best eyelash extensions in your local area. Contact Lash Stuff today for a variety of quality lash extension kits.
Sources:
https://www.marieclaire.com/beauty/a28499401/eyela...
https://www.healthline.com/health/lash-lift-side-e...
https://www.huffpost.com/entry/lash-extensions-tip...
https://www.today.com/style/eyelash-extensions-101...
https://www.allure.com/story/how-to-prolong-lash-e...
https://medium.com/@vinzsalvador23/7-tips-for-maki...