How to Use Colored Lash Extensions to Spice up Your Look
Posted by Sara on Jul 14, 2021
Long lashes have been a beauty standard since the dawn of time. But it wasn't until 1911 that beauty gurus figured out that they didn't need good genes to get good lashes and started supplementing with the world's first falsies.
Lashes your mama gave you just not cutting it anymore? Fake strip lashes are out. Enter: eyelash extensions.
Lash extensions look and feel more natural than traditional falsies. And colored lash extensions allow you to infuse a bit of fun and flavor into your look.
But how exactly do you pull off yellow extensions? And will purple eyelashes go with your neutral-colored closet? We're answering these questions and more with this guide to wearing colored lashes, so keep reading.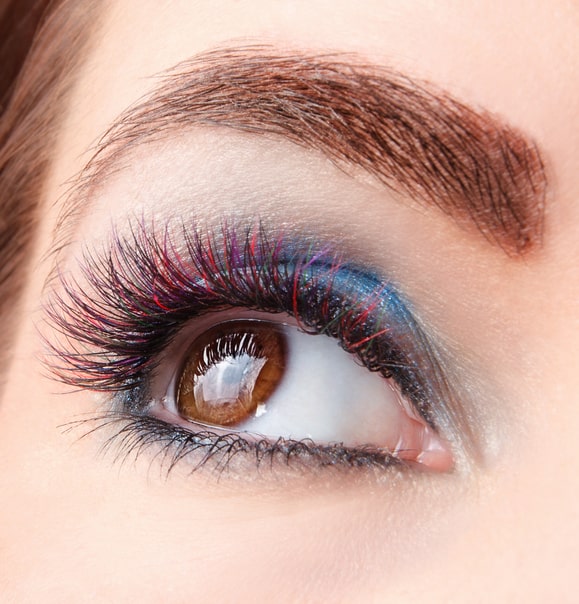 Colored Lashes for the Natural Girl
You wear extensions because they look more natural than full-on falsies. So, why would you choose colored ones over traditional black?
Lash extensions don't just come in rainbow colors. You can also purchase extensions in a range of natural brown, auburn, and blonde shades.
You can also find ombre lashes. These extensions may start black at the roots before fanning out into a lighter color at the tips.
Lastly, you could go with a higher percentage of natural-to-colored lashes. The fewer colorful extensions you use, the more natural the final look.
Match Your Lashes to Your Dye Job
Have you recently dyed your hair a less-than-natural color? Whether you've gone for red, pink, or a daring blue, it can be challenging to find mascaras to match your new 'do.
That's where colored lash extensions come in. Colorful eyelashes come in just about every color you can imagine. And compared to colored mascaras, lash extensions offer a far more vibrant pop of color to match your bold coif.
How to Make Your Eyes Pop with Colored Lashes
Love your eye color and wish others would notice it more? Then you're going to love this: colored lash extensions can enhance your eye color like no other tool in your makeup box.
Blue Eyes
Brown is always a great choice for bringing out bright blue eyes. The darker shade of brown you choose, the more contrast you create, making deep brown lash extensions perfect for blue-eyed beauties headed for a night on the town.
Purple adds depth to sky-colored eyes, while yellow will brighten up dark blues. Accentuate your colored lashes with a flick of vibrant liner or a richly pigmented shadow for a showstopping look every time.
Green Eyes
Purple lash extensions are also a go-to for green-eyed goddesses. Purple sits nearly opposite green on the color wheel, adding in some contrast to really make those peepers pop.
If you want to use colored extensions to really enhance your green eyes, go for a similar shade of green. Choose greens with undertones of gold, bronze, and copper to bring out the warmth.
Hazel Eyes
With hazel eyes and colored lash extensions, you can have your cake and eat it, too. In other words, depending on the hues you choose, you can accentuate the blue, green, or brown in your eyes.
Throw on a pair of orange or yellow lashes to bring out the blue. Dare for red eyelashes when you're seeing green. And if you're feeling like a brown-eyed girl, switch your extensions out for a deep green.
Brown Eyes
Brown may be the most common eye color in the world. But if you have brown eyes, consider yourself lucky. Lash extensions will bring out your eyes no matter what color you choose.
As a rule, contrasting colors highlight each other. Brown is a warm-toned hue, meaning shades of ashy gray, blue, and cool green will work best for you.
Incorporating Colorful Lash Extensions into Your Style
Now that pandemic lockdowns are over, we're all venturing out into the world again. And that means one thing for your style: the bigger the statement, the better.
From double-dog-daring patterns and sky-high hemlines to tent-like pants and cloud-sized sleeves, the latest styles to hit the runway are all about the drama.
You may not be able to afford the latest runway looks. Or maybe you can, but prefer to be a bit wiser with your wallet.
Whatever your situation, you can't go wrong with adding a pair or three of colorful lash extensions to your wardrobe this year.
Pump up the volume on your all-black uniform with a pair of bright blue extensions. Reflect your vibrant personality and style with rainbow lash extensions.
Or let your eyes do all the statement-making for you with lush, natural-colored extensions for unforgettable mile-long lashes.
Create Trending Makeup Looks with Colored Extensions
Purple eye makeup and colorful mascara are trending beauty aesthetics in 2021. And what better way to get in on these trends than with colorful lash extensions?
Pick up a pair of purple lashes to get the look many ladies sported on the red carpet earlier this year. H.E.R., Saoirse Ronan, and Issa Rae were only a few of the big-names sporting this standout yet somehow subtle shade.
Another makeup trend dominating celebrity red carpets this year? Lupita Nyong'o made heads turn at the Golden Globes this year for her cobalt blue eyeliner and mascara duo.
You can make an even bolder statement with a trio of brightly hued liner, mascara, and lash extensions.
Get Colored Lash Extensions from LashStuff
Natural girls and bold trendsetters alike are loving colored lashes this year. Whether you want to bring out your eyes and hairdo or accentuate your unique style, there's a lash extension color for you.
Are you ready to try colored lash extensions? Browse our lash extensions to find the perfect pair!