Keep Your Salon Stocked With These Lash Extension Supplies
Posted by Jess on Apr 14, 2021
Eyelash extensions have become increasingly popular in recent years, and for a good reason. They are an easy way to add drama, intrigue and definition to the eye area, helping women effortlessly achieve longer, fuller, more impactful lashes. Because many women do not have the naturally full lashes they dream of, cosmetologists can highlight this feature by applying eyelash extensions. If you are a cosmetologist who performs lashing services, here is everything you need to know about lash extension supplies.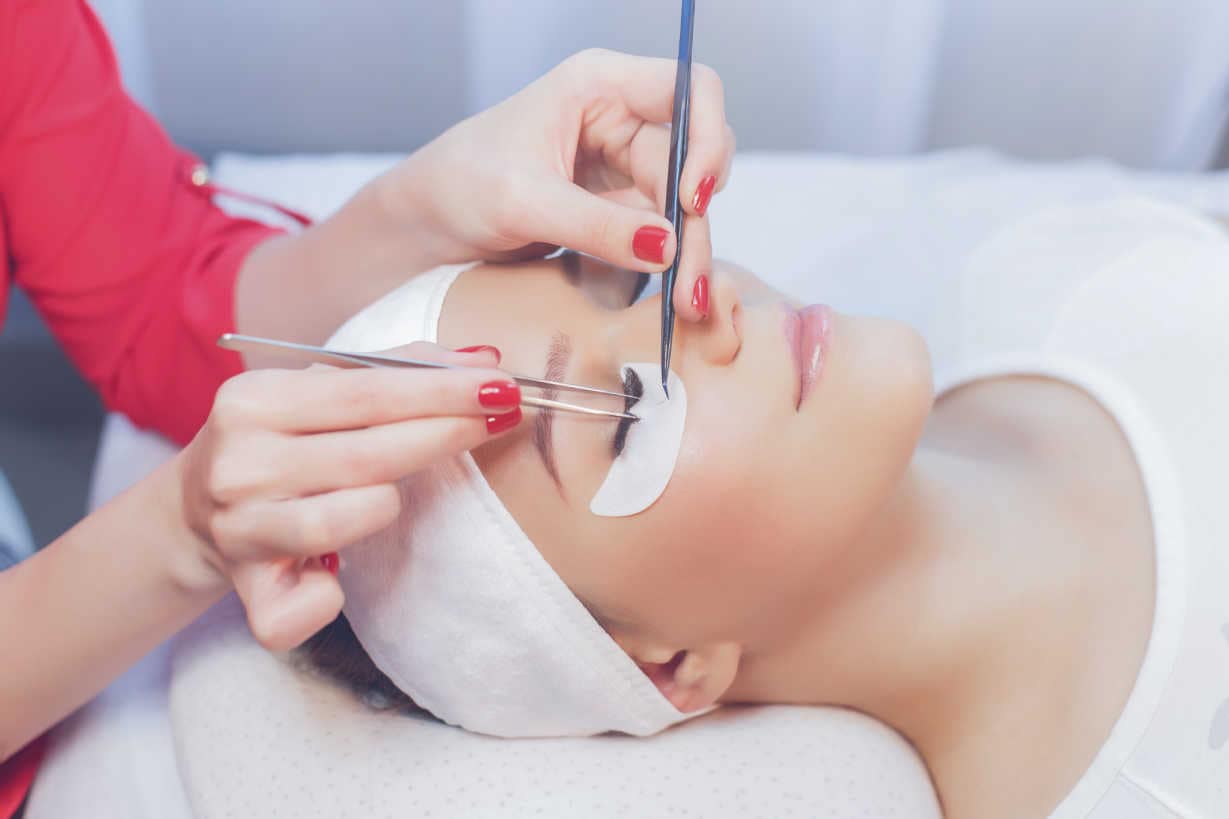 What Are Lash Extensions?
Women of all ages want to look their best, and a central component of a beautiful makeup look is a well-defined eye area. However, mastering mascara and eyeliner can be challenging for even the most experienced beauty gurus. To get luscious lashes with minimal effort, many people are turning to lash extensions. These individual lash hairs are attached to a client's natural lashes. Extensions can be made of artificial or natural fibers and come in a variety of lengths and colors.
What Types of Lash Extensions Are Available?
There are three types of lash extensions available on the market: mink, silk and synthetic. Lash lengths vary depending on the style but typically range from 6 to 15 millimeters. Once chosen, the lashes must be applied individually using a semi-permanent glue. Lash extensions should never be applied with permanent glue, even if the client insists. There are different types of glue available for clients that are allergic to traditional adhesives.
What Are the Most Essential Lash Extension Supplies?
As a salon owner or lash specialist, there are a number of lash extension supplies you should have on hand at all times to make sure you give clients the best service possible. While this is not a comprehensive list of all lash extension supplies, always keep these products stocked in your salon.
Lash Cleanser
All lash specialists should have a gentle, high-quality lash cleanser. Lash cleansers help protect both the natural eyelashes of clients and the extensions you apply. Look for a water-based cleaner and steer clear of formulas with harsh chemicals.
Lash Cleansing Brush
Many of your clients will attempt to wash their lashes with a cotton pad or towel. However, these items are harsh and can cause the lashes to fall out prematurely. Offer your clients a handy lash cleansing brush to help them maintain their extensions between appointments. The best cleansing brushes have soft bristles and effectively cleanse lashes without ripping them out. Educate new clients on how to care for their extensions correctly.
Lash Extension Mascara
Most women get eyelash extensions so they can look glamorous without applying mascara. However, some customers still want to use mascara with extensions. Traditional mascaras contain ingredients that can damage or shorten the life of extensions. Luckily, there are mascaras specially formulated for use on extensions. These formulas are typically water-soluble and oil-free. Keep around a handful of lash extension-safe mascara tubes to sell to customers who insist on maintaining this part of their beauty routine.
Reusable Lash Wand
You should provide all customers with a reusable lash wand at the end of their appointment. These wands are equipped with small, fluffy bristles and are a must-have to situate extensions and remove irritating clumps. Show clients how to use their wand daily to remove excess oil and keep the lashes laying correctly. Most brushes can be used for many months with proper maintenance.
Lash Growth Serum
Lash growth serum stimulates the body's natural lash growth process and can help promote thicker, darker, longer looking lashes. Continued application can keep both artificial and natural lashes conditioned and reduce the risk of breakage. Many serums are formulated with peptides to help strengthen the natural proteins in the lashes.
High-Quality Lashes
It goes without saying that all cosmetologists should have an array of high-quality lashes to offer clients. Stock your salon with synthetic and natural lash extensions to give clients an option when they come in for their appointment. Make sure all lashes you provide are made of high-quality materials. Your clients wear their lashes each day, so you want to ensure the lash extension supplies you give them can withstand a good amount of wear and tear.
Eyelash Extension Tape
While it may not seem obvious, eyelash extension tape is one of those essential lash extension supplies. Eyelash extension tape is used before lashing to keep your client's stubborn bottom lashes in place. If you don't use tape, the lower lashes can become tangled with the lash extensions, causing a big mess. Purchase a medical-grade tape that is gentle on the skin and less likely to cause allergic reactions.
Lash Tweezers
All cosmetologists should have two sets of tweezers. The first set is used to isolate each natural lash prior to applying the false lashes. Isolating the client's natural lashes ensures a clean application. Lash tweezers are designed to help cosmetologists properly separate the lashes to guarantee the best application.
The second set of lash tweezers is used to apply the false lashes. Lashing tweezers can be straight or curved, depending on which style you prefer. Curved tweezers are better for applying long lashes, while straight models work well with short, full lashes.
Stock Your Salon With the Best
Every cosmetologist or esthetician who applies lash extensions should have various lash extension supplies on hand at all times. Lash Stuff is a retail beauty industry leader that has been supplying cosmetologists with high-quality products for years. We carry a large variety of vital supplies, including lash extensions, adhesives, lash tweezers and lash growth serum. Don't waste money buying products from your local beauty supply store that may be marked up or not made with quality ingredients. Contact us today or visit our website to purchase all the supplies you need to complete a flawless lash application each time.