The Best Brow Lamination Kit of 2022
Posted by Sara on Jan 03, 2022
Everyone wants a "new me" to go with the new year. But what if you could actually provide that for your clients?
As a cosmetologist, you have a difficult task. Every day, clients walk through your door, and they trust you to help bring out their best selves.
Different clients will have different needs, of course. As a business, the more services you can offer to clients, the more people you can help and the more profit you can make.
A brow lamination kit from a reliable vendor may be the best investment you can make to take your business to the next level. But which kit is best, and why is brow lamination so important? Keep reading to discover the answers!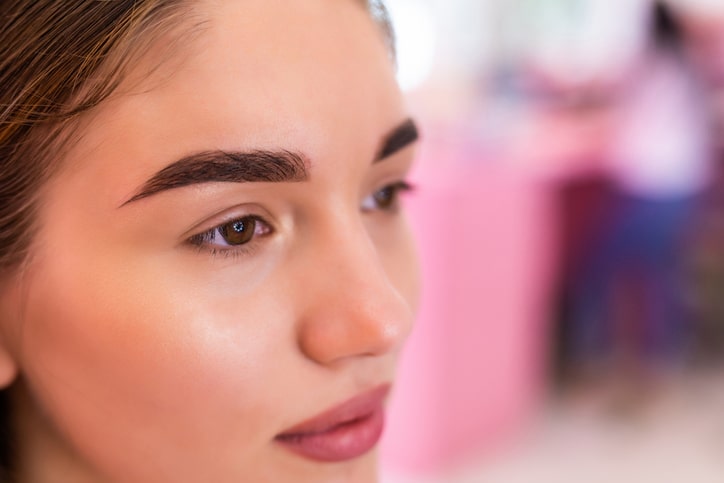 What Is Brow Lamination?
Our guide includes a deep dive into the best brow lamination kit that you can purchase to help your clients. Before we go any further, though, we need to answer the big question: just what is brow lamination, anyway?
Brow lamination is basically a perm solution that helps to lift and straighten the hairs on your clients' brows. This is a temporary process but it usually lasts longer than other brow processes (more on this later).
When done right, brow lamination gives your clients the appearance of sleek and stylish brows. This is perfect for someone getting ready for a special event, a hot date, or just a chance to impress their friends and family.
Why Should You Offer Lamination For Clients?
Now you know more about what brow lamination is. Of course, there are plenty of potential services you could start offering to your clients. Out of all those services, why is it so important that you get a professional brow lamination kit and start offering laminations?
The short answer is that right now, one of the biggest beauty trends is to rock full brows. It can completely transform someone's face in the best possible way, and it makes clients feel good to stay on top of hot trends like this.
The longer answer is that even after this trend passes, you'll still have a steady stream of clients who like what lamination does for their brow and face. You can always buy more kits or fewer kits as needed. But if you never learn how to laminate brows for clients, then you are effectively leaving quite a bit of money on the table.
Are Laminated Brows the Same As Soap Brows?
As we noted before, there are different ways of temporarily achieving a fuller brow. And one of the most popular options for cosmetology clients has been getting soap brows. That brings us to another big question: what is the difference, if any, between laminated brows and soap brows?
First of all, the processes are quite different. While proper brow lamination requires specialized kits and techniques, soap brows are achieved by simply brushing brows upwards with a spoolie that has been dipped in brow gel, pomade, or even just soap.
The "good news" with soap brows is that the process is much easier than brow lamination. In fact, clients can basically handle this on their own.
The "bad news" with soap brows is that the fuller-brow appearance doesn't last nearly as long as it does with laminated brows. In some cases, soap brows may last only a few hours. But when brows are properly laminated, the effect can last for several days.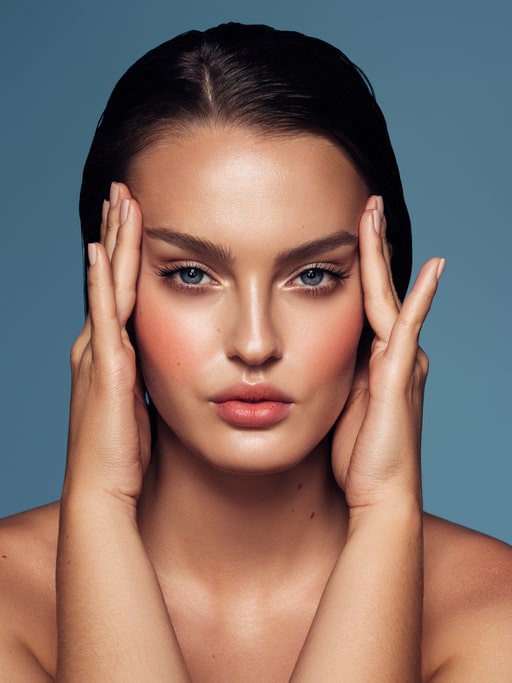 Is Lamination Right For Every Brow?
The whole point of brow lamination is to make the existing hairs on your brow look full and sleek. Because of this, some clients (and even cosmetologists) may wonder if the process works well for everyone. For example, is lamination still effective for someone who has very short brows?
The answer is "yes and no." Nothing keeps such a person from getting laminated, and the lamination effect by itself will look pretty good. However, when the process is used on someone with sparse brows, it may effectively expose how little hair is there.
If someone with sparse brows really wants a laminated brow, you should also offer to tint their brows as well. This gives them all the benefits of lamination without drawing attention to any areas they would rather not have others looking.
Could Clients Laminate Their Own Brows?
As a cosmetologist, you likely deal with many clients each week and each month who think they can do what you do just as easily at home. If we're being honest, this is where a lot of DIY horror stories come from: clients trying beauty techniques at home without the right skills and/or right equipment.
What about brow lamination, though? If a client bought their own lamination kit, would they be able to achieve the effect on their own?
In this case, it depends on the client. Someone with a steady hand and a good eye could potentially laminate their own brows. The key, of course, is knowing what to do, particularly when it comes to how long certain processes should take.
For instance, if someone keeps the lamination treatment on for too long, it can cause painful irritation on their skin. This is normally a very painless process when it is handled by an expert cosmetologist. When an amateur tries to use a kit at home, it can lead to some painful and unforeseen consequences.
What Is the Best Brow Lamination Kit?
With all that out of the way, we've arrived at the big question. Just what is the best brow lamination kit for a modern cosmetologist?
The best kit all around is the lamination kit available from Lashstuff. It offers an amazing value, giving your business a chance to make some serious profit from your local clients. This kit also includes many extra "bells and whistles" that will keep both you and your clients very happy.
What makes this the best professional brow lamination kit, though? Keep reading as we do a deep dive into what you get when you purchase this kit.
Beginner-Friendly
If you're reading this, chances are that you are relatively new to the world of brow lamination. This is why we are starting with one of the best things about this particular lamination kit: it is very, very beginner-friendly!
There are many ways that cosmetologists can approach brow lamination. But this kit breaks lamination down into four simple steps. Even if you are new to cosmetology and not just new to brow lamination, you'll have an easy time using this kit on your different clients.
Best of all, the results are so impressive that your clients will keep coming back. With this kit, you get all of the "razzle dazzle" and only a fraction of the time.
An Ethical Kit
One topic that has weighed on more businesses and consumers in recent years is the topic of ethical consumerism. Basically, we are all more aware than ever that what we buy offers direct financial support to the seller. And if that seller is engaged in any unethical businesses practices, especially related to how they create their product, then your money is effectively helping bad people continue to do bad things.
With this lamination kit, though, you can rest assured you are making an ethical purchase. The kit is 100% cruelty-free. And it is also vegan-friendly, which may be of interest to both you and your clients.
At the end of the day, it's literally your job to make the world a more beautiful place. And by making such an ethical purchase, and therefore supporting a more ethical business, you can help to do just that!
A Safe Kit
Your clients are understandably concerned about the products that you put in their hair and on the rest of their bodies. Working with chemicals gives you an unprecedented chance to change how someone looks. But if the products aren't safe, then you may effectively be putting clients in danger even as you try to make them look amazing.
Fortunately, this lamination kit is about as safe as it gets. It is sodium bromate-free, so neither you nor your clients need to worry about those negative potential effects. And the kits have been ophthalmological tested, which is a fancy way of saying that a doctor has made sure they are safe for someone's eyes.
When it comes to beauty procedures, many clients are often stressed about looking their best. With the extensive testing of these kits, your clients won't have to add "safety concerns" to the list of things stressing them out.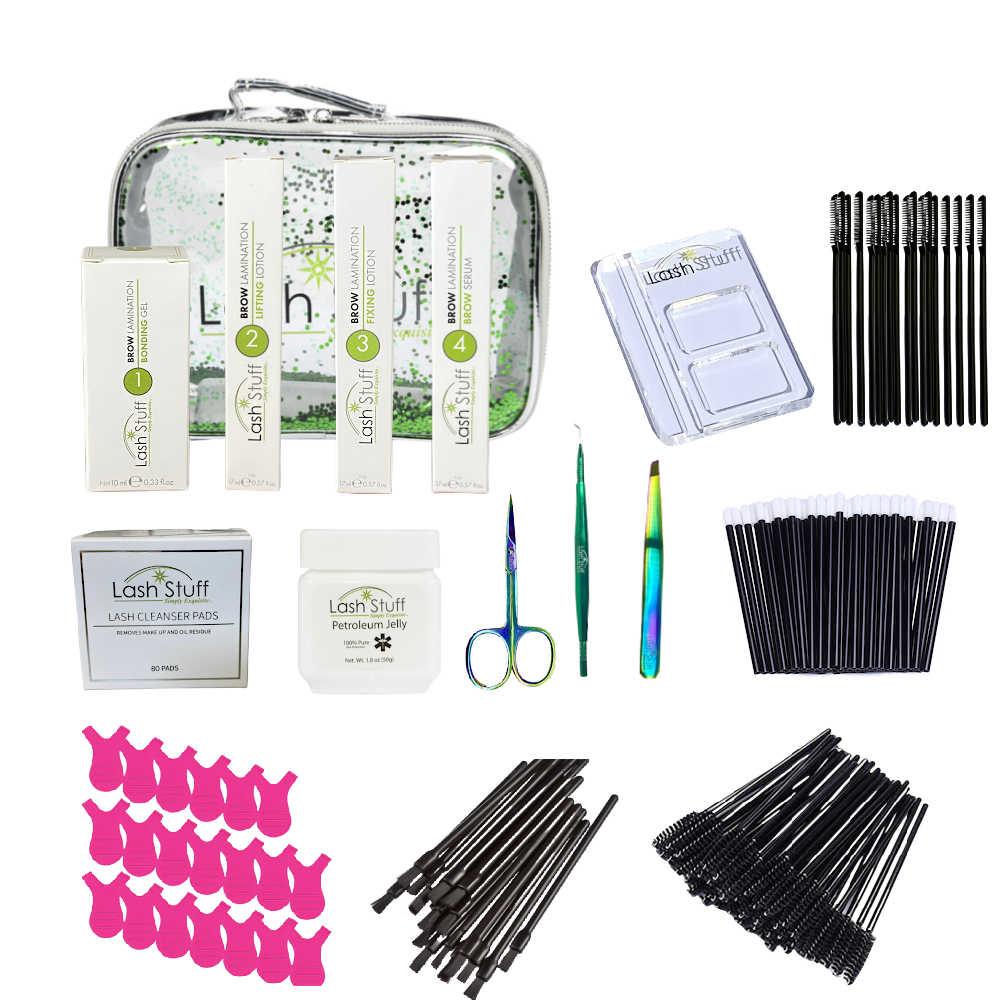 You Don't Need Any Cellophane
In cosmetology, you often learn to dread kits and procedures that have many different moving parts. Basically, the parts and more steps something involves, the likelier it is that something could go wrong.
This is especially true of beauty procedures that require cellophane. For example, cellophane hair treatments can be messy and annoying. And if you're not careful, the cellophane can annoy your clients as well.
Fortunately, this lamination kit doesn't require you to use any cellophane. That means you can spare yourself time, money, and especially client irritation when it comes to lamination.
Works Perfectly For Women and Men
Almost all cosmetologists are looking to get more clients and grow their businesses. However, the great irony is that most of these businesses are cutting out half of their potential customers by marketing their services almost entirely to women!
We mention this because the brow lamination kit is actually ideal for men and women alike. If you have any male clients that complain about curly brows or brows they simply can't manage, then lamination may be the solution they have been looking for.
While looking their best should always be important to prospective male clients, they may be particularly interested in this kind of grooming ahead of Valentine's Day. What better way to find the perfect Valentine's Day date than by looking better than most of the other men who are on the prowl?
Avoid Redness and Irritation
There are three little words that you likely hear over and over from your clients. And those words are this: "will it hurt?" You're even likelier to hear this question when you propose brow lamination to someone who has never had it before.
Here's the good news: brow lamination itself is typically painless, though clients occasionally experience redness and irritation. And when it comes to this particularly lamination kit, it was designed from the ground up to avoid that pain altogether!
Ultimately, the thing your clients will remember most is how you made them feel. And by giving them a smooth and painless lamination experience with this kit, clients will remember how careful and attentive your services were.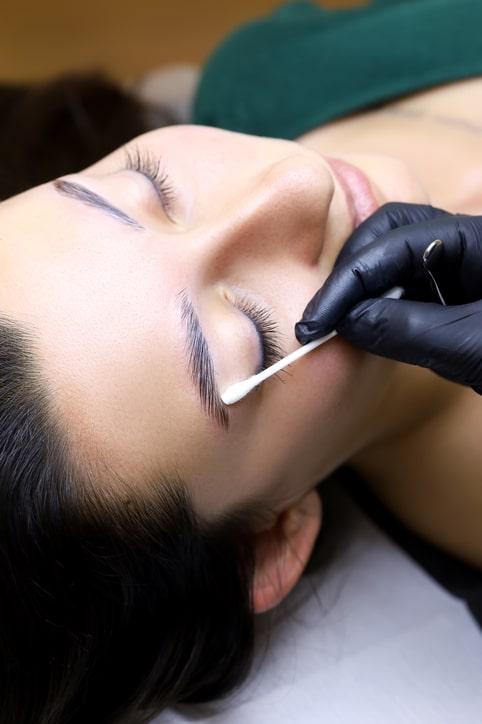 Bang For Your Buck
When you purchase a lamination kit, chances are that you want to hit the ground running and start laminating various clients. However, you may be understandably concerned by how many laminations you can get out of each kit before you have to make another purchase.
With this kit, you get all of the supplies you need to perform 20 laminations. That means you'll have plenty of time to try out the kit and get a better idea of how both you and your clients feel about it.
And what about when you run out of supplies? Simple: all you have to do is order another affordable kit and keep growing your business, one lamination at a time!
Your Next Move
Now you know what the best brow lamination kit is. But do you know where to get that kit and find answers to any brow lamination questions you may have?
Here at Lash Stuff, we are ready to take your business to the next level. To see what we can do for you and your clients, all you have to do is contact us today!