Top 10 Products to Perform Lash Extensions
Posted by Gina on Feb 01, 2022
Best Eyelash Extension Supplies to Apply Eyelash Extensions
Did you know the average life span of a Lash Artist is only 5 years? The reason why is it is hard on your hands and body. It is important to find the tools you can provide a quality service quicker, making your job easier. There are so many products that you can use to perform lash extensions. Besides the obvious of needing using lash extensions and adhesive. All the tools you use make the experience for your guest and your job, so you are able to make a lifelong career.
By using the best products for you it creates a better retention for your guests. You may not what to tools are available, but you don't know why. Here is a list of products you can get to help you along your journey and why you would use each of them.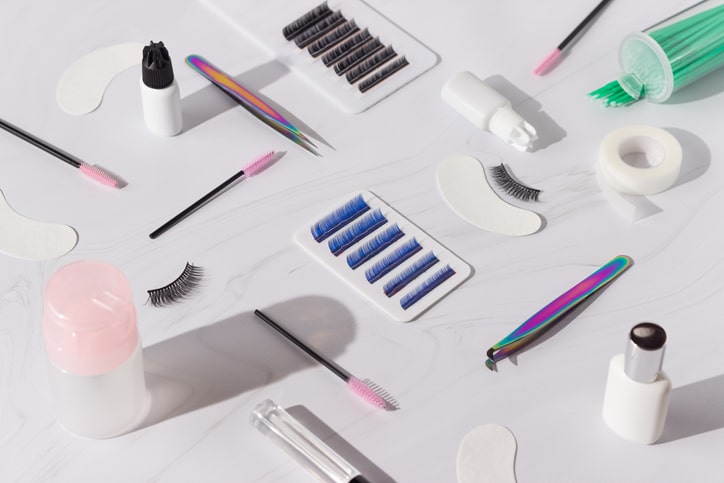 A pre-treatment cleans the natural lashes before you apply the lashes. It removes debris and residues that are not visible to the naked eye. Many face cleansers and makeup removers actually break down the lash adhesive over time. Some call this a primer as well. By providing a deep cleanse to the lashes it helps the adhesive adhere to the lashes making sure your client has the best retention possible.
This products partners well with the Pre-treatment. This breaks down the natural proteins, oils, and excretions that the body produces that can cause a barrier between the natural lash and the extensions. The pre-treatment removes artificial particles, and the protein remover removes natural particles. Performing each of these steps creates a clean canvas.
There are several different ways to hold an adhesive ring with a cup. These are disposable so there is no need to clean after. It also creates less movement with your hand providing a more ergonomically position for your hands. The less movement and time from when you pick up your lash, dip in adhesive and place on the lashes helps you create a beautiful masterpiece faster.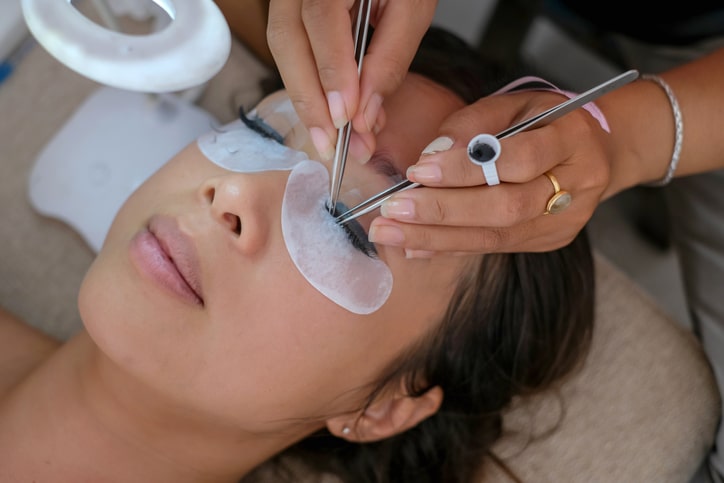 A jade stone or crystal tile are both alternative ways to place your adhesive on while performing your service. The main difference between the two is the jade stone is slightly porous and the crystal tile is non-porous. The Jade stone is great for high humidity areas. Because of the slightly porous material it will help pull moisture from the adhesive. Both the Jade stone and the crystal tile keeps the adhesive cooler while you are working.
Lash tiles are great for providing you're a clean surface to organize your eyelash extension strips while applying the extensions. They are typically a sturdy and heavy tile that will stay in place while picking up your lash extensions. If you are using Lash Stuffs Lash Tile, it will hold up to 12 strips of lash extensions. This is a must have if you are doing volume, but still an amazing tool for classic lashes too. There is also a non-porous spot you can place your adhesive. It's a great tool that will hold your adhesive and lashes in one spot. This creates less movement between your lashes and placement on the lash.
Eye gel pads are crucial in your lash extension service. They need to be user friendly for you. Comfortable for your customer to wear and remove. With that, Lash Stuff has various options for you and your customers.
Standard Eye Gel Pads are lash Stuffs #1 gel pad. They are crescent in shape and lint free. They are used to hold down the lower lashes. They are comfortable for your customer and removes easily when the service is over.
Ultra-Thin Eye Gel Pads are thinner eye pad that contours the clients eye area. They are a little larger in size covering more area. They are teardrop in shape, lint free and contain collagen. They are used to secure the lower lashes prior to applying eyelash extensions.
Mini Eye Gel Pad Is a smaller gel pad. It is crescent in shape so it can easily fit under the eye. This one is great for someone who has a smaller eye. Some average size gel pads are too large for some customers. These are great for those guests.
There are several options for tape out there. Finding one that best fits your needs could be trial and error. Here is a list of some great ones that provide a good hold with out irritating the skin or eye If used correctly.
Nexcare tape is great for sensitive skin. It works great for thinner, fragile skin that you still need a good hold, but still ok to reposition with out irritating or damaging the skin. It is easy to cut a strip for each eye or cut a crescent shape to fit your clients unique eye shape.
Lint Free Waterproof Tape is amazing for those clients that eyes water during their service. It is important that you are able to continue to work with out having to worry about your tape coming loose and constantly having to reapply and adjust during the entire service.
Hy Tape Is a great universal tape. It is also waterproof, thin, flexible, and elastic. It has a good staying power, but easily removes off the skin.
Micropore surgical Tape is a 3M high-quality medical tape that helps secure the lower lashes. It does not hurt your client when removing the tape. It is great to use with an eye gel pad to secure all those pesky lower lashes that won't stay under the eye gel pad.
Mascara wands are great to use during the application process to help brush through the clients' eyelashes. You can also provide one to your customer to be able to continue to comb their lash extensions at home. There are a variety of colors and shapes to choose from.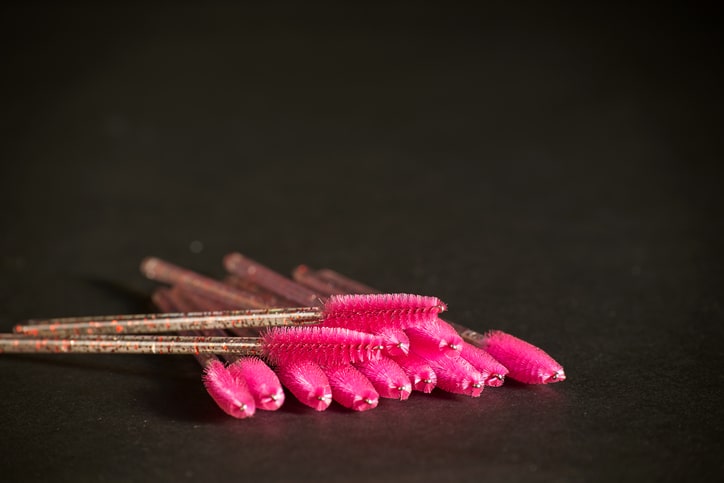 It is an important step when finishing up your service. It is clear and tint in consistency. You would pour a small amount onto your tile or into your ring cup and apply to the base of the lashes where the adhesive is connected to the lashes with a micro swab. It adds an extra layer of protection the eyelash extensions from debris and other factors for up to a week. When apply to volume lashes apply as close to the base of volume lash to ensure it does not close your fan.
Eyelash extension adhesives that contain cyanoacrylate do not dry, instead, they cure using the moisture in the air. The natural/unassisted curing process can take 24 to 48 hours, depending on the humidity level where you live. It is used to cure the eyelash extensions at the end of each appointment. It speeds up the curing process allowing your clients to wash their lashes that evening. Thing to remember: Hold the nano mister vertically and mist the lashes from 8 to 10 inches. Sweep the unit side to side and over each eye about five seconds while using a want to brush the lashes, ensuring complete coverage while misting. Use only with distilled or purified water. Empty your water reservoir and let it dry each night.