'What Can I Expect From Eyelash Classes Near Me?' Your Top Questions Answered
Posted by Sara on Apr 29, 2021
As a licensed professional, you are committed to your clients' happiness and well-being. Staying competitive, particularly in highly populated urban areas where there seems to be a salon on every corner, can be a challenge. Offering eyelash services beyond eyebrow waxing is a smart option. When you search for "eyelash classes near me," you may not know what to expect. Before you commit to new services for your clients, it's important to know exactly what those procedures entail and how to find the best courses to teach you how to do them safely and properly.
What Can I Expect From Eyelash Classes Near Me?
Every licensed esthetician or cosmetologist knows how important it is to get the latest updates on procedures, so you are likely already pursuing courses that keep you current. Specialty classes take you beyond the basic eyebrow waxing instruction you received in beauty school. Adding eyelash lift and tint or eyelash extension services to your repertoire can set you apart from the competition.
You can get your certification in these procedures by taking a remote video course, an online class or attending live demonstrations. No matter what format you take, each class is designed to ensure that you have all the tools and information you need to offer quality service to your clients. All eyelash classes near me should include:
The purpose of the procedure
Information about eyelash structure and growth
Education about the products used
Detailed application instruction
Demonstration of application on a live model
Ongoing care instructions for clients
Opportunities to ask questions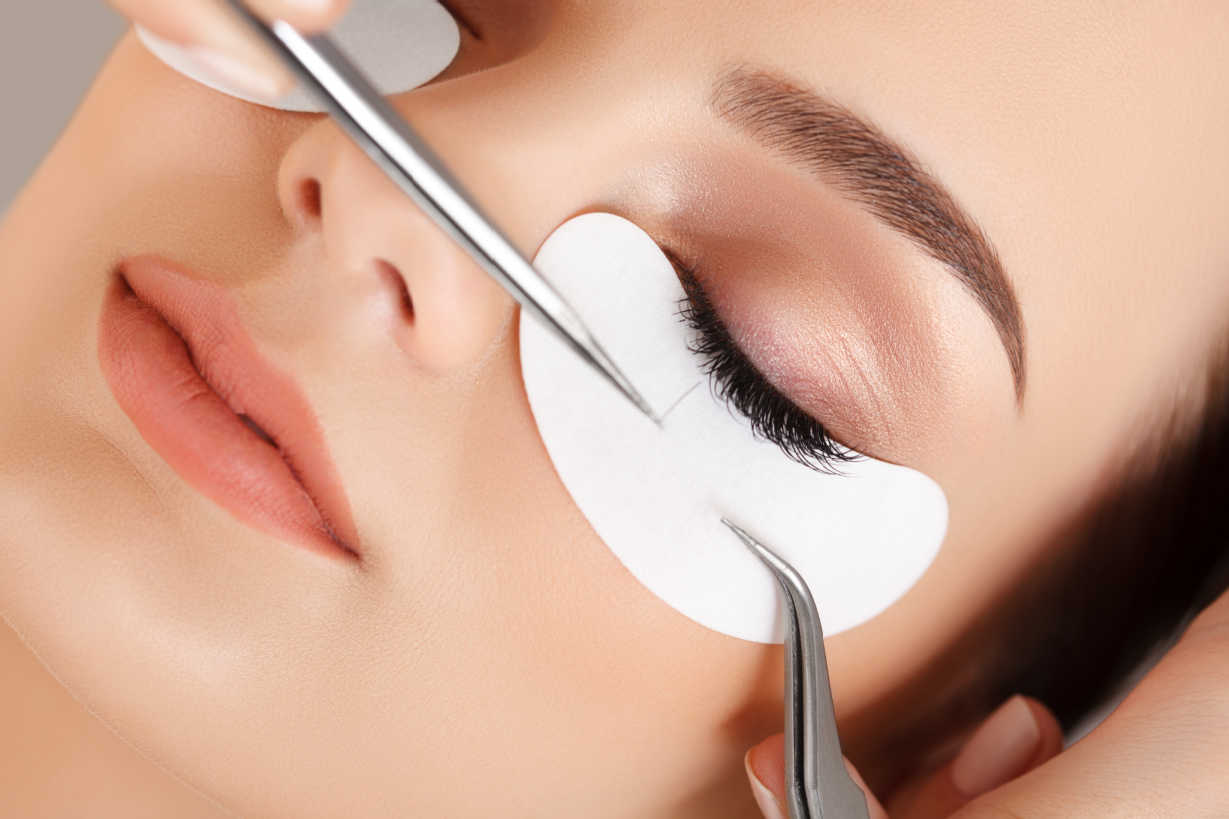 What Is an Eyelash Lift and Tint?
Many salon clients are interested in services that help them maintain a fantastic look with minimal daily effort. An eyelash lift and tint helps them achieve the look of natural, luscious lashes without having to apply and remove mascara every day. There are three basic steps to this process:
Place silicone pads between lashes and the delicate skin around the eyes. Apply a serum that breaks down the protein in the lashes, making them more flexible and ready for shaping.
Treat lashes with a fixing serum that restores and rebuilds them. As this conditioner strengthens the lashes, the tint is applied.
Remove pads and add a final application of keratin to boost proteins and strengthen lashes.
The process of an eyelash lift and tint is similar to the procedure used to give a client a perm. When you take eyelash classes near me, you learn the extra precautions that must be taken to safeguard the sensitive skin around the eyes, but the convenience factor to the clients is the same. With no extra effort, clients look as if they sit with a professional makeup artist every morning.
What Is an Eyelash Extension?
Even the best mascara on the market can only do so much with thin eyelashes. In fact, it's more likely to make thin eyelashes look fake or clumpy than improve their appearance. Clients who want to enhance their lashes may be excited to learn that you offer extensions.
Essentially, this procedure works just like hair extensions, except you bond each individual piece to the existing lashes. The certification course you take will teach you how to make the connection appear seamless to give your clients the look of a full, natural set of lashes. You will also learn how to instruct your clients in proper care so that their lashes last as long as possible.
Some clients may be sensitive to the adhesive used in this procedure. It's important to ask if they have sensitive skin and, if so, conduct a patch test before actually going forward with the service. The last thing you want is to irritate your clients' eyes.
Why Should I Take Eyelash Classes?
Your clients' health, safety and comfort are important. Therefore, it's vital to understand every nuance of a procedure before you perform it. While there are a few risks associated with eyelash services that you may not be able to foresee, such as an allergic reaction to the adhesive on the eye patch, doing the procedure without taking specialty eyelash classes near me may lead to other side effects:
Loss of lashes
Weakened or brittle lashes
Prolonged irritation
Damage to the skin
Seeing your certifications posted near your workspace is comforting to clients. When you are working near such a sensitive area as the eyes, the more you can put your clients at ease, the better the experience will be for them. If you own a salon or aspire to do so in the future, taking classes to continue your education and fine-tune your expertise is a great way to lead by example.
How Do I Market Eyelash Services?
Once you are certified in eyelash lift and tint or extensions, the next step is to let clients know that these services are available. Marketing new services doesn't have to be expensive. Start by featuring them on your salon menu. Make an announcement on your social media accounts announcing the new services. The mere mention of something new is going to draw the interest of people who want thicker, fuller lashes.
Next, consider offering a promotion. While new ideas are exciting, clients may also be a little nervous about trying them. A limited-time discount may be just the incentive they need to overcome their hesitation and give eyelash services a try.
Once your current clients have experienced the benefits of eyelash services, they become your best advertisements. Never discount the power of word of mouth. They will want to show off their new lashes, and their recommendations are likely to draw new customers to your salon.
Where Can I Find Eyelash Classes Near Me?
Serving your clients well by doing what you love is the dream. There are probably many salons in your area that offer the basic services that you learned in beauty school. Stand out by giving clients something more. Continuing education about new services and the latest formulas can boost your career as a cosmetologist or esthetician. Learn more about products and eyelash classes near me.
https://www.lashstuff.com/free-lash-lift-eyelash-tint-training/
https://www.lashstuff.com/free-eyelash-extension-training-courses/
https://www.townandcountrymag.com/style/beauty-products/a31027825/what-is-a-lash-lift-and-tint/