What Is an Eyebrow Tint?
Posted by Jess on Jun 05, 2023
Shaping brows naturally is trending more than ever for 2023, and eyebrow tinting is one of the most popular procedures. Having your eyebrows tinted is the perfect way to make your brows pop while wearing minimal makeup.
If you're a lash stylist and aren't offering eyebrow tint services to your clients, it's time to make the change. Learning more about the procedures and products to use will get you moving in the right direction.
Keep reading this guide to learn everything you need to know about eyebrow tinting and begin offering it to your clients!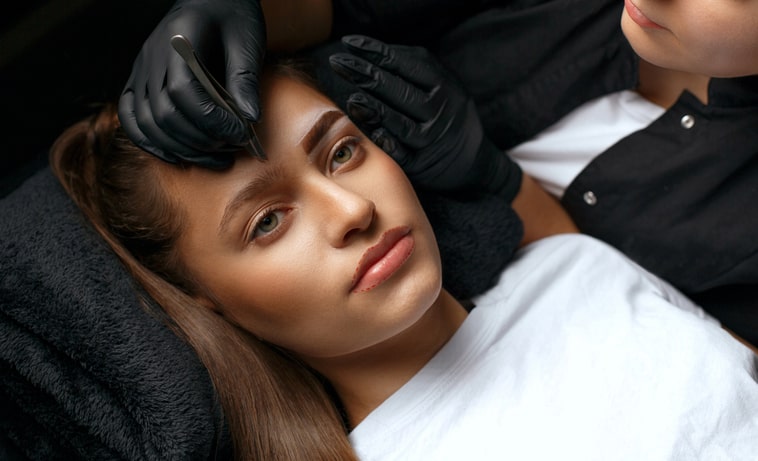 What Is Eyebrow Tinting?
Eyebrow tinting involves the process of using semi-permanent dye to define, shape, and enhance the overall look of your brows. It also leaves a light stain of color on the skin around the brow.
This stain of color fills in thinner areas within the brow, bulking up the core of the brow area. The staining lasts approximately one week, and the dye on the hair strands will then begin to grow out.
During the eyebrow tinting process, you must achieve a natural-looking but full brow that has varying areas of definition and contrast.
Who Can Get Eyebrow Tinting?
Brow tint works well on all skin types and tones. It's also effective for almost all hair colors, but tinting white or gray hair can be tricky.
This is because gray hair tends to be more resistant to the tinting process. You'll simply need to do more colorwork and matching to achieve a good result on gray or white hair.
Even so, people with a high volume of gray hair or unpigmented brows are usually happy with the results of eyebrow tinting.
How Long Does Eyebrow Tinting Last?
Although the time frame can vary for each person, eyebrow tinting generally lasts between 4 and 8 weeks. Different factors can impact how long eyebrow tinting lasts, which include:
Amount of sun exposure
Sunscreen use
Type of dye
Frequency of face washing
The kind of cleanser and makeup remover you use
How quickly your hair grows
Overall, you can expect results to last a good four weeks before you need to consider getting a touch-up.
Benefits of Eyebrow Tinting
First, eyebrow tinting is great for people who want a simple morning routine. You don't need to fill your eyebrows which shortens your prep time in the morning.
Full brows that look natural give you a more youthful appearance. Other benefits include:
Smudge-proof
Pain-free way to enhance your brows
Creates symmetrical brows
Darkens lighter brow hairs
Extends the length of your brows
Defines your brow shape
Low-risk procedure
Finally, tinting gives more dimension and depth to brows, allowing them to stand out no matter what. This makes tinting an excellent option for people who wear full-frame glasses.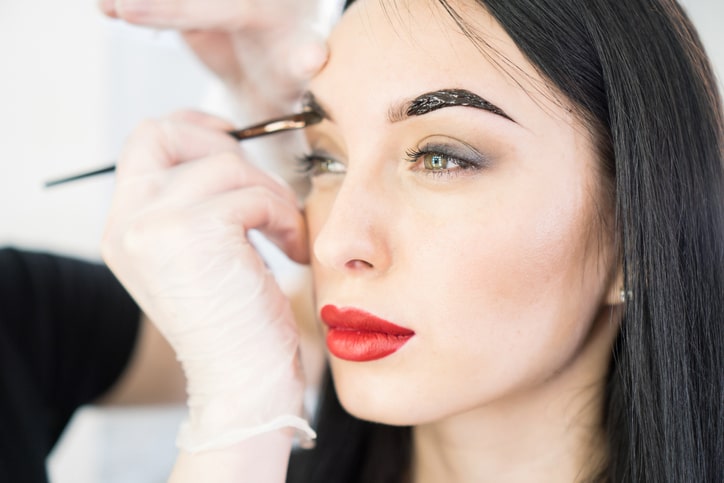 Preparing for Eyebrow Tinting
Before your clients have eyebrow tinting, doing some prep work is essential. First, you should have a form for your clients to fill out to allow you to get the information you need.
You'll need to do a quick consultation which includes:
Check for Common Allergies
First, you must rule out any potential allergies. Remember, the skin around the eyebrow area is thin and more prone to infections and irritations.
Most eyebrow and eyelash tinting products contain para-phenylenediamine (PPD). Some people become sensitized to PPD by dying their hair or applying henna tattoos. Due to this, they can have severe allergic reactions and complications.
For this reason, you'll need to inquire about any history of sensitivity to dyes or henna. Performing a patch test to check for an allergic reaction is also necessary.
Review Medications and the Procedure
Next, you must have a consultation about the color and overall look the client wants to achieve. If your client wants a natural look, it's best to mimic the darkest shade of hair on their head. Copying that color and carrying it through the entire brow will give the brows a fuller look.
For clients who want more structure and definition, you should take the tint a few shades deeper than their hair. This will add more flair to their eyebrows overall.
You'll need to ask if your client takes oral or topical skin condition medications. This is because some medicines can interact with an eyebrow tint, so it's essential to review this.
The Procedure
Once you've reviewed your client's goals, you can start the eyebrow tinting procedure.
Begin by cleaning the brows with a pH-stabilizing rinse and brush the eyebrow hair to map out the perfect shape. Apply a barrier cream like Vaseline around the brows to prevent excess skin staining.
Next, you'll customize the dye color to closely match your client's natural hair colors. Be sure to use high-quality products like this vegan eyelash and eyebrow tint from Lash Stuff.
Apply the tint throughout the eyebrow using a thick application. Leave the dye on for at least two minutes and up to five minutes for thick or coarse eyebrows.
Use a cool, damp cloth to remove excess barrier cream and color from the area.
Cost of Eyebrow Tinting
Eyebrow tinting cost varies, ranging from $20 to $50, but it can cost up to $125 per treatment.
You'll need to set the cost based on your location and experience as a lash stylist. You may also want to bundle with other services like brow lamination to give your clients a package deal.
Offer the Best Eyebrow Tint to Your Clients
Now that you know more about the eyebrow tint process, you can begin offering it to your clients.
Your next step is to find a reputable company that offers eyebrow tints and different training tools to help you succeed. The good news is you can turn to Lash Stuff for your eyebrow tint product needs.
We began in 2012 with the primary goal of improving the lash industry. We aim to create high-quality eyelash extensions and ship them the same day so stylists can get their products quickly.
Today, we continue to focus on how to make things better for lash stylists. With this, we provide free lash lift training to licensed professionals. We also have a range of products to choose from besides eyelash tints, like eyelash extensions, brushes, and applicators.
Visit us online today to check out our selection of eyebrow tint products!