Here's What You Need to Look for When Getting Eyelash Extensions Applied
Posted by Jess on May 03, 2021
The higher the lash, the closer to god. Or was it the heel? Both. Definitely both.
From Twiggy in the 60s to everyday looks, eyelash extensions started with the red carpet and ended in the makeup vanities of everyone looking for a boost in confidence.
When you go for an eyelash extension appointment, you'll want to take some "before" pictures, especially if this is your first time. You'll be in awe at how much your look has changed.
Just getting some eyelash extensions will make your eyes look bigger, and hike up your feminine energy and looks. Welcome to the only eyelash extension application guide you'll need.
However, if you don't even know the difference between your eyelash extensions from your eyelash curler, no worries. You've come to the right place. Keep on reading for our full breakdown of all things eyelash extensions.
Eyelash Extension Application Guide 101: What Are Eyelash Extensions?
In the simplest of terms, eyelash extensions are semi-permanent synthetic lashes. They're hand-glued right on top of your natural lashes.
The reason why they're as popular as they are is because of how natural they look. Since the extensions are glued-on, one at a time, they look real.
Another perk is how versatile and customizable they can be. Whether you're looking for a soft K-pop idol look or you're looking for a full glam look, there will be an eyelash extensions style for you.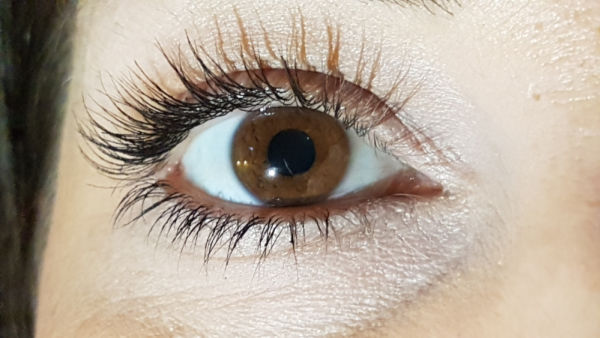 The Basics of Getting the Right-Sized Extensions
Depending on your natural lashes and eye shape, your lash technician will help you pick the right-sized lashes.
You must know that getting lashes that are too thick or too long for your natural lashes can cause some damage in the long run.
On the other hand, you can go wild choosing your curl and the density of your extensions. After all, what fits Kim Kardashian's face might not fit yours and vice versa.
How Long Do Eyelash Extensions Last?
Your eyelash extensions will naturally fall out like your natural lashes over time. If you take good care of them, they can last you from six to eight weeks.
Yet, you can always go back for a lash fill-in before all of your lash extensions fall out. Basically, you can have your extensions last indefinitely if you keep a good lash fill-in routine.
Is Getting Lash Extensions Safe for My Natural Lashes?
Absolutely, as long as the procedure is done properly.
The risks of getting low-quality lash extensions can range from triggering your allergies, loss of your natural lashes prematurely, and even getting an eye infection.
All of those risks can pop up, not due to the lashes themselves, but the wrongful placement of the extensions.
Needless to say, you'll want to find the right lash technician. Not only are you looking for ones who have good application techniques, but also show care, take all the health precautions to ensure the successful application of your lashes.
You can start your search looking for reviews online, and ask your potential lash technician about their tools, their years of experience when it comes to eyelash extension application, and the type of glue or remover they use.
The Cost of Eyelash Extensions
The answer to this question is that it depends, mainly on where you live.
For instance, in New York City, which tends to be on the pricy side, you can expect the prices to range from $100 to $400.
This goes for around 70 to 80 lashes for each eye, and it doesn't include the traditional 20% tip.
There are ways of making your eyelash extensions much more affordable, so check out our guide on lash budgeting here.
What About Fill-ins?
If you're pretty diligent about coming in for your fill-ins every few weeks, the session can cost you between $50 to $165, depending on how many lashes actually fell out and needed to be replaced.
You'll want to keep in mind that the longer you leave them your lash extensions on without going in for fill-ins, the more you'll have to pay.
Besides, if you waited for too long, your technician might just give you a new set of extensions with the matching prices. After all, by waiting too long, you'll barely have any extensions left.
How to Care for Your Eyelash Extensions?
After applying eyelash extensions, you're now responsible for taking care of them. The care for your eyelash extensions doesn't have to be a complex process. Keep it simple so it's easier to convert into a habit.
Once you've reached that point, you won't even think about it. Let's cover the main questions that you probably have.
Can You Wash Your Eyes With Eyelash Extensions?
Yes, but you'll have to use cleansers that are safe for eyelash extensions.
Those are specialized cleansers that are free of a plethora of ingredients that can weaken the glue that bonds your lash extensions with your natural lashes.
If you use a regular non-safe cleanser, you'll notice that your lashes are shedding prematurely.
Thus, if you're wearing eye makeup, you'll want to use some oil-free pads and slowly use downward motions to wipe the makeup away. Try your best to avoid tugging or rubbing around your eyes.
The Showering Protocol With Eyelash Extensions
We definitely aren't expecting you to give up showering as long as you have eyelash extensions on.
However, you'll want to wait for your eyelash adhesive to cure, which can take 12 to 24 hours, depending on the type of glue.
After that time period passes, you can shower, but you'll want to ensure that they don't get in touch (literally) with any water.
Keep them dry, and don't spend too much time in the steam, and you'll be good to go.
Putting Mascara on Your Eyelash Extensions: Yay or Nay?
That's a nay. The issue isn't with the chemical structure of your mascara product itself. The problem is when you'll have to take the makeup off at the end of the day.
When using a strong makeup remover and friction, you'll be encouraging your eyelash extensions to fall off.
However, that doesn't mean you have to remain eye-makeup-free. You can have fun with eyeliner and eyeshadow. Just make sure you're using eyelash extension-safe formulas that have no oils or waxes. As both materials can break down your lash glue.
Ready to Treat Yourself With a Glow up?
Nothing can have you strutting around like Beyonce with a strong I-Woke-up-like-this-energy than a good set of eyelash extensions or a pair of fake eyelashes.
We know that the whole eyelash extensions procedure can be a bit overwhelming, especially if you're a newbie to the whole thing.
Hopefully, our little eyelash extension application guide has shed all the light you need on the process.
If you're a lover of lashes, you'll want to check out our free lash love VIP club. We're talking free shipping on your favorite lashes, free returns, and even up to 3% in-store credit on your purchases.