Should I Get Eyelash Extensions for My Wedding?
Posted by Gina on Jun 22, 2021
If you've ever wondered how celebrities achieve that long, lush eye look, then you'll be delighted to hear that it's as easy as booking a lash appointment. In addition, eyelash extensions are now more affordable than ever. So if you are asking yourself, should I get eyelash extensions for my wedding, the answer is YES.
Eyelash extensions can be designed to fit the occasion. Long and luxurious eyelashes can be designed in many different styles, from water-resistant to waterproof to volumized. Today's eyelash extensions are also incredibly gentle on your eyes.
Please keep reading if you want to know the reasons you should try out eyelash extensions for your wedding and see what a difference it makes to your entire look.
Should I get Eyelash Extensions for My Wedding?
As a bride, you get to make the entrance of a lifetime whether you're walking down the aisle or meet with a Justice of the Peace in a private location. Regardless of where your wedding is, you want to make sure you look your best. That means eyelash extensions can add that extra something that goes with your one-of-a-kind day.
Eyelash extensions can raise your natural eyelashes upwards, making them look not only bigger but more dramatic. It's thought they might also play into making you look taller, slimmer, younger, and more beautiful. Then again, that may be all the love and joy that surrounds both of you. Regardless, eyelash extensions are so versatile and designed according to your wants descriptive needs, once anyone catches your eye, they won't be able to look away.
Get Eyelash Extensions
Lash extensions are painless, but if they are done right, they take a bit of time. The first thing you want to do once you decide to get your bridal eyelash extensions is to get a trial run first. You want to see if you like the way they feel and look.
No matter how lush your lash design, it will require a tiny bit of glue. You want to make sure you don't have any negative reaction to the glue, so wear them for more than a day or so.
So make sure you budget enough time for your eyelash extension application for your special day. Many pro-estheticians will advise you to schedule your appointment about a month out from your wedding day. Then, when you visit your esthetician on your BIG day, they will be doing fill-ins and touch-ups instead of the entire process.
Eyelash Extensions
Not all eyelash extensions are created equal, and that means you need to go with quality for your wedding day. First, choose the right lash design, so you get the effect you want for your BIG day. Then, if you plan on keeping your lash extensions on for your honeymoon, if you want to keep them looking good.
Here are some easy-to-do tips to make that happen. First, you can trim them a little bit at the end of every week, and they will look good at all times, day or night. Then, if you can avoid it, try not to get your eyelash extensions really wet.
Some More Do's and Don'ts for Your Eyelash Extensions
Also, you definitely want to wait at least twelve hours for your adhesive to set. That way, you don't lose your luxurious look until you're ready. It is best always to try to use oil-free makeup removers, as anything with oil shortens your eyelash extension's lifespan.
Try not to use any heated eyelash curlers in or around your lash extensions, as they may dissolve any adhesive.
Eyelash Extension Experience
Your eyelash extension experience should be painless and a sure way to achieve the wispy, long, and fluttering lashes that you want to accomplish as a bride. Remember, eyelash extensions are semi-permanent fibers that are attached to your eyelashes. The fringe, lush look intends to make your lashes look longer, fuller, and darker.
What makes up the eyelash extensions varies. You can choose to have synthetic, silk fibers, a faux mink, or a variety of all those things. What's more, almost all eyelash extension studios have different patterns, tints, curls, colors, and even jewels encrusted on the lash extension.
There's no better way to customize your look as a bride, which means your experience and your look will be one of a kind.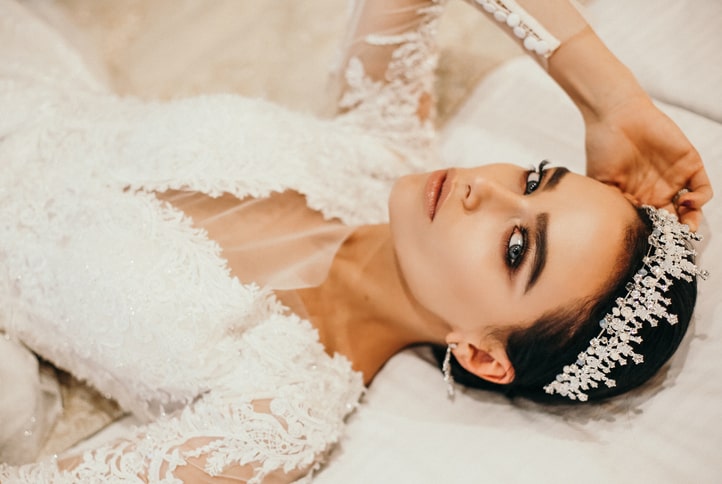 Try Eyelash Extensions Before Your Wedding
If you still aren't quite sure, then there's no better time than the present to try out eyelash extensions before your wedding. You can see how they look and feel. Of course, you want to make sure that you feel comfortable with the esthetician.
You definitely want to know and choose the highest-quality extension products on your wedding day. Make sure to look over the lash design to see if you are happy with the way it looks. Professional estheticians will have a proper procedure for you to understand and follow as they put them on.
Both when they explain what's going on as they put them on and for when you're taking care of them after your wedding.
Lush Lashes
Lush Lashes are the most popular with lash extensions. They are the most natural-looking, and they are easy to apply and maintain. Lush Lashes also look great on almost all eye shapes and sizes.
The synthetic, semi-permanent, and other types of full-lash look come only from eyelash extensions. So you may be asking yourself, should I get eyelash extensions for my wedding right now. But once you try them out, you will want to make them part of your natural beauty routine.
If you're going to be a bride soon and want to know more before your big day, on Lash Stuff through their weekly news and update blog, Lash Weekly. You'll find out more about the best lash look for brides and how to make your eyes speak with lash extensions. There's nothing else that is so easy to use that creates the beautiful look your eyes deserve.