What to Expect When Getting Eyelash Extensions Done
Posted by Jess on Jun 16, 2021
The techniques we use to create long lush eyelashes have come a long way since 1899 when women had eyelashes implanted using needles. Others were gluing human hair to their eyelids instead of using a needle to thread it on. Decades later in the 2020s getting eyelash extensions done is easy and pain-free.
If the idea of eyelash extensions intrigues you, you are likely looking for answers on the product and procedure. Keep reading to learn more about this popular look.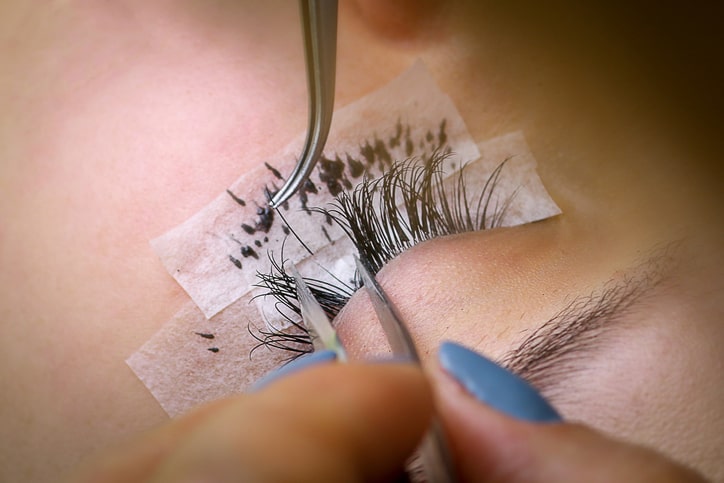 What Defines Eyelash Extensions?
We use everything from curlers to gels and maximizing mascara to achieve long, fluttery eyelashes. The modern way to achieve this look is by using eyelash extensions. The process involves the application of semi-permanent fibers to your natural eyelash.
Extensions are made in a variety of materials, including silk, faux mink, mink, and synthetic. You will be able to select from a variety of curl patterns, extension links, and tints. This allows you to create a custom look.
For the most natural look select either mink or silk. If you are looking for a bold, thick, dark lash synthetic works well.
One thing to check is the ingredients being used in the extensions and adhesives. Make sure the salon carries quality brands and maintains supplies for when you need fill-ins.
What is the Application Process?
Eyelash extensions must be applied one at a time, with each eye requiring between 80-140 extensions. The lash is glued to the natural lash, not the skin. Here is what you can expect when getting eyelash extensions done at a salon.
Evaluation
A technician will review with you all of the benefits and risks of using eyelash extensions. They will inquire about any conditions you may have that may make this process unsuitable to you. If you wear contacts, they will request you remove them before the application.
Length and Curl Strength Decisions
Your eyelash artist will ask what type of look you want to achieve. Some people choose to have a permanent glamour look, others want their lashes to appear natural. The length and curl strength impact the type of look you achieve.
When applying extensions to your eyelashes, the artist will likely use 3-4 different lengths. Shorter extensions will be used near the inner eye. As they work toward the outer eye the extensions will become longer.
Preparing the Eye Area
The eyelash artist will have you lie down. They will then cleans the eye area to remove all makeup, oil, and germs. Once your eye area is clean, you will spend the rest of the application process with your eyes closed.
To keep the lower lashes out of the way the eyelash artist will apply an under-eye gel to the lower lash line. This also provides a contrasting background for them to work against.
The artist will secure the eye gels with medical-grade tape on both sides of the eye. The tape does not touch your eyelashes and it is a painless removal after the process is complete.
The preparation and application process will take about 1-2 hours. The actual length of time depends on the number of extensions they apply.
Applying the Extensions
Your lash artist will use tweezers to hold each extension. They will dip the end of the extension into lash glue, and then affix it to your natural lash. The normal procedure is to apply one extension per lash.
Some people looking for a voluminous look may have several extensions on each lash. The application is pain-free, and your eyes remain closed throughout the process.
Drying Period
The glue for applying eyelash extensions dries quickly. To make sure all lashes are secure, your lash artist will probably have you remain in position for about 10 minutes after the application is complete. Some salons have a small, handheld fan for you to use during the drying process.
Once the lashes are fully dry the lash artist will remove the under-eye gels and tape. After the removal, the lash artist will use a spoolie to brush through the lashes. After this is complete the lash artist will ask you to slowly open your eyes.
Best Place for Getting Eyelash Extensions Done
This new cosmetic area is not regulated in some states, including Wisconsin, Idaho, Delaware, Connecticut, Maryland, and Alabama. Many states only require those performing eyelash extensions to have a cosmetology license.
A person with a cosmetology license has training for hair cutting and styling, hair coloring, makeup, and nails. They do not have training for work in the eye area.
When getting eyelash extensions, make sure you are working with a licensed esthetician. Estheticians have training in skin-oriented treatments. Their training involves the application of facials, chemical peels, microdermabrasion, and eyelash services.
Pros of Getting Eyelash Extensions
The application process is 100% pain-free from beginning to end. You will wake up every day with gorgeous, long, and fluttery eyelashes, giving you an incredible look without the application of makeup.
Once you are beyond the first 48 hours after application, you can shower and swim. The extensions are waterproof. Be aware that the dryer you keep them the longer they will last.
Plastic surgeons, estheticians, and dermatologists are in agreement that the application of extensions is safe. Even with that thumbs up of approval, there is the possibility of infections or irritation.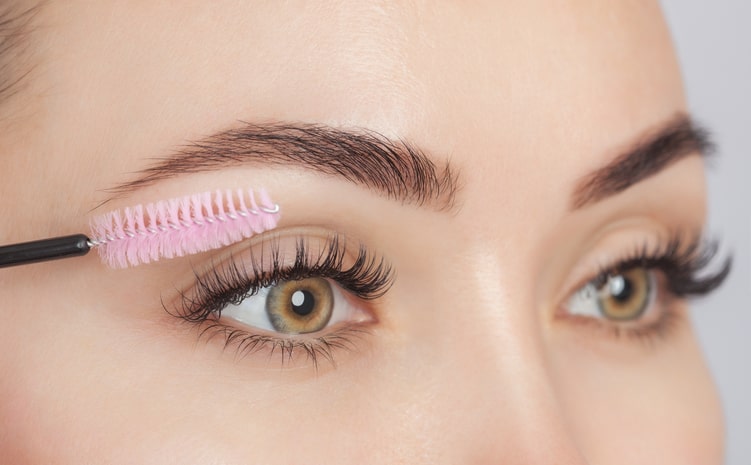 Cons of Getting Eyelash Extensions
The riskiest part of having extensions done is possible irritation of the eyes. Even hypoallergenic ingredients in the glue may result in irritation of the eye tissue. There may also be irritation from the weight of the extensions pulling on the eye.
One way to avoid the possibility of irritation or an allergic reaction is to do a patch test on your hand. You may also request your lash artist use formaldehyde and latex-free adhesive. Those chemicals are most likely to cause a reaction.
The cost of getting eyelash extensions done will run between $120 to $500 for the initial application. You will need to have refills done every 2-4 weeks at a cost of about $50 to $150. Those appointments will last about one hour.
Fill-ins are necessary to maintain an even look. Your eyelashes are continuously growing at varying rates of speed. As some fall out and are replaced with new lashes, your lashes will develop an uneven, scattered look without fill-ins.
There is a risk of damaging your natural eyelashes. As your eyelashes grow, the extensions will move farther away from the eyelash root. Your natural lash may not be able to support the extension weight, causing breakage.
If you rub your eyes or they rub against your pillow when you sleep, this may also cause your natural lashes to break. You also need to be careful not to rub your eyes when washing your face.
Plan on Getting Eyelash Extensions Done
If you are looking for a semi-permanent full-lash look without the daily hassle of applying makeup, getting eyelash extensions done is probably the right choice. While it does require regular maintenance appointments every 2-4 weeks, this is no different than scheduling your manicure, pedicure, or haircut. It just becomes part of your natural beauty routine.
For more great information on eyelash care, check out Lash Weekly, our eyelash extension blog. Our website also offers free training for a lash lift and eyelash tint.
We also suggest you check out our full line of products. Our line includes eyelash extension supplies, hair removal wax, magnetic eyelashes, storage bags, and an assortment of novelties and apparel.