How to Apply False Eyelashes
Posted by Misty on May 25, 2021
When it comes to creating a daring makeup look, false eyelashes can make a major impact.
If you're not sure how to apply false eyelashes, the process is easier than you think once you practice and get the hang of it.
Read on to learn how you can make applying falsies fast and easy so it becomes part of your regular beauty routine.
Gather Your Supplies
Before you apply your false eyelashes, it's important to make sure that you have everything you need close at hand. Start by choosing your favorite lashes depending on the event. Some lashes are thicker and more daring than others, so it really depends on your mood and the look you want to achieve.
Most false eyelashes are applied using a special glue. Make sure you have your tube of glue handy or check the packaging since some brands include a tube with the lashes.
You'll also need a clean pair of tweezers to help you grab the eyelashes and place them on the lid. You will also need a good pair of sharp scissors just in case you need to trim the lashes to length. Finally, a quality mirror, preferably one that's magnified, is also a must-have so you can clearly see what you're doing when it's time to apply the lashes.
Trim Your Lashes and Apply the Glue
It's important to note that as you learn how to apply false eyelashes, they might not be the perfect length. Remove one lash using your tweezers and hold it against your eyelid, making a note of where you should trim.
Gently and slowly trim each lash separately to match the length of your eyelid. This will ensure that they fit perfectly and you don't end up with excess sticking out on the sides.
After you've trimmed each last, it's time to apply the glue. Always take your time and do this sparingly so you don't end up with a goopy, sticky mess.
Eyelash glue usually includes a thin applicator to make the process easy. Simply dip the applicator in the glue, then gently wipe it across the edge of the lash from end to end.
It's important to note that this process should be done one lash at a time, or else one lash will dry before you're ready to apply it to your eye. The consistency of your glue should be tacky and not wet, so let it dry slightly for about 30 seconds before the actual application begins.
How to Apply False Eyelashes: Use Your Mirror and Look Down
Now that it's time to actually apply the lashes, you're ready for the big moment. Take one lash with your tweezers and sit in front of a mirror with it directly under your face, almost at a perpendicular angle. Look down as you apply the lash so that your eyelid is extended, almost as if your eyes are closed.
As you look slightly downward, it will be much easier to see exactly where the lash line is for an even application. Never tilt your head backward, or the end result will be crooked and uneven.
Don't close your eyes when you apply the lashes or else it can change your eye shape. If you prefer to use your fingers instead of tweezers, it should be fine. Some people prefer tweezers while others feel they have more control using their fingers.
Gently and evenly press the lash glue side down across the lash line until it's all the way on. Remember to take your time, and do one eyelash at a time when it comes to adding the eyelash glue and applying it.
Finishing the Look
Once both of your lashes are on, you can finish up your look to make it fabulous. One simple hack is to use a high-quality liquid eyeliner to hide the lash band.
Use a liner with an angled brush and draw a line that extends across the band from where it begins toward the inner corner of the eye. If you're feeling frisky, feel free to flick the end out for a cat-eye winged effect that will help blend the line of the eyelash bend to your lash line.
Even if your falsies look amazing, you might want to give them a little more oomph. Some people like to apply a coat of mascara to the false eyelashes just to give them a bit more emphasis and a dramatic pop. If you decide to do this, just make sure that the glue is completely dry first to prevent them from falling off.
Finish your eye look with a gorgeous shadow and some eyeliner under the waterline. You can also choose to just leave the lashes as-is without any extra eye makeup. Ultimately, your new falsies will bring some serious drama to your eyes whether you want to add more color and more makeup or not.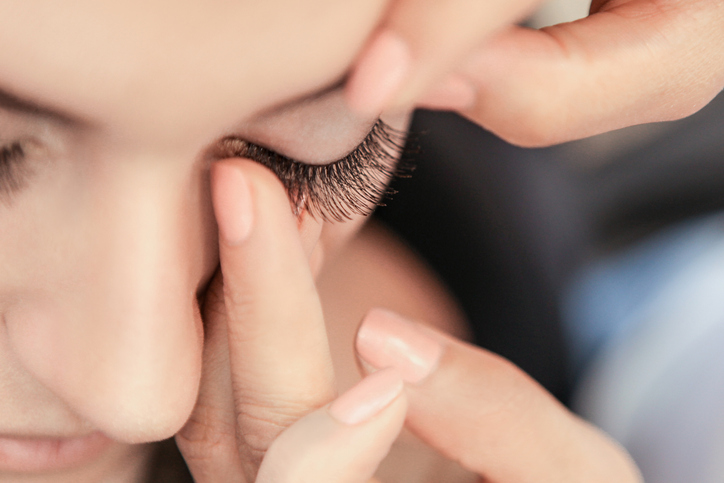 Applying False Eyelashes Made Easy
Use these tips as you learn how to apply false eyelashes, and you'll have a bold look to add to your beauty routine. From thick and dramatic lashes to simple feathered options, it's easy to apply falsies with a little bit of patience and practice.
Remember to use quality lash glue and look down when you're facing the mirror for an easy, seamless process.
For more great articles about lashes and much more, visit our Lash Weekly section and be sure to sign up for our newsletter or contact us to find out more today!
Lash Stuff offers over 70 styles of 100% silk false eyelashes. Shop here.
Learn more about how to choose best fake eyelashes here.