The Eyelash Extension Supply List Every Lash Technician Needs
Posted by Sara on Jul 01, 2021
Are you just starting as a lash technician or need to update your lash extension kit? To give your clients a great experience and fabulous results, you want to arm yourself with all the products and tools you need to create a beautiful set of lashes every time. Search no further — we've put together the ultimate eyelash extension supply list so you can be sure you've ticked all the boxes and are well-prepared for your next appointment.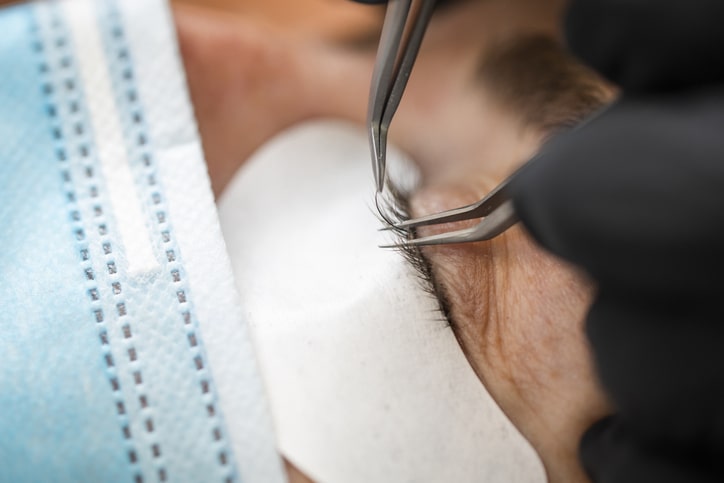 Quality Products To Produce the Best Results
Choosing quality products is no easy task, but keeping two things in mind will help simplify your search and narrow your choices:
Trusted brands and suppliers
Quality ingredients and materials
Seasoned stylists turn to certain brands over and over for a reason. Do your own research and consult with other professionals to determine which companies offer the best selection and are consistent and reliable with product availability and customer service. As you'll need to replenish your supplies regularly, it's important to find a supplier that keeps its products in stock and is responsive if you need help.
It goes without saying that every item on your eyelash extension supply list should be of the highest quality. Discerning clients often ask about sources and ingredients, so it's wise to know what goes into each product and how it's made. Know your brand as well — today's customers care about the ethics and mission behind the brand.
Liquids
Because liquid serums, treatments, and adhesives come into direct contact with the client's skin, they must be made from the highest quality, most effective ingredients. Not only should they work well, but they also need to be nonirritating and gentle enough for even the most sensitive skin.
Lashes
Lashes, of course, are the most important item on your eyelash extension supply list. Choose faux mink or synthetic silk, as their natural counterparts can be irritating or trigger an allergic reaction in some people. You should also purchase extensions in a variety of lengths and curls so your clients' lashes look as natural as possible.
Tweezers
The quality of the tweezers in your kit makes a real difference in lash application. Look for ones that fit your hand and choose several pairs to give you a variety of tensions and tips for easily picking up even the finest individual lashes and applying them at different angles.
Eye Pads and Tape
For your clients' comfort and safety, even disposable materials should be made from high-quality, non-irritating materials. Don't sacrifice quality when it comes to these items just to save a few dollars.
Lashes To Include on Your Eyelash Extension Supply List
Having a variety of lash types in your supply kit enables you to offer clients a customized, natural look in the style of their choice. Although you can buy lashes made from natural mink, sable, or fox hair, the majority of lash stylists use extensions that are made from a synthetic material called PBT and come in two basic categories: faux mink and synthetic silk.
Faux Mink
Faux mink lashes come in the widest range of lengths, thicknesses, and curls on the market. When used sparingly, they look and feel very natural, but they can also be applied densely in clusters for a lush, dramatic effect. Mink lashes are lightweight and glossy, thin throughout the body with a slight taper, and have rounded ends. They are feathery-soft and perfect for clients with thin natural lashes on the shorter side.
Synthetic Silk
Synthetic silk lashes, on the other hand, are semi-matte and thicker throughout the body. While they can still look incredibly natural, they also produce very dramatic results, particularly because the thicker body leaves more space between lashes. They are a bit heavier than the faux mink, however, so they are best suited for clients who have strong natural lashes. They are the most affordable type of lash, so they are definitely an indispensable item to have on your eyelash extension supply list!
Curls
There are more than a half-dozen curl shapes available. It's a good idea to have a wide variety of types on hand because different curls produce different effects and some look better on certain eye shapes than others.
J Curl
This type is best if your client wants a very natural look without much curl. The J Curl makes lashes look longer and is basically straight and flat in shape. It is not often used, as it's a bit "too natural," and most clients prefer more curl when they're looking for extensions.
B Curl
B Curl lashes give clients a little lift and natural-looking curl, slightly opening up the eyes. They work best for people whose lashes point upwards and who aren't looking for a dramatic change in their lash appearance.
C Curl
One of the most requested curl types, C Curls mimic the curve and shape of natural lashes and give clients an open-eyed look that is subtle and attractive.
CC Curl
This curl type is important to include on your eyelash extension supply list for those people who really want to emphasize the "C" shape of their lashes — especially in fuller, more dramatic applications.
D Curl
D is for "drama" when it comes to this type of curl! The D Curl offers the most curl and lifts and provides the most dramatic effect.
L and L+ Curl
If your client has downward-pointing eyelashes or hooded lids, an L Curl lifts right from the lash line and opens up the eye. It has a flat base and sharp upward turn, forming the characteristic "L" shape. L+ extensions provide even more lift and curl and a slightly more dramatic effect for those eye shapes and lash types.
Lengths and Thicknesses
In addition to a variety of curl types, you'll need to include a range of lash lengths and thicknesses on your eyelash extension supply list. The majority of extensions range in length from 5 mm to 18 mm to accommodate the shortest lashes at the upper and lower corners of the eye to the longest lashes your client desires. Where and how you place those longer lashes affects the overall appearance of the lash set. Similarly, the variety of thicknesses you use also determines the look; you can choose lashes as thin as 0.03 mm all the way up to 0.30 mm.
Adhesives To Include on Your Eyelash Extension Supply List
Your lash application and your clients' results are only as good as the glue you use, so it's important to get this item right. The best adhesive for your work depends on your preference, proficiency, and the environment of the room or salon. Keeping your environment at a temperature and humidity level conducive to good adhesion not only helps the speed and ease of lash application but also affects how long the extensions will last.
Your level of expertise and how quickly you work also determine the best glue for you. Some adhesives have an extremely short drying time — one or two seconds — so if you don't (or can't) work quickly, the glue will dry too fast, frustrating your efforts and slowing down the overall process. On the other hand, if your drying time is three or four seconds and you can work more quickly than that, your working time will also be longer than necessary.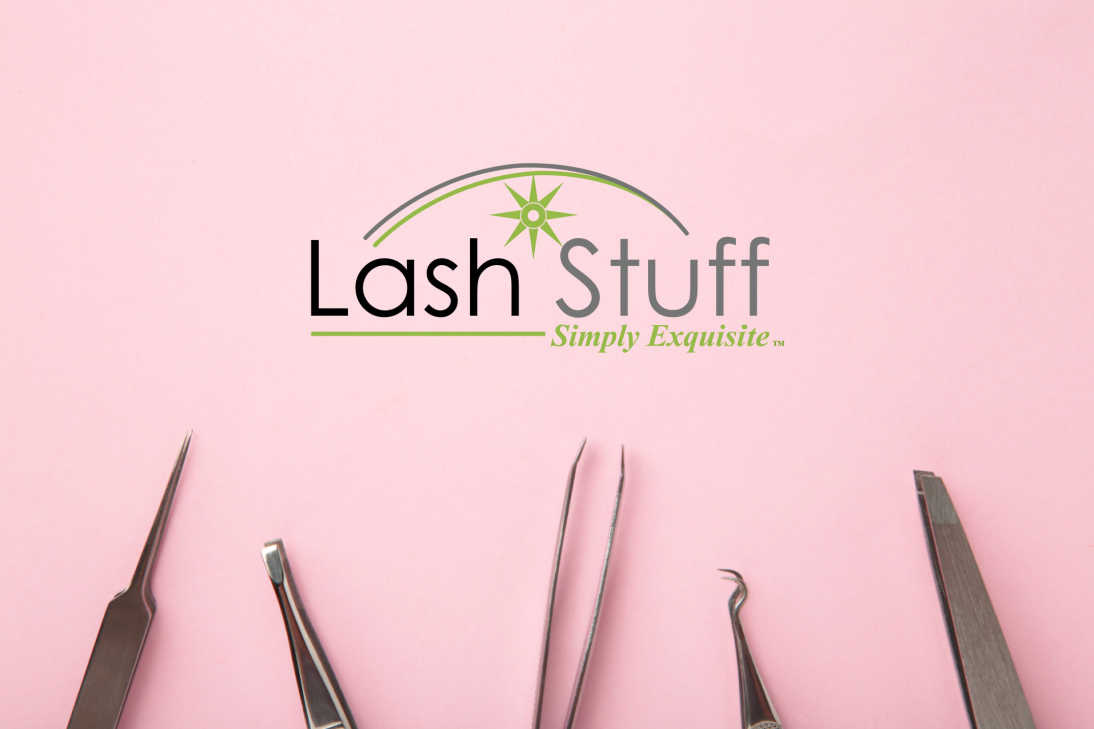 Volume Lash Extension Glue
Since volume lashes are either pre-made or handmade, different glues are recommended for each type of application. Pre-made volume lashes require an adhesive with low viscosity and a fast drying time. Your glue needs to be thin because pre-made lashes have a wide adhesion strip and it's easy to apply too much and end up sticking the surrounding lashes to the strip.
Because you create the fan when you make handmade volume lashes, it's helpful for your glue to be a bit thicker. If you can afford it, it's nice to have both low- and high-viscosity adhesives on your eyelash extension supply list.
Primers and Treatments To Produce the Best Results
Primers, serums, and other treatments prep the client's skin and lashes to create the best canvas for you to perform your artistry.
Pre-Primer
A pre-primer removes all cosmetic residue from the client's lashes to promote the best adhesion possible when you're ready to begin applying the extensions. As such, it helps with overall retention, which increases customer satisfaction significantly.
Lash Sealant and Serum
Once you've completed your application, treating the client's new lash extensions with a lash sealant and serum helps with retention and provides essential vitamins and amino acids to grow the natural lashes longer and stronger. Using these treatments at the end of your session also encourages the client to purchase them as part of an aftercare regimen.
Lash Adhesive Removers To Include on Your List
Naturally, an adhesive remover is an essential item on every lash technician's eyelash extension supply list, but it should only be used by trained professionals because of its potential to harm the eyes if used incorrectly. There are three types of removers, each with its own benefits and preferred application:
Gel Adhesive Remover: Has a heavy viscosity, making it easy to control and apply; is excellent for removing partial extensions.
Cream Remover: Easily and quickly removes an entire set of lashes
Liquid Remover: Gentle and mild, though not as convenient to use as gel or cream
Tweezers To Apply the Lash Extensions
The quality of your tweezers can make the application of extensions a breeze or a chore. Lash tweezers come in three varieties: S shape, straight, and isolation, all of which are essential to have on your eyelash extension supply list. S-shape tweezers are important for creating lash fans in volume lashing and allow you to pick up multiple extensions at a time. Straight tweezers make it easy to grip and place individual lashes, and isolating tweezers are used when separating natural lashes for an extension application.
Other Tools To Include On Your List
Besides tweezers, you need:
Eyelash cleansing pads to remove cosmetics or other residues
Gel eye pads to secure lower lashes and create a clean, hygienic work surface
Eyelash tape for the lids and lower lashes
Applicator swabs to apply your treatments, primers, and remover
Disposable spoolie (mascara) brushes to groom lashes and brows
Jade stone for keeping your adhesive cold and prevent it from drying too quickly
Nano mister to help cure the adhesive after application
Scissors for trimming and cutting tape
Nice-To-Have Items for Your Eyelash Extension Supply List
Though not completely necessary, there are a few items that can make your job easier and give your clients a more pleasant appointment. An eyelash extension palette ring fits around your finger and holds several strips of lashes, literally keeping them "on hand" and speeding up your work time. Professional lighting equipment aids in precision and eases eye strain.
For your clients, a memory foam pillow can make the appointment more comfortable and the experience more positive. Finally, soothing gel facial masks give your clients a spa-like experience and prepare their skin and eyes for the lash treatment.
Things To Keep in Mind
When preparing your eyelash extension supply list, especially if you're new to the field, you may wonder what else you need to be fully prepared for the job. It is highly recommended that you carry personal liability insurance if you are not specifically covered under an employer's policy. Though your training and licensing have prepared you well, accidents and injuries can happen to anyone, and it's important to protect yourself if the unfortunate should occur.
All hygiene and safety protocols should be followed at all times, including the proper disinfecting of all tools, safely disposing of used materials, frequent hand-washing, and having a fully-stocked emergency first aid kit nearby.
As the lash extension market continues to grow and become increasingly popular, more people will explore this option as a way to improve their appearance and bolster their self-esteem. To stay at the top of your game, make sure you stock up on all the necessary items on your eyelash extension supply list so you can provide every client with the best quality products and care possible. Visit Lash Stuff to browse our huge selection of lash supplies and learn how you can even pursue further education and training with us!
Sources
https://www.lashstuff.com/how-to-choose-your-eyelash-extension-supplies/
https://themakeup.org/types-of-eyelash-extensions-which-are-the-best/
https://www.lashstuff.com/different-types-of-eyelash-extension-curls/
https://www.christinelashstudio.com/blog/2017/11/24/what-is-a-lash-curl-and-which-is-best-for-me
https://www.lashstuff.com/eyelash-serum-and-treatments/
https://portal.ct.gov/-/media/Departments-and-Agencies/DPH/dph/practitioner_licensing_and_investigations/Scope-of-Practice-2020/Scope-of-Practice-for-Eyelash-Extension-Technicians.pdf