Best Ways to Promote Your Eyelash Extension Business in 2022
Posted by Sara on Jan 17, 2022
92% of small business owners believe that having a website is the most effective strategy for marketing their business.
Imagine that you only relied on your website to promote your eyelash extensions business. After launching your site, you are shocked to find that months have passed and your booking calendar is still empty.
If you only let your website sit, you're only giving clients one way to find out about you. But when you rely on more than one promotion strategy, you combine finding new clients with showing your skillset in a way that builds trust with your audience.
So no matter your budget, there are many free and paid ways you can start promoting your eyelash extension business, whether you're a beginner or an established business looking for more clients.
Ready to amp up your promotion strategy and make this your best business year yet? Keep reading to learn more!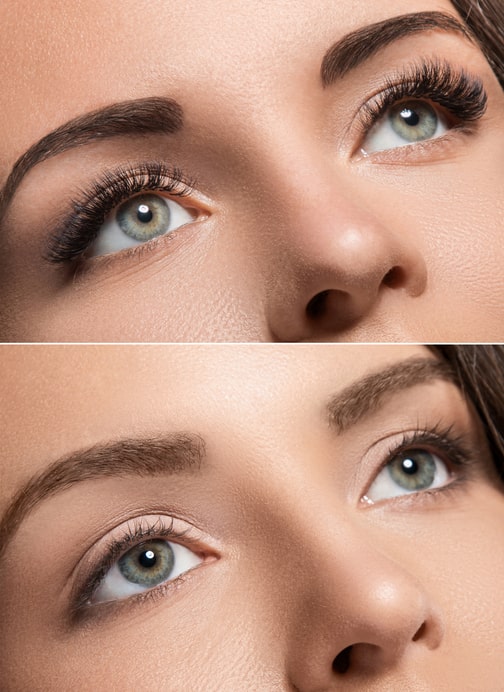 Create an Optimized Business Website
While your website shouldn't be your only promotion strategy, it needs to be optimized before you focus on anything else.
This is because people who are searching for eyelash extension services online are already looking for your services.
Your site can also be the first step for potential clients to find out what your business is all about and decide whether they want to make an appointment.
And when they click on your site, you need to make sure you have an up-to-date website that showcases your work.
Your website should include:
A list of services
A price list
Your contact information
Business location(s)
Your beauty philosophy
A link to book an appointment
Remember that the two most important things for your website are that it's easy to navigate and that it looks professional.
These two things alone are a huge factor in encouraging potential clients to stay on your site and see you as trustworthy.
SEO
Aside from having a professional-looking website, you also need to make sure it's SEO optimized.
It's one of the most important digital marketing strategies you should start with, especially if you're on a budget. This is because SEO is free.
SEO, or search engine optimization, is the process of optimizing your website for Google and other search engines.
This means including keywords on your website that potential clients might use to find your services.
SEO can be a great way to get more traffic to your website, and it's a process that should be ongoing, especially if you're looking to attract new clients.
Keep in mind that SEO does take time to start ranking your website, so this isn't an instant strategy.
You also want to be careful with anything that can slow your site down, such as large images.
Faster sites have better SEO rankings because search engines see them as more useful for viewers.
Local SEO
Since lash extensions are a service-based business, you also want to make sure your site is optimized for local SEO.
Local SEO is also the process of optimizing your website for Google and other search engines. But unlike regular SEO, the goal here is increasing web traffic from users in a specific geographical area.
By optimizing your website for certain keywords and including locally relevant content, you can increase your chances of appearing in search engine results pages for relevant queries.
To increase your chances of showing up in local search results, you'll need to create a Google My Business account. This will help your business show up on maps and search results when potential clients look up lash extension services in their area.
If your business has multiple locations, then you'll need to create a Google My Business profile for each one. This will give potential clients the most accurate search results when your business shows up for them.
To optimize your site for local SEO, you want it to be designed for your target market. This means including relevant keywords and content that reflect the business' location and services.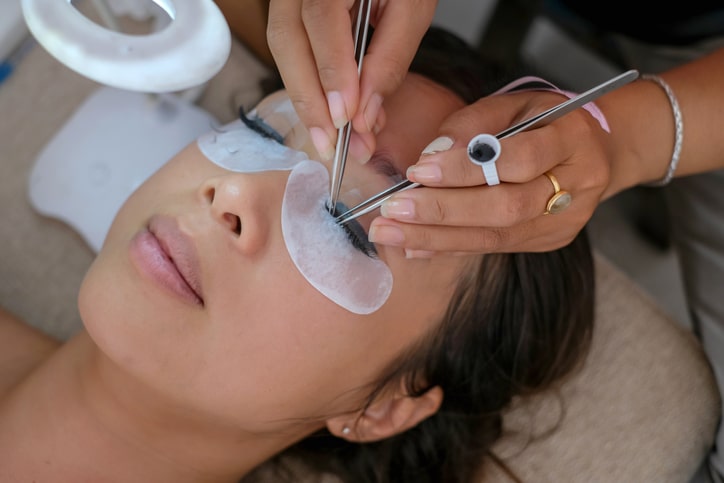 PPC Advertising
If it fits with your budget, you may want to try PPC (pay-per-click) advertising. This is a form of search engine marketing where you pay to have your site displayed at the top of search engine results pages.
When setting up a PPC campaign, you'll choose keywords that you want your ads to be associated with.
When a potential client searches for one of those keywords, your ad can then be displayed at the top of the search results.
Since regular SEO takes time to rank your site, PPC advertising is a good way to get traffic to your site more quickly. This will increase the chances that the people who find your site will book an appointment with you.
Both PPC advertising and SEO are great ways to promote your business because search engine users are actively looking for your services.
Make It Mobile-friendly
3/4 of local mobile searches result in the searcher actually visiting a local business within 24 hours.
If your business website isn't designed for mobile devices, then it will be difficult for potential customers to view it properly. This can lead to them getting frustrated and leaving your site (and no doubt going to your competitors).
Having a mobile-friendly website design means that all your site's content fits within the screen of a mobile device.
You should also use a responsive design for your website so that it automatically adjusts to the size of the device being used to view it.
This will ensure that no matter what type of device someone is using, your website will fit the screen and look as professional as the desktop version of your site.
If you don't have a responsive website already, then contact a web developer to help you, as this process requires a lot of tech expertise.
Brand to Stand Out
Next, you want to get creative with your branding and make sure it stands out from your competition.
Brands that stand out have a few things in common. These brands:
Tell a story
Connect with the audience using emotion
Know their audience well
Show expertise
Have passion
All these traits help build trust and meaningful connections with the audience.
If you haven't designed your site yet, then research your competition first.
Even if you already have a site, check out other lash extension businesses (they don't all have to be local) and see what colors, fonts, and messaging they're using on their site.
This will help you get a better understanding of how your website needs to look in comparison with the rest of the industry's websites.
Look at which websites stand out to you and why.
Did they use an appealing color combination on their website? Did they tell a story that really connected to you?
Figure out how you can impact your audience in the same way while staying true to your brand. Then, figure out how you can stand out. Can you use different color combinations? Or approach eyelash extensions in a different way?
For example, if your competition is only talking about how eyelash extensions can make you look like an Instagram influencer, maybe your business can talk about how extensions can help you build more confidence, both outwardly and within.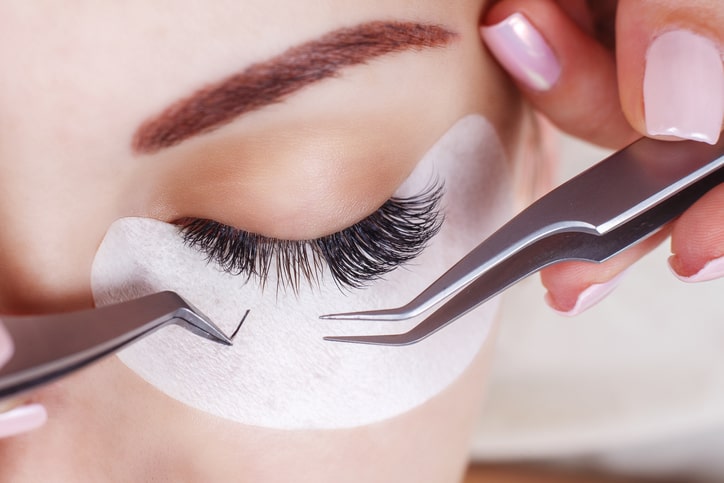 Start an Email List
For every $1 spent on email marketing, businesses see an average return on investment of $42.
Starting an email list is one of the best ways to start with business marketing as it helps you reach new clients while encouraging your existing clients to stick around.
By collecting the email addresses of your customers, you can keep in touch with them easily and regularly. This increases the chances that they'll return to your site or book an appointment with you.
You can use your emails to inform clients of holiday closures, updated hours/locations, new services, seasonal discounts, and more.
There are a few different ways to go about collecting email addresses from your customers:
Ask During Checkout
When someone pays for an appointment on your site or buys a product, ask them to provide their email address. Let them know that you can send them information about their appointment or send them special offers in the future.
This is a great way to start building a relationship with your customers. It also increases the chances that they'll return to your site in the future.
It's also vital for you to have customer emails whenever they make a booking on your calendar. This way, you can send them automated appointment reminders and notify them of any cancellations.
Use a Popup Form on Your Site
Instead of just asking for an email address during checkout, you can add a popup form to the bottom of your website.
This form displays after someone clicks on one of your site's pages or when they've been on a page for a set amount of time.
On your popup form, you might offer new clients a 10% discount on their first appointment if they join your email list.
Collect Emails During Salon Events
If you have an eyelash extensions event at a salon or spa, ask people to sign up for your email list when they make a purchase.
You can also offer customers the chance to join your list for a discount coupon on your services.
This can be a great way to reach out to people who aren't as comfortable signing up for things online right away. They may be more open to signing up in person once they've met you.
Join the Right Social Media Sites
71% of consumers will recommend a product or service to their friends and family if they had a good experience with the brand on social media.
Think about how many times you've seen someone recommend a product or service to you because they saw it on social media.
As a lash extension business, the best social media sites to join are ones with a visual focus. These include:
Instagram
Pinterest
TikTok
YouTube
Facebook
On visual social media sites, you can post pictures of your work and engage with your target audience.
You can also use these sites for announcements, or to announce discounts, events, or new products.
Most importantly, you want to use social media to show your skills and expertise. This will encourage clients to book an appointment for your services.
A good example of this would be posting "before" and "after" photos of clients with their new lashes (with their permission, of course).
Add hashtags like #lashgoals and #lashlifesyle on these images to increase the chances of new clients finding them.
Another great way to catch people's attention on social media is to show how you can create unique looks, such as the ones you can make with colored lash extensions.
You can also use your social media accounts to post helpful explainer videos. These can cover topics like:
The different types of eyelash extensions
How long extensions last
Eyelash extension maintenance
Once you've posted, you can promote your account by paying for ads (such as Facebook ads) to get more eyes on your page.
Engage With Your Audience
The idea that you need to have a huge audience to get more salon clients is a huge business myth.
As important as it is to post, it's just as important to engage with your audience on social media.
This helps you build relationships with potential and current clients. It can also help you increase sales and get more appointments.
To engage with your audience on social media, you want to start by posting interesting and engaging content. This could be pictures of your work, client transformations, or tips for using lash extensions.
And if you're starting to get comments, don't ignore them! Respond to comments and questions as fast as possible. Not only does this show that you're paying attention to your audience, but it also helps you build relationships with them.
For example, you may have a potential client who's wondering whether to get eyelash extensions.
Instead of being "salesy" and encouraging her to get the extensions no matter what, start to build trust with your potential client. Perhaps you find out that she's going on vacation soon to a very humid place.
In this case, you might advise her to wait until she comes back to get her extensions. Now you've built trust with this potential client, making the chances higher that she'll come to you to get her lashes done in the future.
Don't Ignore Complaints
Many business owners don't bother addressing complaints because they believe they've already lost that customer anyway.
But you definitely need to engage with your audience if they have a complaint and decide to reach out to you on social media. This can help restore any trust that's been lost.
And while it may not fix the mistake, responding can also help prevent them from telling people not to use your product or service.
Make sure to let them know that you understand their complaint and are working to improve your services.
This builds trust with your viewers because it shows that you care about addressing client concerns.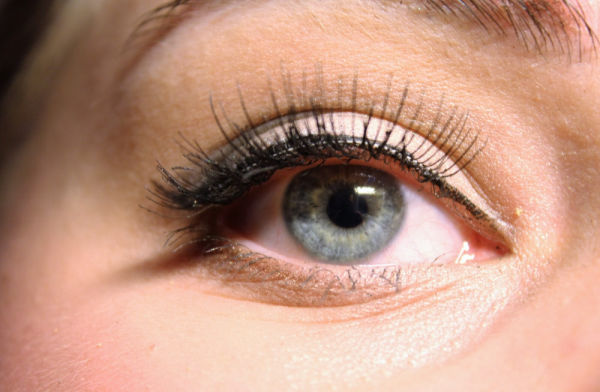 Add a Blog to Your Website
Adding a blog to your website is a great way to give people more information about your business.
It's also a great way to show your expertise in your field.
On your blog, you can use your expertise to answer frequently asked questions, such as how to choose the best eyelash extension styles or how to make the most out of eyelash extensions.
You can also use your blog to post helpful videos and images. You can even use it to host contests and giveaways.
Not only does a blog build trust with users by giving them more value, but it also helps your site's SEO rankings. This is because you'll be adding relevant keywords to each of your blog posts.
By adding a blog to your website, you'll also be able to reach a new audience that may not have been interested in your business before.
Get Positive Online Reviews
Think about the last time you chose not to go to a restaurant or a hair salon because they had less than 4 stars on Google Reviews.
The same can happen with your eyelash extension business. In fact, 89% of customers won't take action until they read the reviews for a business.
So, one of the most important parts of running a business is to encourage satisfied customers to leave reviews.
Of course, this doesn't mean that you should pay people to write fake reviews or bribe customers to do so.
Readers will be able to see right through this, and you can only imagine the bad review they'll leave you if they sign up for your services and feel misled.
But honest reviews give people the confidence to book an appointment with you.
Positive reviews also help you stand out from your competition, especially if your competition is getting worse reviews than you are. Notice where your customers are complimenting you the most (customer service, accuracy, etc), and make sure to leverage this to stand out.
Online reviews also help you get noticed by more customers. Even if someone isn't ready to book right now, they're more likely to remember your business when they're ready to do so.
Respond to Your Reviews
Make sure to respond to reviews, especially the bad ones.
Just like with negative social media comments, you need to show dissatisfied customers that you care about improving their experience.
Remember that other potential customers will see these reviews, and they'll notice when you look like you only care about positive reviews.
They'll assume that if they have a bad experience with your service, you'll ignore them as well.
Keep your response brief, but acknowledge the customer's complaints. Show that you're open to further discussion by offering for them to email you or phone your business.
This way, you have a chance to rectify the problem. For example, if the client's lashes fell off way too early and it was your fault, offer to fix them for free once the client contact you again.
And once you've responded to the reviews, make sure to actually work to fix the issues your clients are having, especially if the problems are repeated throughout multiple negative reviews.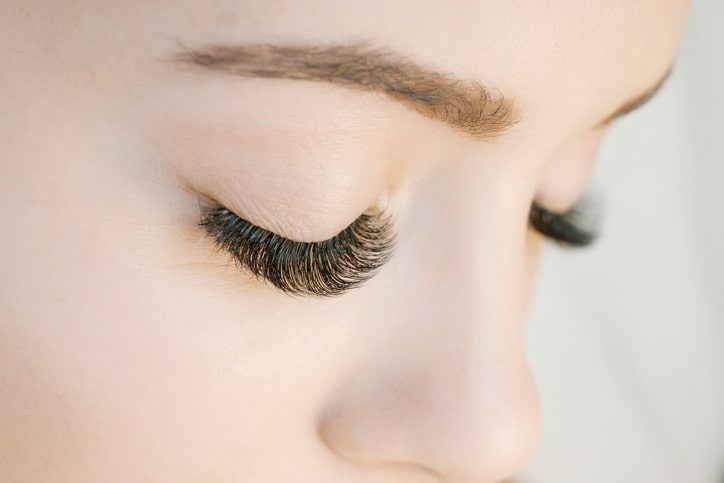 Collaborate With Other Business Owners
Online marketing isn't the only way to promote your lash extension business.
Collaborating with other business owners is a great way to reach new customers and promote your services.
When you work together, you can share each other's customers, and you can also promote each other's businesses to your followers.
There are a few different ways that you can collaborate with other business owners:
Share each other's content on social media
Work together on a joint project
Host a joint event
Cross-promote each other's businesses
When you share each other's content, it helps to build trust between your businesses. Your followers will see that you're working together, and they'll be more likely to try out your services.
An example of an online collaboration would be collaborating with a makeup artist to create a YouTube tutorial. You could provide the lash extension service, while the makeup artist could do the makeup on the model.
For an in-person collaboration, you might collaborate with a local salon. Perhaps the salon could offer a beauty package that includes a haircut, dye, and lash extensions.
Find the Ideal Clients for Eyelash Extensions in 2022
No matter how good your services are, you need to consistently promote your skills in order to get (and keep) your ideal clients.
The best way to promote your eyelash extensions business is to create a multifaceted promotion campaign. This lets you keep promoting even if one of your marketing channels stops working.
And once you have clients booked with you, one of the best ways to keep them is to use high-quality products that thrill your clients.
At Lash Stuff, we stock only the highest-quality lash products, from individual extensions to glue and accessories. Shop our extensive catalog today!