Eyelash Extensions: How to Start an Eyelash Extension Salon
Posted by Sara on Nov 08, 2021
Are you ready to join the 30.7 million small businesses in America with your eyelash extension salon?
A growing market in the beauty industry, eyelash extensions have become one of the hottest additions to your beauty regimen in recent years, as people everywhere are visiting an eyelash extension salon nearby to add that extra edge to their look.
Although it is a newer industry, eyelash extensions can be one of the best business choices for someone looking to express their creativity, help others, and make a successful living.
Keep reading for our complete guide on starting your own eyelash business!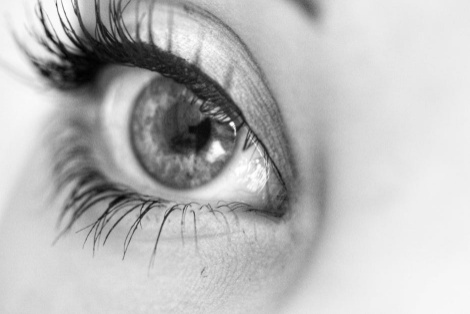 Benefits of Starting an Eyelash Extension Salon
Like any other business, starting an eyelash extension salon comes with certain risks. But the benefits of opening your beauty salon that specializes in eyelash extensions far outweigh the risks!
Job Satisfaction
Gone are the days that you'll be dreading going to work. Opening your own eyelash extension business will be one of the most exciting and rewarding processes of your life.
And you'll still be happy long after you open your salon. An ABC news survey of workers active in the eyelash extension business says 80% of them are "satisfied" or "very satisfied" with their work.
Meanwhile, 85% of workers surveyed in a Gallup poll report they are unhappy with their jobs.
Creative Outlet
Starting a business is not always synonymous with creative expression. Most people think of long hours, crunching numbers, and a constant state of stress when they think of what a new business is like.
And while you may spend quite a bit of your time getting your salon off the ground, you'll feel freer than you ever have. In addition to taking charge of your career, you now can express your creativity in any way you choose.
Every time you get to work with a customer, you have the creative freedom to deliver your services in a way you think best fits them. From choosing the products you use to how you apply them, every customer is an opportunity for expression.
Connections
When you're operating your eyelash extension salon, you're not just providing a service. You're a trusted face for a client who has had a long day or wants to treat themselves before a stressful week ahead. You'll be your customers' friend and confidante.
You'll soon realize that your customers are more than just customers. Rather, they are people with whom you've built strong connections. They'll likely refer you to their friends, post about what a great job you've done on their social media, and even connect you with other professionals.
Working in a service industry allows you to get closer with people in a way that otherwise wouldn't be possible. You'll truly be able to feel the benefits that you're providing to your clients.
Work Environment
Whether you're looking for an upbeat, fast-paced work environment, or a soothing and relaxing one, your eyelash extension salon will put you in charge of setting the vibe for your workspace.
Elements such as the music you play, the colors you use to decorate, and the products you use will allow you to curate a work environment that matches your values and makes you excited to come to work.
Conduct Research
Before you open your salon, you'll want to make sure you're in the best position possible. It's important to conduct research on the potential success of your new business before investing any more of your effort or money. This way, you can adapt your business plan based on what would give you the most returns.
Target Audience
First, you'll need to define the customers that you want. Ask yourself questions like:
How old are they?
Where do they live?
What is the most common gender for my services?
Where do they spend their time?
Defining and finding your target audience will help you to make later business decisions like where you will locate your salon, how you will price your services and even the way you use social media.
When it comes to your lash extension business, most of your clientele will be female. You can decide if you want to target this audience or expand to multiple genders. The same goes for age and location.
You can make your target audience as broad or as narrow as you'd like, although we'd recommend somewhere in the middle. If you try to appeal to everyone, you won't have a specific enough identity. to attract customers. However, if your brand is too narrow, you may not get as much clientele as you'd like.
To help you define your target audience, create a few customer personas for your ideal customers. What services would they want? How often would they be visiting your salon?
Once you have an idea of who you want to attract, you'll make more relevant future business decisions.
Competition
Next, you'll want to be aware of other salons in the area that offer similar services. You'll want to position your brand as a unique player in the market so that you're not competing for clients.
Look at the other salons near you and find out the services they provide. Are they missing a service that you will include in your salon? Are too many salons selling the same products?
Learn from your competitors' mistakes by checking out what customers are saying. You'll likely find patterns, and you can then make those complaints a point of emphasis in your business.
For instance, if a common customer complaint about your main competitor says that appointments always run 30 minutes late, make timeliness one of your company values. Include an on-time guarantee during the appointment booking process, and talk about it on your social media.
Researching your competitors also will give you a good idea of what standard prices are in the area. If you're looking to open a luxury salon, you'll want your prices to be high enough to reflect the quality of your services but not so high that potential customers will see your competitors as more valuable.
Growth
In the case of eyelash extensions, you don't need to worry about this one. The eyelash extension market is projected to reach $1.5 billion by 2025 and over $2 billion by 2031!
However, just because a market is expected to grow doesn't automatically mean that you'll have a profitable business. You still need to take into account factors like your location, your budget, and your marketing efforts.
Choose a Location
You'll need a physical space for your salon, and your location is one of the most important decisions you'll make. Be strategic about where you ultimately decide to open your salon. Consider the following factors.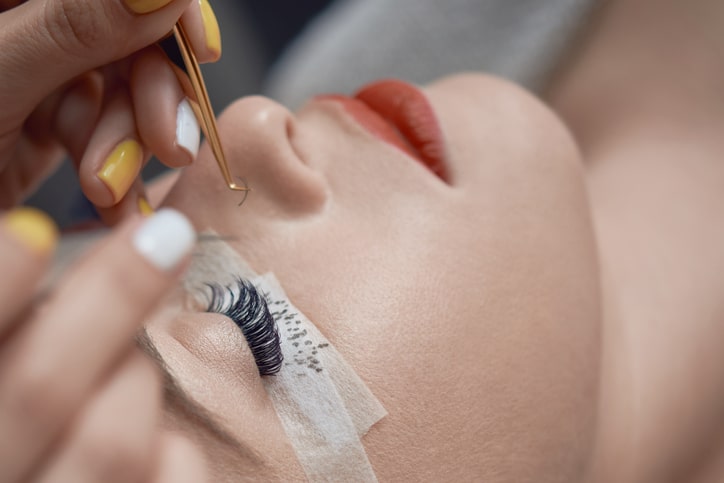 Regulations
Depending on where you open your salon, you'll face different regulations. Certain state and local governments have different rules for licenses, taxes, and minimum wage laws. You'll have to conduct some research into the area that you want to open your business to make sure that you're not surprised by any of its rules.
Size
How big is your space? In the beginning, one large room may seem like everything you need. You can set up a desk in one corner, your products in the other, and leave the rest of the space for your lash services.
But the eyelash extension business is one of the most quickly growing areas in the beauty industry. In 2019, Google searches for eyelash businesses increased by 26%, and that number will only continue to rise.
Even though expanding your business may seem like a decision for the distant future, you're likely going to grow faster than you think. Soon enough, you'll probably have to hire another employee and find more space.
When you're looking for your location, give yourself the benefit of the doubt and assume that you'll soon be needing space to grow. If your current location choice is already on the small size, it's likely not going to work for you in a year.
Proximity
Social media, e-mail marketing, and word-of-mouth are all excellent ways to attract new customers to your salon. Sometimes, though, the best way to find new customers is the old-fashioned way. Look for a location that will give you lots of foot traffic, whether it's in a busy part of town or nearby a popular shopping mall.
Parking
Are there ample parking spaces nearby? Customers will be frequently stopping in your store, whether it's for an hour-long appointment or to pick up their favorite product. Convenient parking needs to be available so customers don't view going to your business as a hassle.
Amenitites
Take a look around your building. Is there a front desk? Nice private bathrooms? A mail service? Having certain amenities will not only make your life easier but will also add to the luxurious experience that customers want when they are visiting your salon.
Brand Identity
How would you define your brand? Which customers are you trying to serve? You'll need to have an understanding of who you are and who you want to attract before you decide your location. If you're looking to cater to affluent, middle-aged women, it will be better for you to choose a location in a neighborhood that they often frequent. If you're thinking more along the lines of appealing to young, college-aged women, it will be better for you to open your salon near their campus.
Decide Your Business Structure
Before opening your salon, you'll have to choose your business structure. You have a few options. Here are some of the most common business structures.
Sole proprietorship
Partnership
LLC
Corporation
The best choice for starting a beauty salon, though, is an LLC. It will combine the best features of a corporation and a sole proprietorship.
A sole proprietorship will give you complete control of your business. However, it will also hold you personally responsible for all of the debts and obligations of your business. Should something happen to your salon, you may not be able to financially recover.
An LLC will instead give you the same control over your salon without connecting all of your personal assets and liabilities to the business. This will give you more flexibility should you want to restructure or your business or open a new one as a result of financial difficulties.
Set Budgeting and Finance
It's best to have a set plan in place for your new salon before you start spending any money. Once you do start the process of investing your resources into your new business, you'll want to make sure that you can afford all of the necessary equipment and expenses to set your salon up for success.
Fixed Costs
The fixed costs of your business will be the ones that won't change and therefore are the ones you can prepare for the most. Fixed costs include:
rent
parking permit
furniture and decor
electricity bill
heat and cooling
wages
For the most part, you'll be able to predict how much these costs will take out of your budget each month. When you're opening your salon, this will allow you to plan a year ahead so that you aren't struggling to cover costs within the first few months of opening.
Variable Costs
Variable costs are a bit more difficult to plan for, especially in the opening days of your business. This is where your earlier research will become helpful.
You'll have to estimate the number of customers that you'll receive in the first few months of your business and create a reasonable model of how much you think your salon will grow within the first year of its opening.
It may be helpful to talk to other local businesses or request advice from another eyelash extension salon to learn about their experience. Maybe they say a steady increase of customers over 12 months. Maybe they had a lot of clients in the first 3 months but then had to amp up their marketing efforts once they hit a plateau.
You'll never be able to plan for your variable costs with 100% accuracy, but you should be able to get an accurate enough estimate that you are supplying the right amount of products at the right time. At the end of each month, evaluate what you used and what you didn't to form a better prediction for the next month.
Unexpected Costs
When you're first opening your business, you're going to face dozen of obstacles that you never could have predicted. Accept that there's going to inevitably be expenses and surprises, and you'll be much more ready to prepare for them.
Set aside a part of your budget to account for unexpected costs. This budget should be much higher in the earlier days of your business and can decrease as you become more established and get into a routine. It will be much better for you to set aside extra money and delay opening your business for a few months than it would be for you to jump in and be unable to take care of a cost that you never saw coming.
Personal Survival Budget
As much as you want to put all of your resources into your new business, you'll still need food, transportation, a roof over your head, not to mention your medical expenses, phone bill, and car insurance.
Make sure to set a personal survival budget when you're first opening your business. Keep this in place for at least six months. You'll already have enough on your plate with managing an entirely new venture, and the last thing you need to worry about is your rent.
Budgeting Plan
Once you understand the different types of costs that go into your business, you'll be able to create a budget that to appropriately allocate your resources.
There's no hard-and-fast rule for how often you should make and track your budget, but once a month is usually a good way to stay up-to-date with general trends without requiring too much of your time.
When you're first opening your salon, you may want to spend more time on your budget, since your first few weeks of operation will give you a much better idea of what your clientele looks like.
Obtain Necessary Licenses
Every business will need a few licenses under its belt before it officially opens its doors. As a beauty salon, you'll need a few more certifications.
Cosmetologist or Esthetician Establishment License
To apply any treatments to customers, you'll first need to have obtained a cosmetologist or esthetician establishment license from the state. This is done to reassure customers that you are providing the best possible service.
In some states, you will need a cosmetologist or esthetician license before you can apply for the establishment license. You can look at the retail eyelash extensions and supplies will not only allow you to form deeper connections with your customers but will also give you another source of income.
To retail these products, you'll need to obtain a reseller license from the state.
Insurance
No matter how trained you are, working so closely to a customer's eyes may occasionally lead to an accident. It's important to have insurance in these cases to protect your business and ensure that the customer will receive the help they need.
Create Your Brand
Creating your brand identity is one of the best parts of opening your eyelash extension salon. You can choose to reflect your personality while designing the ultimate customer experience! Make sure to complete the following steps when creating your brand identity.
Choose a Name
Your name is the first piece of information that clients will likely find out about you. A great name will be simple, unique, and convey who you are.
You'll want your name for your eyelash extension salon to include keywords in the title like "lashes," "eyelash," "eye," or "beauty."
If you're stuck on names, a great resource to give you some ideas is the Business Name Generator. Type in your keywords, and it will provide thousands of potential business names. You'll even be able to see if the domain for that business name is available for you to use on your website.
Find Your Brand Identity
Your brand identity is the feeling that people will associate with your salon. It can be achieved through a certain color palette, product offerings, prices, and the way you communicate with customers.
If you're looking for a luxurious brand identity, you'll likely choose soft color palettes, calming lighting within your salon, and a relaxed tone when communicating with customers. If you want a more creative feel, you may turn to a bright color scheme and fill your social media feed with expressive makeup looks.
Design a Website
Every business needs a website, especially an eyelash extension business. You'll need a space for customers to make appointments, view your services, and get to your business.
Websites are also a great platform to create the brand identity you want through customer reviews. Ask customers to write you a few after receiving your services, and include your favorite ones on your website. For example, if you want your salon to be viewed as the standard for luxurious treatment in the area, you can include reviews on your website that talk about how pampered clients felt.
Create a Presence on Social Media
Social media has become a necessity for small businesses, as 90% of people buy products from the social media brands they follow.
Create social media profiles on key platforms like Facebook, Instagram, and Tiktok for your eyelash salon. Here you can post videos, specials, and announcements to customers.
You'll want to design your social media feed in a way that matches your brand identity. Use the same colors, styles, and communication styles that you do in person and on your website. The customer experience should be seamless throughout all of your platforms.
Google Listing
Another popular way that potential clients will get information about your business is through the Google search engine. You'll need to have your business listed as an official Google Business Listing.
Having an established business profile on the search engine results page will cement your identity as a legitimate operation.
Pricing
The prices of your services are as much a part of your brand identity as the decor you use for your salon. Your pricing tells your clients who you are and what your brand stands for.
If your prices are more expensive, you signal to clients that you are more experienced, your brand is more valuable, and they should expect better service. If your prices are on the lower end of your competitors, you tell clients that you are a low-cost alternative, you provide more value for the price, and you want to be accessible to everyone.
Choose Your Supplies
An eyelash extension salon can't be successful if it doesn't have the highest quality supplies. Make sure you have the following items in your salon so you can provide all of the services your clients need.
Eyelash Extensions
Your salon should have a variety of eyelash extension products that will give your customers all of the options that they want. You'll need to consider the material, curl type, width, and length of lashes for each of your clients.
Material
You have a few options for your eyelash materials. Lash Stuff offers the following.
Synthetic silk
Synthetic mink
Flat lashes
All of our lashes are carefully made from a PBT material that looks and feels more natural.
Curl Type
Lashstuff offers lashes with a variety of curl types.
J curl lashes give the most natural-looking curl
B curl lashes will provide a bit more lift than J
C curl lashes provide a glamourous lift
CC curl lashes have the same base as a C curl, but a more extreme lift
D curl lashes will give the most dramatic and lifted look
Because C curl lashes and CC curl lashes are the most popular types, you'll want to have plenty available for your clients. However, you'll want to keep your target customer in mind. What are their eye shape and desired look?
Width
We also offer seven different width options for your lashes.
0.03 mm
0.05 mm
0.07 mm
.1 mm
.12 mm
.15 mm
.18 mm
.20 mm
.25 mm
Widths in the range of 0.12mm to 0.15mm will be your most common, as they provide a natural yet noticeable look. Make sure to use lashes with a thickness that is best for your client's natural lash condition.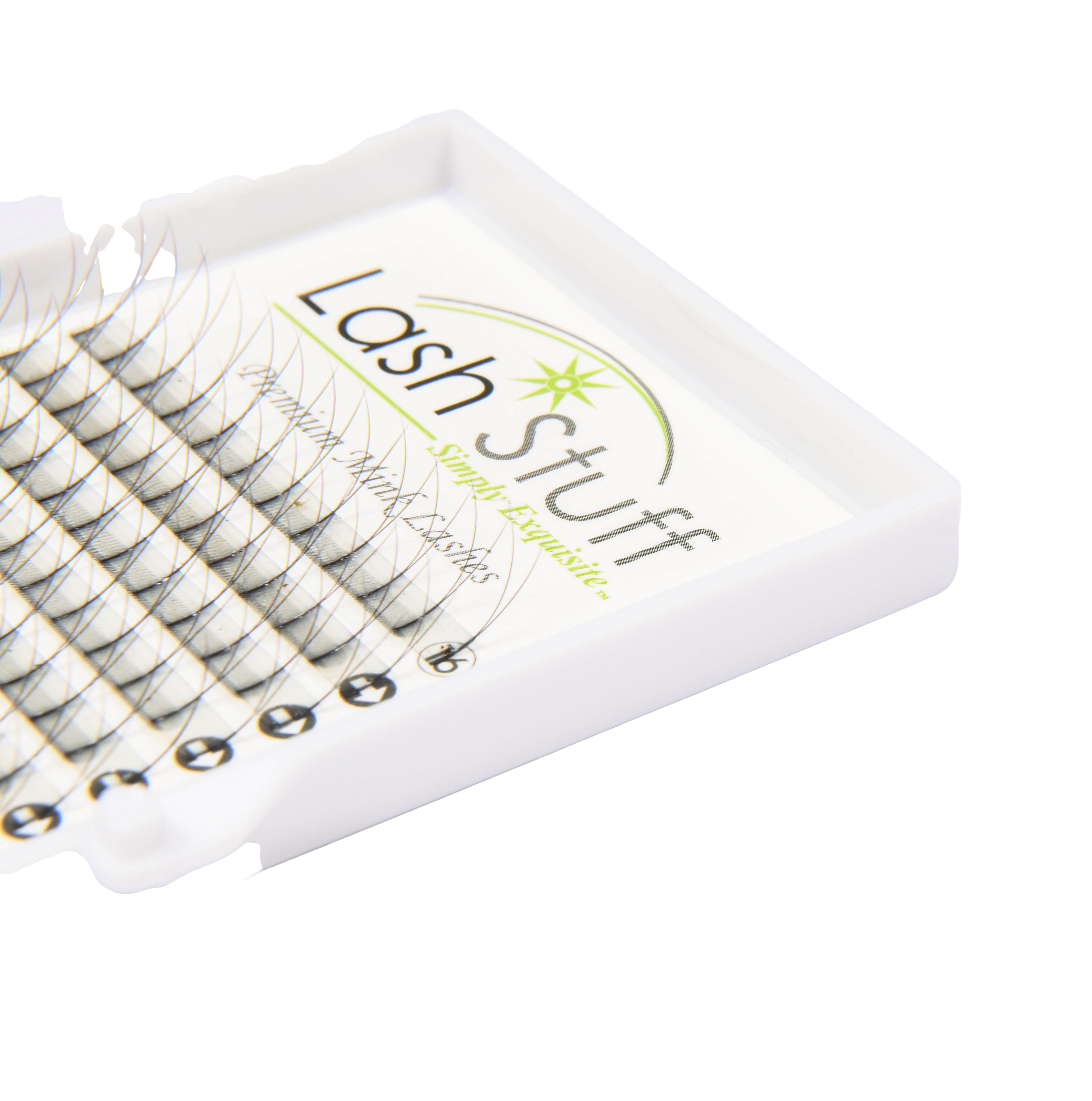 Length
You have the most range when it comes to the length of your extensions. This will ensure that you can give clients the perfect custom fit for their eyes. Our lashes range from 6mm to 16mm. The average length is in the 9 to 12 mm range, but shorter lashes are helpful for the inner corners, and longer lashes will create a more dramatic effect.
Eyelash Extension Glue
To apply the lashes, you'll need high-quality eyelash extension glue. Although extension glue lasts 3 to 6 months when unopened, it's best to purchase it closer in time to when you plan on using it.
Eyelash glue comes in different consistencies depending on your skill level. Expert-level glues will dry almost instantaneously, while beginner-level glues have a slower drying time that will give your more wiggle room to perfect eyelash placement.
Eyelash glue also depends on the setting of your salon. Certain temperatures and humidities play a role in how the glue dries. Make sure you are either purchasing glue that is appropriate for your salon settings and keeping your salon at the correct temperature and humidity level for each customer.
Pre-Treatment and Primer
Before you apply lashes, you'll want to prime them with a pre-treatment. Pre-treatments will remove residue and dust from the eyelashes to create a better application. With primed eyelashes, extensions will have better adhesions, stay on for longer, and make your customers happier.
Many primers also have disinfectant properties, making the extension process cleaner and safer for your client.
Lash Glue Remover
You'll need lash glue remover to take off old lashes before you give clients a new set. There are a few different types of lash remover.
gel lash remover
cream lash remover
liquid lash remover
Gel lash remover is mild on the eyes and best used for partial extension removal. To remove a full set of lashes, cream lash remover works the best and is viewed as the safest option. Experts who may want an alternative to cream lash remover may use liquid lash remover, but experts should stay away.
Remind your clients that under no circumstances should they be removing their own lashes. Lash glue remover should never be used on oneself and should be left to licensed professionals.
Lash Cleanser
Lash cleanser is a great product both before and after the application of lashes. It keeps the area clean and prevents lashes from getting infected. Lash cleanser is designed to be gentle and safe for the eyes, making it a great retail product.
Tweezers
For the best application of your lashes, you'll need a few different types of tweezers.
Straight tweezers
Isolation tweezers
Volume tweezers
Straight tweezers are the best for placing individual lashes. With their straight, fine tips, you'll be using these tweezers the most often. Isolation tweezers will allow you to separate natural lashes so that you can apply the extensions perfectly.
Though you won't use volume tweezers as often, they're still handy to have in your toolbox. Volume tweezers will allow you to apply the extensions a few at a time, rather than one by one.
Other Supplies
Don't forget that you'll need a few other items to complete your salon.
Brand-centric decor
Refreshments
Comfortable seating
Storage options
Non-toxic cleaning supplies
Towels and capes
Remember that everything in your salon, from the eyelashes you use to the refreshments you offer clients, is a reflection of your brand identity. Always ask yourself what your ideal customer would want.
Promote Your Business
Having a presence in the community around you will give you the boost you need when opening your business. Since you're a new business, the most important value to focus on with potential customers is trust.
Using the right promotional strategies, you can gain the trust of new clients and attract the right people to your salon.
Social Media Posts
Social media has become one of the most cost-effective ways to market your business. You can display your entire brand identity with a few well-taken photos and creatively crafted captions.
When you're first opening your salon, you'll want to strike the right balance of aesthetically pleasing and emotionally appealing content. You're not an established brand yet, which means people will need to see the human side of you before they can trust you.
Post-behind-the-scenes videos of you opening the store and describing the obstacles you've faced and overcome. Tell your followers about your design choices and the message you're trying to communicate with customers. Be open about your education, experience, and what you're hoping to learn from your new salon.
Combining social media content that reveals who you are with examples of your work will showcase your authentic self without downplaying how talented you are.
Brand Ambassadors
Another way to generate trust among potential customers for your new salon is by getting the help of brand ambassadors.
These could be friends who have great taste, local influencers, and other successful local businesses. The key here is to find people who you think have a positive social media presence but a local enough one that they are still accessible to their viewers.
Offer a free deluxe service with an agreement that they will make a few posts about your salon if they are happy with the results.
To get the full benefits of brand ambassadors, take a look at how they use their social media and cater your services accordingly. For instance, if you find someone willing to talk up your salon on her Instagram account, give her an eyelash look that matches the previous looks she's posted.
Digital Advertisements
Digital advertisements appearing on platforms from Google to Facebook have become one of the most popular ways to promote your brand.
However, when you're first opening your salon, you may want to stay away from digital advertisements until you're more established. If you start advertising your business without an established social media presence or client base, viewers will have no idea who you are when they research you.
Keep Your Mind Open for Growth
When you're first starting a business, it's easy to get lost in all of the excitement. Choosing your name, decorating your store, and posting your first social media picture is cause for celebration!
But remember the importance of seeing the bigger picture. You're in an industry that has massive growth opportunities for you to take advantage of.
Keep these growth possibilities in mind, even when you're first opening your business. You may be surprised at the opportunities that present themselves.
Location
When you're in the process of opening your business, look around at the resources near you to see what the growth opportunities are.
Make sure that the location you're in has space for your business to expand. Check out local business owners and see if their businesses are doing well, or if the area is struggling.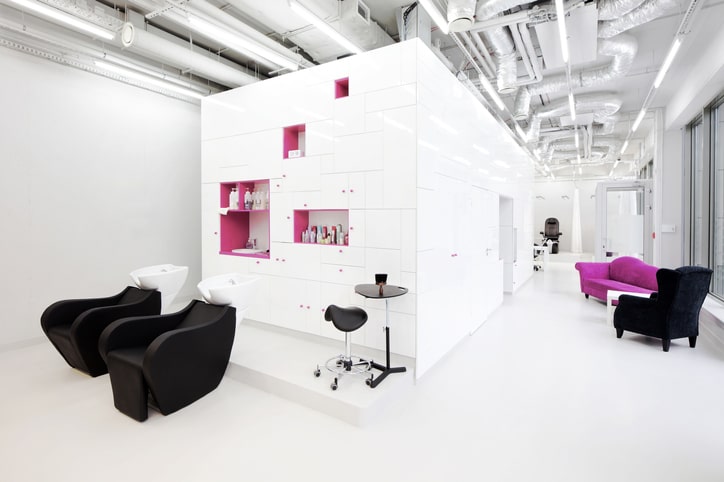 Employees
A one-person show may be optimal when you're first opening your business, but you'll likely need additional help as your salon continues to grow. Are there resources nearby for you to find qualified professionals? Sure, you can always find someone with a Google search, but you'll likely want to have a rapport with potential employees to make sure they match the vibe of your salon.
You'll also want to take a look into the wage laws. How are you required to pay employees? If you're going to hire a receptionist or other part-time employee, you'll also need to consider minimum-wage requirements.
Continued Training
To be the best business owner you can be, it's important to stay up-to-date with the best eyelash extension techniques, marketing trends, and business practices.
Consider the opportunities you have for continued education when you're first starting your salon. Is there a network of small businesses you can connect with for educational seminars? Is there free eyelash extension training nearby from cosmetology professionals?
New Markets
Because you're a service-based business, you only have limited time to work with customers. After you have a full schedule, there's no way for you to scale your business unless you raise prices.
However, there is another way for you to grow without changing the costs or quality of your services! And that is by selling products.
The more successful you become, the more that people from all over the world will trust you! You can use your website and social media platforms to sell to new markets that you may not have been able to connect with otherwise.
For instance, did you know that the largest market for eyelash extensions is not in American, but rather in the Asia-Pacific region? By thinking ahead and focusing on growing your brand identity, you could tap into this profitable new market.
Open Your Eyelash Extension Salon!
Become a part of one of the most rewarding industries in the beauty world by opening your eyelash extension salon! In addition to having the freedom of owning your own business, you'll be able to express yourself and help people every time you step into your salon.
Give your customers the best experience possible by using beautiful, high-quality eyelash extension products. Reach out to us today to get started on supplying your business with the products you need that customers will love!